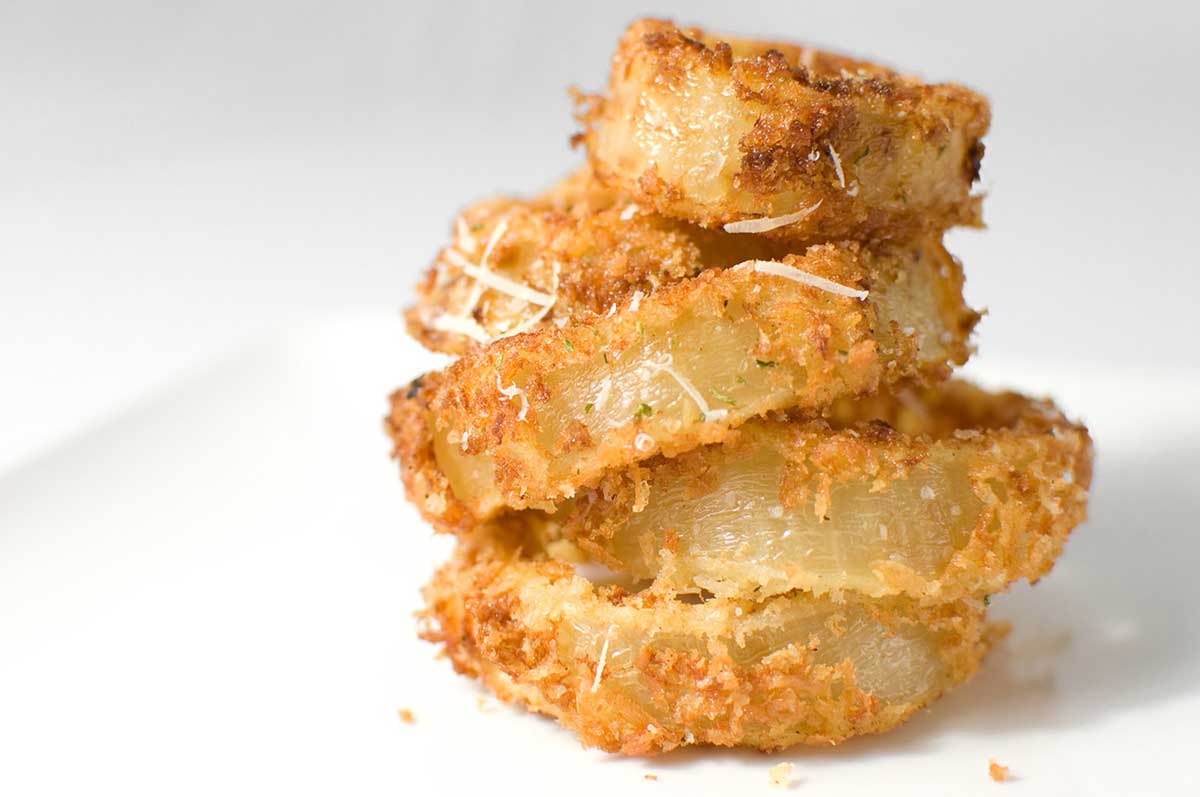 Crispy Parmesan Onion Rings
Onion rings are something that I love to order from time to time, but when I get them out at restaurants I sometimes find that they put far to much batter on them. So much so that you actually loose the taste of the onion and all you can taste is fried batter, which is not particularly delicious. When I decided to give these a try at home, I definitely did not want that to happen so I dusted the onion rings in seasoned flour, dipped them in an egg wash and coated them lightly with shredded Parmesan and panko bread crumbs which gave them the perfect crunch, but I could still taste the onion.
Another common complaint is that onion rings can be a little greasy because they are fried. Well good news! I tried these both fried and oven baked, and although the oven baked version did not get as golden brown as those pictured here, the crunch and the flavor were pretty much the same.  I've included both directions for you so you can choose which way you'd like to serve them.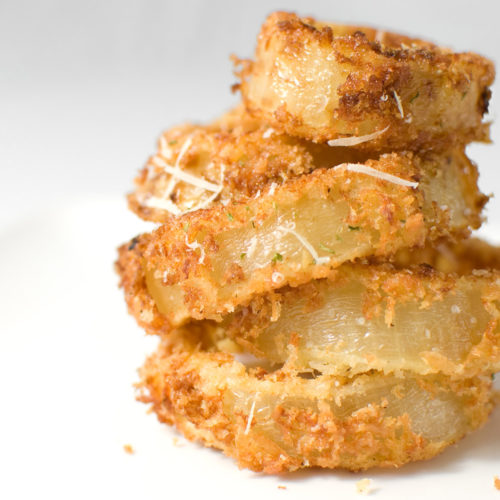 Crispy Parmesan Onion Rings
Onion rings dredged in breadcrumbs and baked or fried until golden.
Whisk first 5 ingredients together in a bowl, cover and refrigerate for 20 minutes.

In a large resealable plastic bag, combine flour, granulated garlic, pepper and kosher salt. In bowl beat together eggs and milk. In another bowl, combine panko bread crumbs and shredded Parmesan cheese.

Place the onion rings into the plastic bag and shake to lightly coat. Dip into egg wash, drain off excess. Dredge in panko and Parmesan cheese mixture to lightly coat.(Note: The onion rings may not be completely coated, that is okay.) Repeat process until all onion rings are coated.

To fry, heat 1/2 inch canola oil in a large sauce pan over medium-high heat. Once the oil is hot, (Note: if you have a thermometer it should be 365 degrees, if you don't have one, sprinkle a few pieces of the panko and if they sizzle its hot enough), fry the onion rings in batches, until golden brown, about 2 minutes. Be careful not to overcrowd the pan, or they will get soggy. Drain on paper towels. Sprinkle a little more Parmesan over the top if desired. Serve.

To bake, Preheat oven to 400 degrees.Spray a cookie sheet with non-stick spray. Lay the onion rings in a single layer not touching each other. Drizzle with olive oil.Bake 10 minutes. Turn and bake 10 more minutes. Sprinkle with a little more Parmesan, if desired. Serve.
Keywords:
bar food, cheese, Food, onion rings, panko, panko bread crumbs, parmesan, Recipe, salty snack, snack food