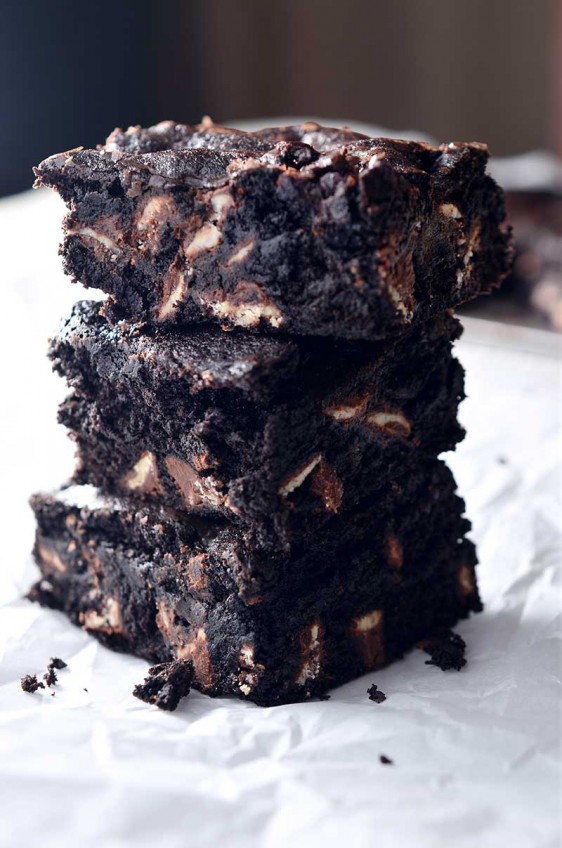 Dark Chocolate Cherry Brownies
Sooooooo Valentine's Day is tomorrow and I have one question for you: who's ready for a brownie? Not just any run of the mill brownie though. Are you ready for a decadent, chewy, dark chocolatey brownie filled with cherry filled chocolate chips? Call it a hunch, but I'm thinking you are.
When it comes to desserts, I will gladly eat cakes. I'll eat cookies. I'll eat some pies. Ice cream. Cheesecakes.
But then there are brownies.
Brownies are on a level all their own. Brownies are my all time favorite dessert. Ever. In the history of desserts.
But no nuts. Absolutely never ever add nuts to one of my brownies.
You can, and should however, add chocolate chips. And especially, cherry filled chocolate chips.
I use the same cherry filled chocolate chips that I used for this Dark Chocolate Cherry Cheesecake that I made last December. They worked wonderfully in that cheesecake and are as equally as scrumptious in these decadent brownies.
In addition to adding the cherry chocolate chips to these brownies, I also tried something else different. Instead of using only granulated sugar, I used half granulated sugar and half dark brown sugar. I think that it helped make these brownies even more decadent and chewy and I'm pretty sure I'm going to add brown sugar to my brownies from now on.
I could tell you more how about delicious these are. How chewy. How fudgy, How unbelievably chocolaty they are. But instead I'm just going to go ahead and end this post now so you can get in the kitchen and make them yourself.
And since tomorrow is Valentine's Day and all, I recommend resisting the urge to eat the whole pan and save one for your sweetie…if you can.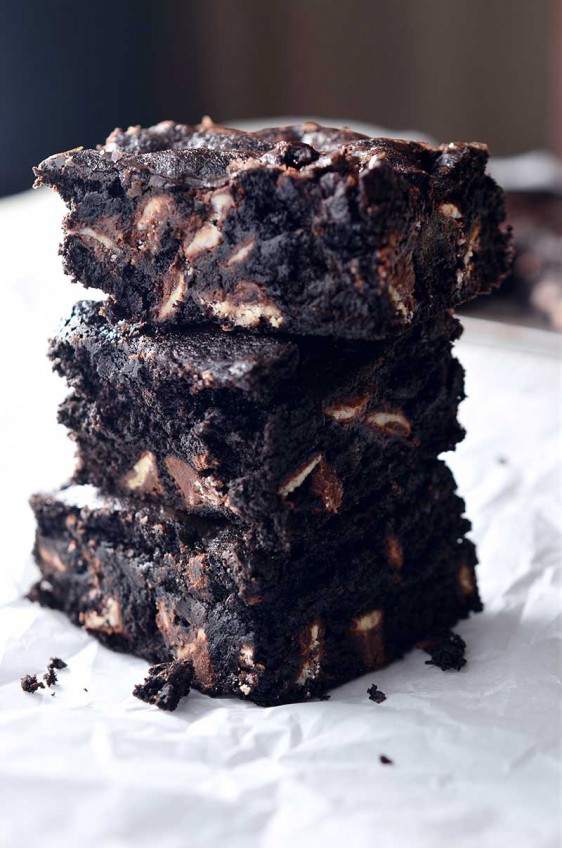 Dark Chocolate Cherry Brownies
Decadent, rich dark chocolate brownies with cherry chocolate chips mixed in.
Ingredients:
10

tablespoons

unsalted butter

1/2

cup

dark chocolate dutch processed cocoa powder

1/2

cup

granulated sugar

1/2

cup

dark brown sugar

2

eggs

1

teaspoon

vanilla extract

1/2

cup

all purpose flour

1

teaspoon

baking powder

1/4

teaspoon

salt

1

9 ounce package Nestle Tollhouse Delightfulls Cherry Flavor Filled Morsels
Preheat oven to 350 degrees. Line an 8 x 8 inch baking pan with parchment paper (or butter and flour).

Melt butter in a pan over medium-low heat. Whisk in cocoa powder. Allow to cool 10 minutes.

Once cool whisk in granulated and brown sugar. Whisk in eggs one at a time. Whisk in vanilla.

In bowl combine flour, baking powder and salt. Slowly whisk dry ingredients into wet ingredients.

Fold in cherry chocolate chips.

Spread batter evenly into prepared pan. Bake 25 - 30 minutes or until a toothpick inserted comes out with just a few crumbs. Remove from oven. Cool, slice and serve.
Keywords:
brownies, cherry, chocolate, dark choclate, valentines day