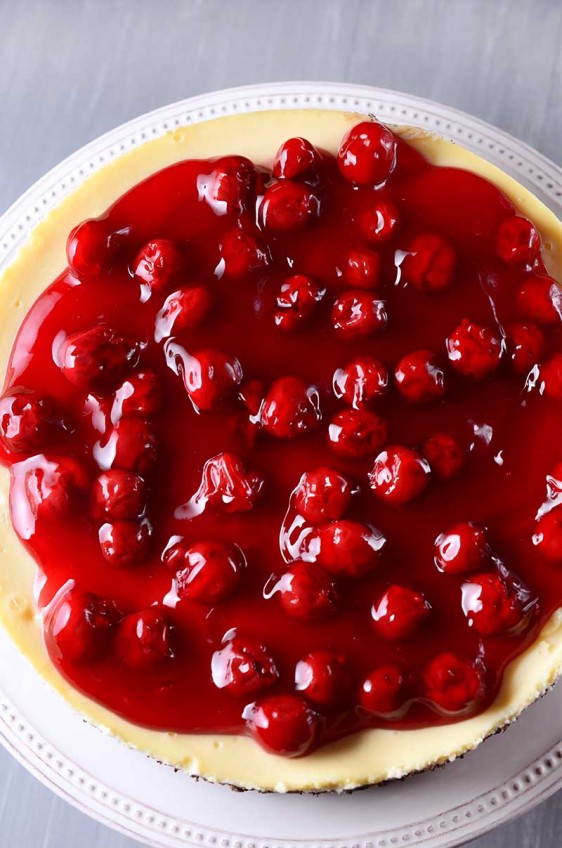 Dark Chocolate Cherry Cheesecake
When it comes to the holidays, aside from the music, the trees, the lights and the general awesomeness, my favorite part is the cheesecake. Sure I enjoy cheesecake a couple times during the rest of the year, but the holidays just scream cheesecake to me so I usually make a few during the month. They are sweet, indulgent, luscious and when you add thew new Nestlé® Toll House® DelightFulls™ Filled Baking Morsels to the mix, cheesecakes become down right heavenly.
If you haven't had the chance to enjoy DelightFulls Filled Baking Morsels you are in for a treat. They come in several different flavors including: cherry, caramel, mint and peanut butter. The morsels themselves are little bites filled with these flavors and wrapped in the Nestlé® Toll House® chocolate that we all love. They work great in cookies, brownies, cakes and, are pretty irresistible all by themselves, especially to my little sous chef who decided to take a little sample while he was helping me take photos.
For this recipe, I decided to use the Cherry Flavored DelightFulls Filled Baking Morsels. I always make a chocolate cherry cheesecake at least once during the holiday season. It's a family favorite that I didn't think could get any better. That is, until I added the Cherry Flavored DelightFulls Filled Baking Morsels. It took the cheese cake to a whole other level. Aside from having the sweet cherry filling on top, the decadent cherry, chocolate filling was now all throughout the cake.
It's pretty amazing, friends. In fact, I may go so far as to say that this is my favorite cheesecake. Ever.
Seriously, don't wait any longer to make this cake. You'll be so glad you did!
The same NESTLÉ® TOLL HOUSE® chocolate you know and love now filled with rich caramel, peanut butter, mint, and cherry flavored filling. Add these new filled baking morsels to your favorite recipes for a special twist on the classic, or try experimenting with them in a recipe you've never tried before!
This is a sponsored conversation written by me on behalf of NESTLÉ® TOLL HOUSE®. The opinions and text are all mine.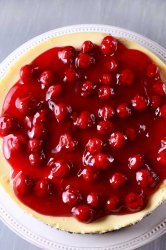 Dark Chocolate Cherry Cheesecake
A decadent cheesecake with cherry filled baking morsels and sweet cherry pie topping.
Ingredients:
2

cups

crushed chocolate cookies

5

tablespoons

butter

melted

3

8 ounce packages cream cheese, softened

1

cup

granulated sugar

3

eggs

1

teaspoon

vanilla extract

1

cup

heavy cream

1/3

cup

sour cream

1

9 ounce package Nestlé® Toll House® DelightFulls™ Cherry Flavored Filled Baking Morsels

1

21 ounce can cherry pie filling, chilled
Preheat oven to 350 degrees. Place the spring form pan in the middle of two large pieces of heavy duty aluminum foil. Bring the foil up the sides of the pan. Crimp the pieces together around the pan. Make sure it is tight and secure so no water gets in during the baking process.

Begin to boil a pot of water.

Combine chocolate cookie crumbs and melted butter together in a bowl. Mix well.

Press graham crackers into the bottom of the springform pan. Bake for 10 minutes. Remove and allow to cool.

While the crust is cooling, beat cream cheese and sugar together in the bowl of a stand mixer until smooth. Beat in eggs 1 at a time being sure to scrape down the sides of the bowl after adding each egg. Beat in vanilla extract, heavy cream and sour cream. Continue mixing on medium speed until the mixture is silky and smooth. Fold in baking morsels. Pour mixture into cooled crust.

Place cheesecake into a roasting pan. Place in the oven and pour the boiling water into the roasting pan, quickly close the door. Bake for 45 - 55 minutes or until the cheesecake is set. The middle will still be jiggly. Turn off oven, keep oven door closed and allow cheesecake to cool 1 hour in oven. It will finish cooking during this time.

Remove cheesecake from oven, carefully remove it from the water bath. Remove the aluminum foil, being careful of any water that may have worked its way in.

Chill cheesecake in the refrigerator 6 to 8 hours or overnight.

When ready to serve, spoon the chilled cherry pie filling over the top of the cheesecake, slice and serve.
Keywords:
cheesecake, cherry, dessert, nestle delightfulls