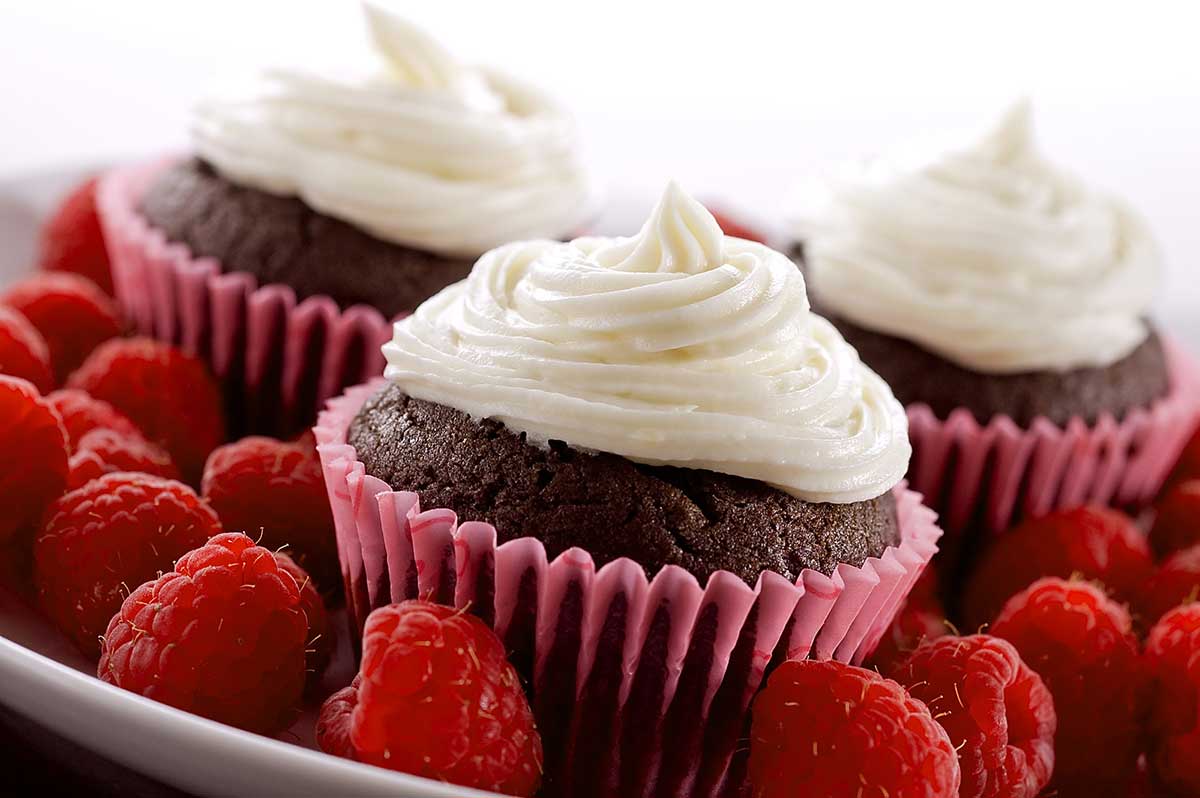 Dark Chocolate Raspberry Cupcakes
Well last but certainly not least, today I present to you the dessert for your at home Valentine's day feast. I couldn't possibly let Valentine's day go by without some kind of chocolate thrown in the mix so I made some chocolate cupcakes. But these aren't just any chocolate cupcakes, no, you need something  extra special on Valentine's day. These decadent dark chocolate cupcakes are filled with sweet raspberry jelly and topped with homemade vanilla butter cream.
Prior to making these cupcakes I had never made any kind of filled cupcakes before. It always seemed like something that was easier to buy, but I was shocked to find out just how easy it was to make them at home. Through trial and error, I discovered that the secret is to make sure the filling is not too thick. Which means that for this recipe, it is important to use jelly instead of preserves, it will make your life a lot easier trust me. Well maybe not your whole life, but at least you cupcake life, and I suppose, if you're having one of those days, a cupcake can make life seem a whole lot easier.
Note: If you don't have a pastry bag, you could also cut a small hole in the top of the cupcake, fill with the jelly, replace the part you cut off, then frost as usual.
Dark Chocolate Raspberry Cupcakes Recipe
Dark Chocolate Raspberry Cupcakes
1/4 cup dark chocolate dutch processed cocoa powder
1 1/2 cups all purpose flour
1 1/2 teaspoons baking powder
2/3 cup granulated sugar
2 eggs, room temperature
1 teaspoon vanilla
1/2 cup whole milk
1/2 cup vegetable oil
1/2 cup raspberry jelly
Vanilla Buttercream (recipe below)
Vanilla Buttercream
1/2 cup unsalted butter, softened

1 1/2 cups powdered sugar

1 teaspoon vanilla extract

1 - 2 tablespoons milk
Instructions
1
Preheat oven to 350 degrees. Line cupcake tin with cupcake liners.

2
Sift together cocoa powder, flour and baking powder. In another bowl whisk together sugar, eggs, vanilla, milk and vegetable oil. Gradually whisk flour mixture into sugar mixture.

3
Fill cupcake liners 2/3 full. Bake in preheated oven for 12 - 15 minutes or until a toothpick inserted comes out clean.

4
Allow to cool for several minutes in the cupcake tin. Transfer to a cooling rack to cool completely.

5
Place raspberry jelly in a pastry bag fitted with a round tip, insert tip into cupcake and squeeze 1 tablespoon of jelly into the center. (Note: You can also do this with a squirt bottle fitted with a lid).

6
To make the frosting, yse a hand held mixer to cream butter and powdered sugar, until smooth. Beat in vanilla. If frosting seems too dry add 1 tablespoon milk. Add more milk if desired.

7
Spoon into a piping bag and frost cupcakes.
Notes
Enjoy and Have a Happy Valentine's day!