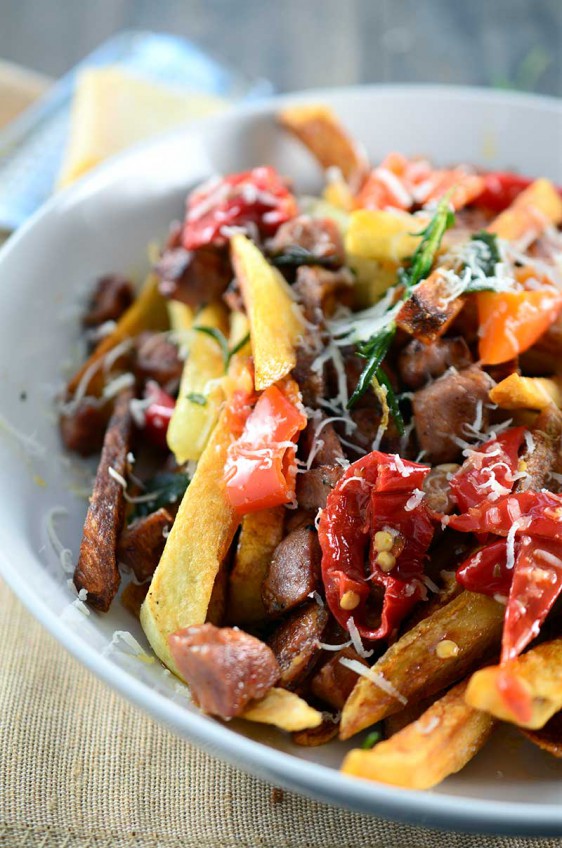 Dirty Fries
When I was in Portland a couple of weeks ago for the Indulge food conference, I made sure that I stopped by Lardo. I had already eaten lunch but I had heard so much about the Dirty Fries that I could not resist. A few fries in and I understood the hype. The make a delicious plate of fries and I needed to recreate them at home. Obviously.
If you aren't sure what Dirty Fries are let me tell you a little bit about them. When you go to Lardo and order the Dirty Fries you are going to get a plate of deliciousness. You're going to get French fries topped with all kinds of glorious toppings. We're talking parmesan, spicy peppers, pieces of crispy pork scraps and fried herbs.
Oh guys. The fried herbs. Where have they been all my life? In this case the fried herbs are rosemary and sage and they are pretty phenomenal.
When I set out to recreate these Dirty Fries at home I decided to keep them pretty much the same except for one little thing. At Lardo, there are different pork scraps like pork belly, bacon and other crispy meat goodness on top of their dirty fries. For my dirty fries, I didn't have pork scraps but I did have some spicy andouille sausage. It worked perfectly. It added the perfect amount of spicy, smokiness to the fries.
Speaking of the fries, for this recipe I used my favorite method for frying fries: the cold fry technique. It is the same technique that I used when I made these garlic fries a while back. Basically what you do is place the cut potatoes and oil together in the pan while the oil is cold. Then you turn on the oil. As it heats, it fries the fries. It has worked perfectly for me every single time. Yielding perfectly golden brown french fries. Fries that are pretty much perfect with just a sprinkle of salt.
But… this is a recipe for Dirty Fries.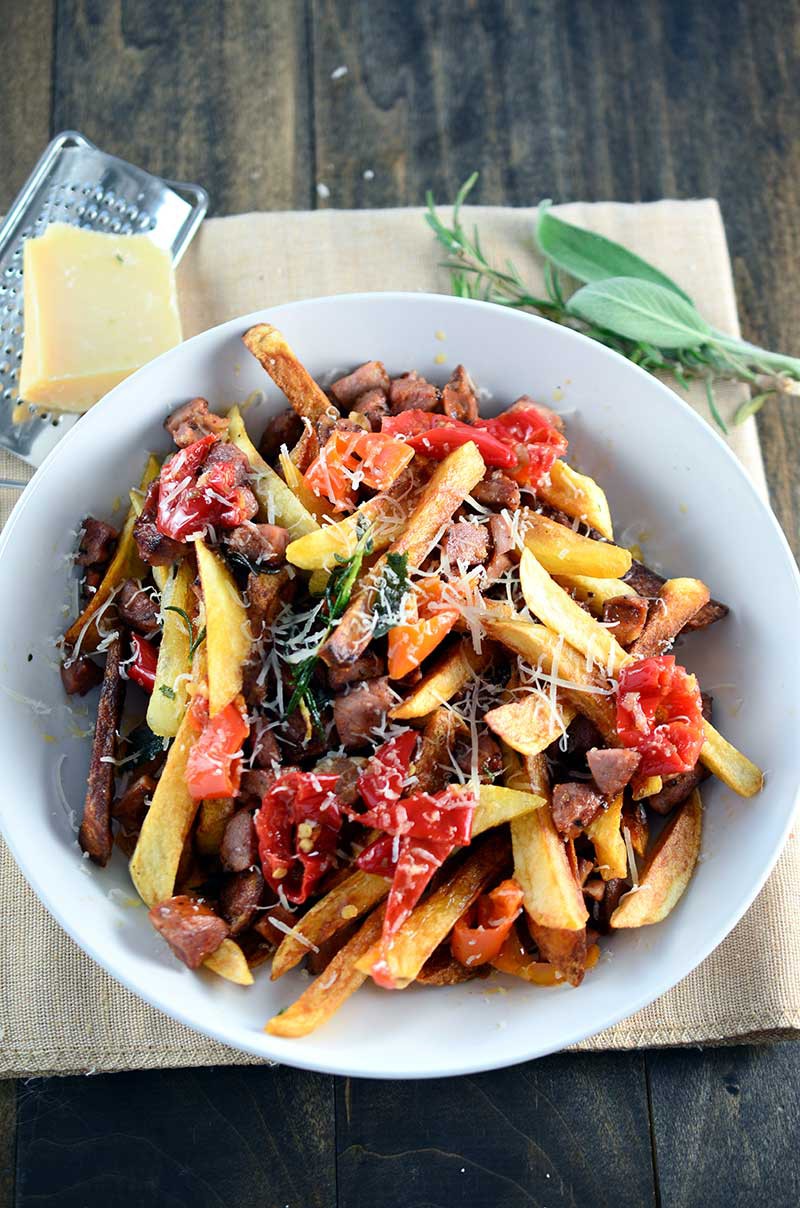 Glorious. Wonderful. Messy. Dirty Fries topped with crispy andouille sausage, fried sage leaves, fried rosemary, Mama Lil's peppers and freshly grated Parmesan cheese.
It's ok to drool.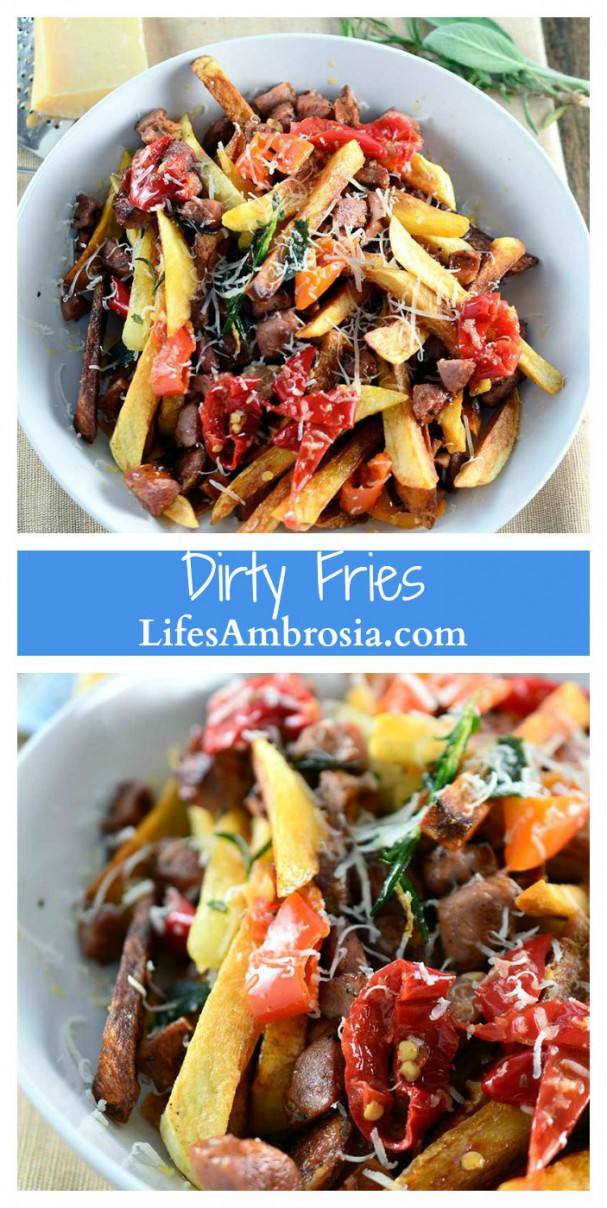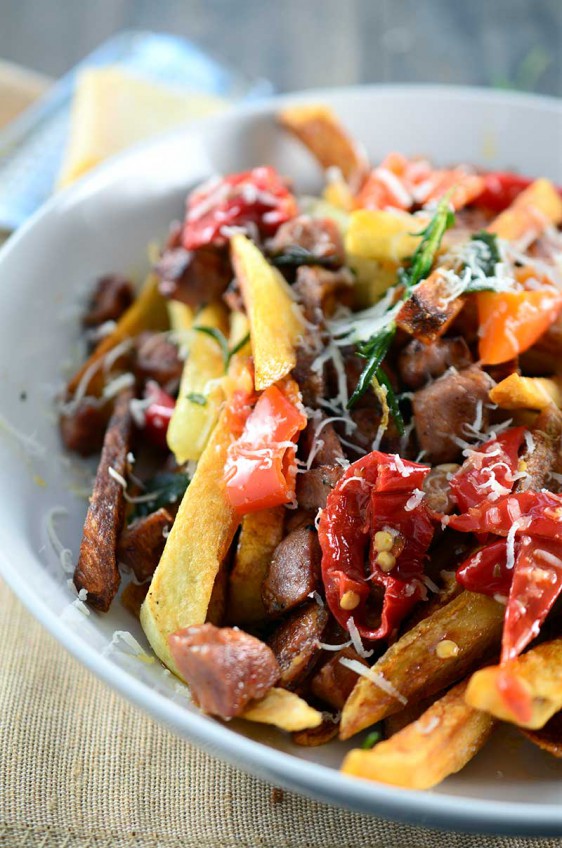 Dirty Fries
Dirty Fries are loaded with andouille sausage, mama lil's peppers, fried herbs and parmesan. Go ahead treat yourself.
Ingredients:
4 - 5

medium russet potatoes

peeled and cut into 1/4 inch strips

oil for frying

1

cup

diced precooked andouille sausage

2 - 3 links

8 - 10

fresh sage leaves

1 - 2

tablespoons

fresh rosemary leaves

1/4

cup

Mama Lil's Kick Butt Peppers in Oil

2 - 3

tablespoons

freshly grated Parmesan cheese

salt and pepper
Add potatoes to a heavy bottom skillet. Pour oil over the top. Oil should just cover the potatoes. Cook over medium high heat until oil bubbles. Allow to cook for 5 minutes or until the outside of the fries become firm. Stir the potatoes. Continue cooking 15-20 minutes or until fries are golden brown. Stir occasionally while being careful to gently scrape any that stick to the bottom of the pan. Once fries have started to turn golden, add in sage and rosemary.

While fries are cooking, brown andouille sausage in a pan until warmed through.

After fries and herbs are golden brown and crisp, use a slotted spoon to transfer to a paper towel lined plate. Immediately sprinkle with salt and pepper.

Transfer fries to a serving platter. Scatter andouille sausage and mama lil's peppers over the top. Sprinkle with parmesan. Serve immediately.
Keywords:
fries, lardo portland, super bowl