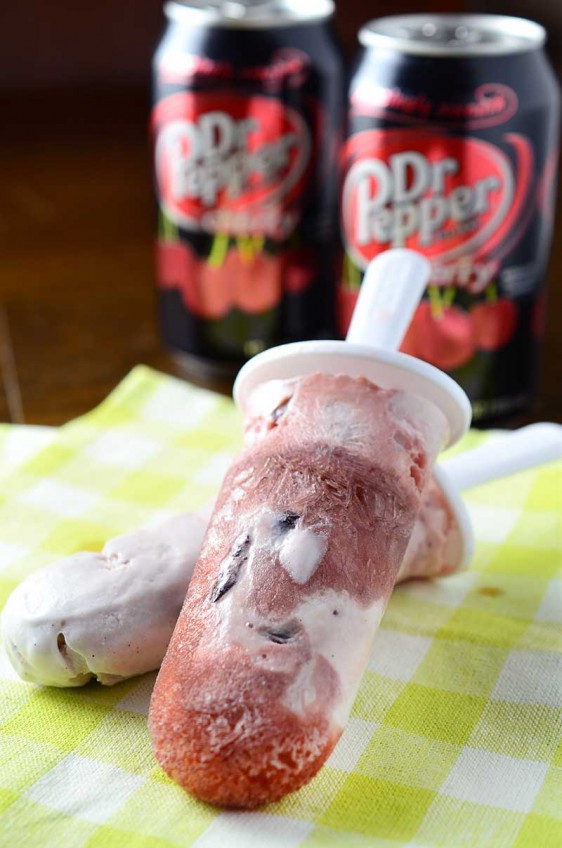 Dr Pepper Cherry Float Popsicles
This is post is sponsored by Dr Pepper Snapple Group. All opinions are my own.
Whenever I think back on my childhood summers, I think of lazy days spent by the river. Or climbing trees. Jumping on trampolines and staying out with my friends until the streetlights came on. I also think of summer treats to help cool down on those hot summer days. I think of ice cold sodas, ice cream from the ice cream truck, popsicles, and perhaps my favorite of all: the float. Today I'm combining them all and sharing with you these Dr. Pepper Cherry Float Popsicles.
I loved flavored sodas as a kid. I would drink orange soda, strawberry kiwi soda, grape soda but cherry was by far my favorite. I still remember the days as a kid when I felt so grown up ordering Shirley Temples at restaurants because I loved that cherry flavor. To me one sip of cherry soda and I'm a kid again. So when the nice people at Dr. Pepper contacted me about using their new limited edition Dr. Pepper Cherry soda in a recipe, I was excited. (Note: Dr Pepper Cherry is only available at certain Safeway and Albertson's locations.)
Other than making a drink, I haven't actually used soda in a recipe before. At first I wasn't really sure about what to do with it. But during my brainstorming session, it was about 150 million degrees (read 85, I'm from the Northwest, we don't do heat) and my son came up and asked me for a popsicle. That's when it hit me. I could use the Dr. Pepper Cherry soda to make a popsicle. But not just any popsicle, I would go a head and combine all of my childhood favorite treats into one delicious concoction: Dr. Pepper Cherry Float Popsicles.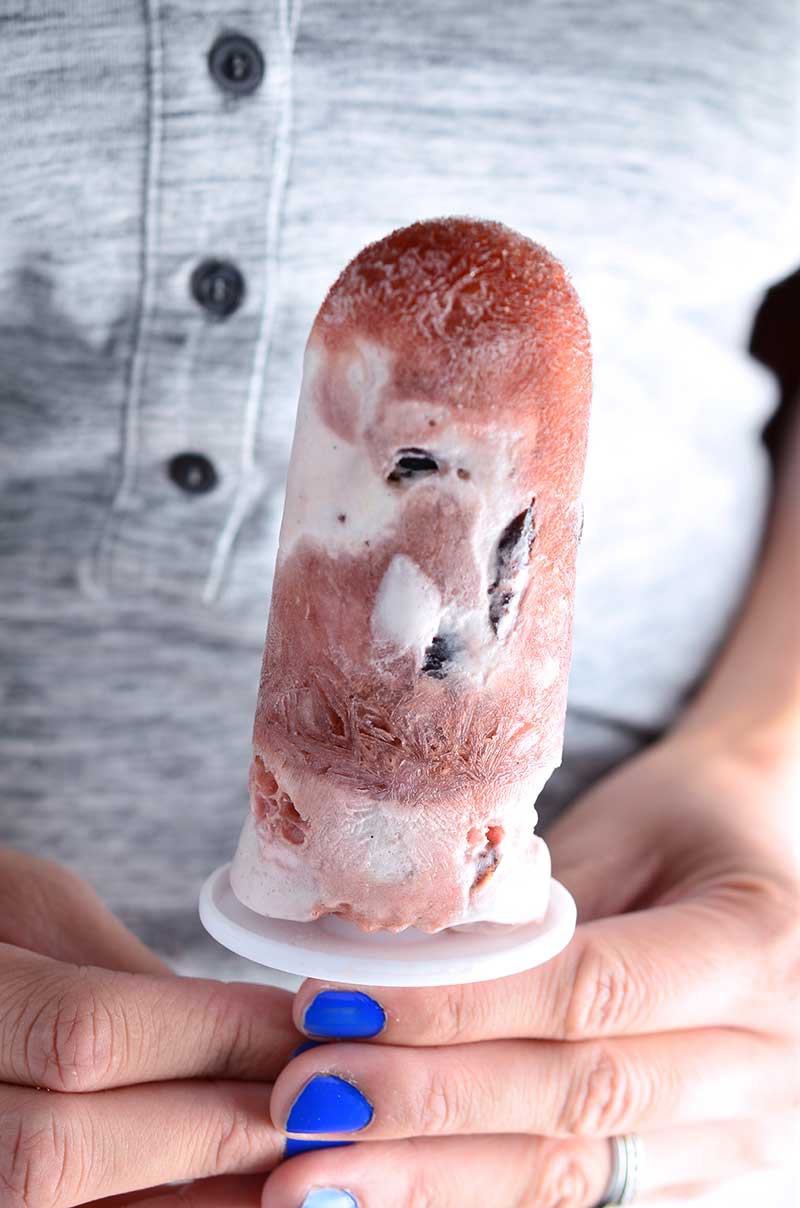 It worked like a dream. This popsicle tastes just like the floats I loved as a little girl. One bite and I was transported back to my own lazy summer days of sipping soda, enjoying a popsicle and a float, all at once.
The key to making these popsicles work, I found, is using flat soda. You don't need the bubbles, all you need is the flavor. All I did was open up a can, pour it in a glass and let it sit in the fridge for a few hours so the bubbles had a chance to work themselves out. That way when I poured them into the molds they wouldn't overflow.
Also, since I love cherry flavor so much I decided to use cherry vanilla ice cream. That means that in addition to the cherry soda, there are also little bits of actual cherries throughout the popsicles.
Basically…it's delicious.
This little guy even loved them too.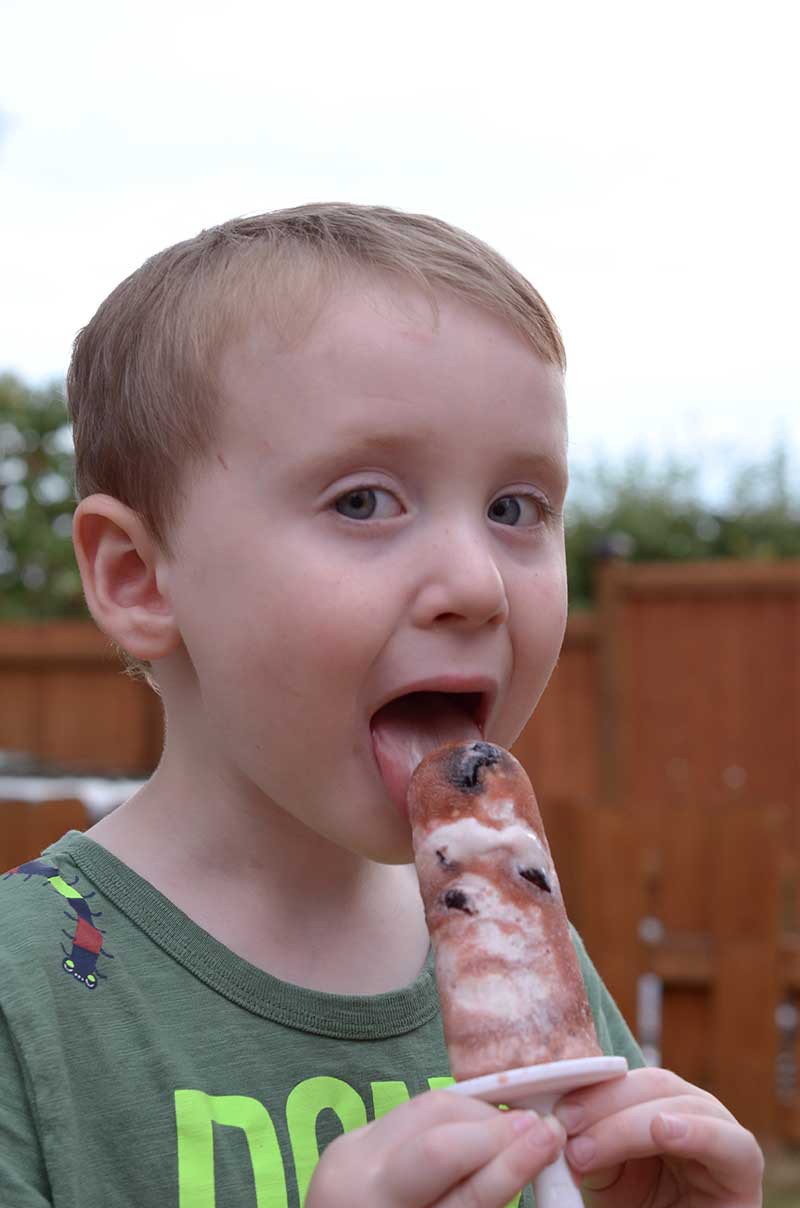 Here's to childhood summer memories and lots and lots of popsicles!
This is a sponsored conversation written by me on behalf of Dr. Pepper Snapple Group. The opinions and text are all mine.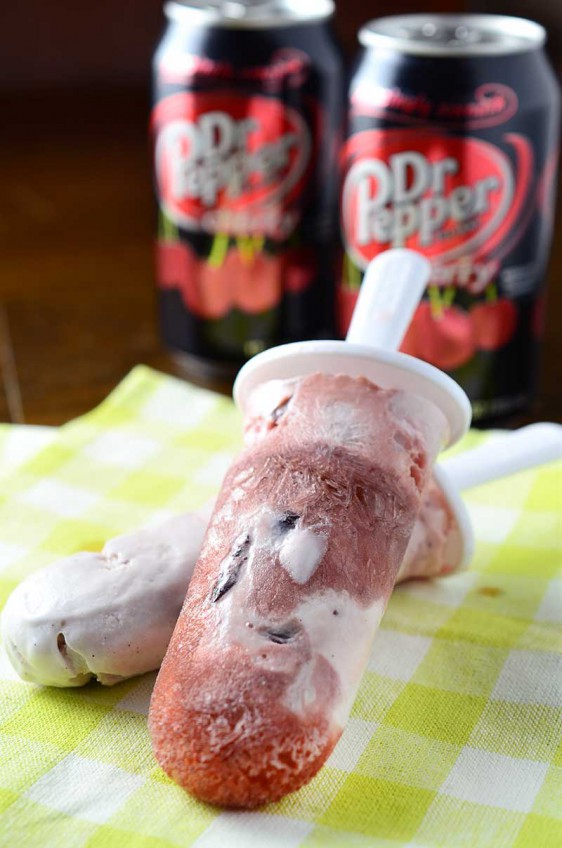 Dr Pepper Cherry Float Popsicles
A childhood favorite, the ice cream float, is turned into a popsicle with these Dr. Pepper Cherry Float Popsicles.
Fill 1/2 of a popsicle mold with the cherry vanilla ice cream. Pour Dr Pepper Cherry soda into the mold until it's 3/4s full. Put in one more scoop of ice cream so that it reaches the full line. Repeat with remaining popsicle molds.

Place in the freezer until completely frozen, 6 - 8 hours. Serve.
Keywords:
popsicles, sponsored, summer