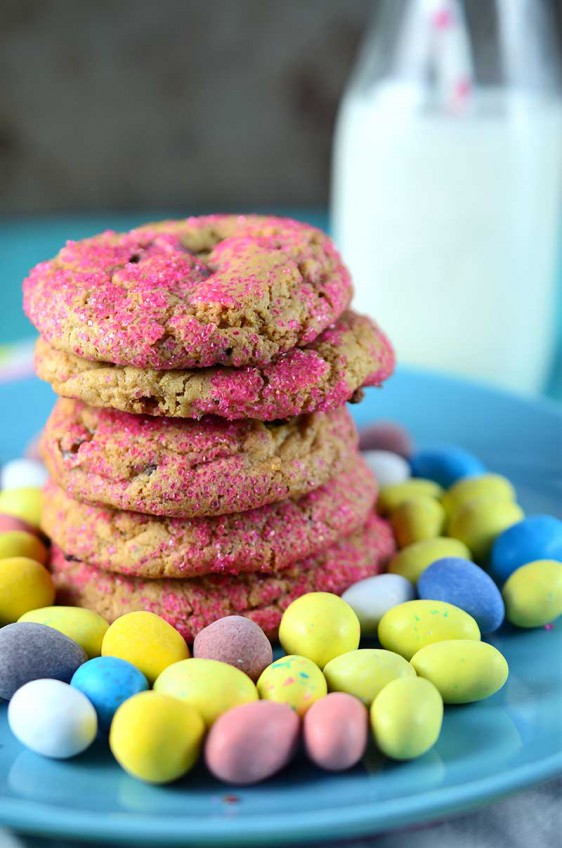 Easter Candy Cookies
Happy Monday, friends! I hope you all had a wonderful Easter weekend. If you follow me on Instagram then you know we've been busy making pizza, Easter baskets and eating way too much cheese. I hope your Easter was full of family, friends, food and loads of Easter candy. If you're like us then you've got a lot leftover. Or if you're also like us you're headed to the nearest Target today to get the last of the Easter candy on the cheap. Either way, you're probably going to find yourself with some leftover Easter candy and these Easter Candy Cookies are a great way to use it up.
Last week I shared the recipe for Chocolate Creme Egg No Churn Ice Cream as the perfect way to use up any left over chocolate creme eggs. Now I'm sharing these Easter Candy Cookies as the perfect way to use up robins eggs candy and candy coated mini eggs.
When it comes to Easter candy, chocolate is always my favorite. I could do without the jelly beans. They are just too sweet for me. Chocolate though. Oh man. Especially Robins Egg candies and candy coated mini eggs. I love the crunchy candy with the malt and the chocolate.
Because I love the chocolate so much, making a chocolate chip cookie but substituting my favorite Easter candy seemed like the perfect way to make Easter Candy Cookies.
And then I rolled them in pink sugar crystals. Because you can't really, go wrong with pink sugar crystals.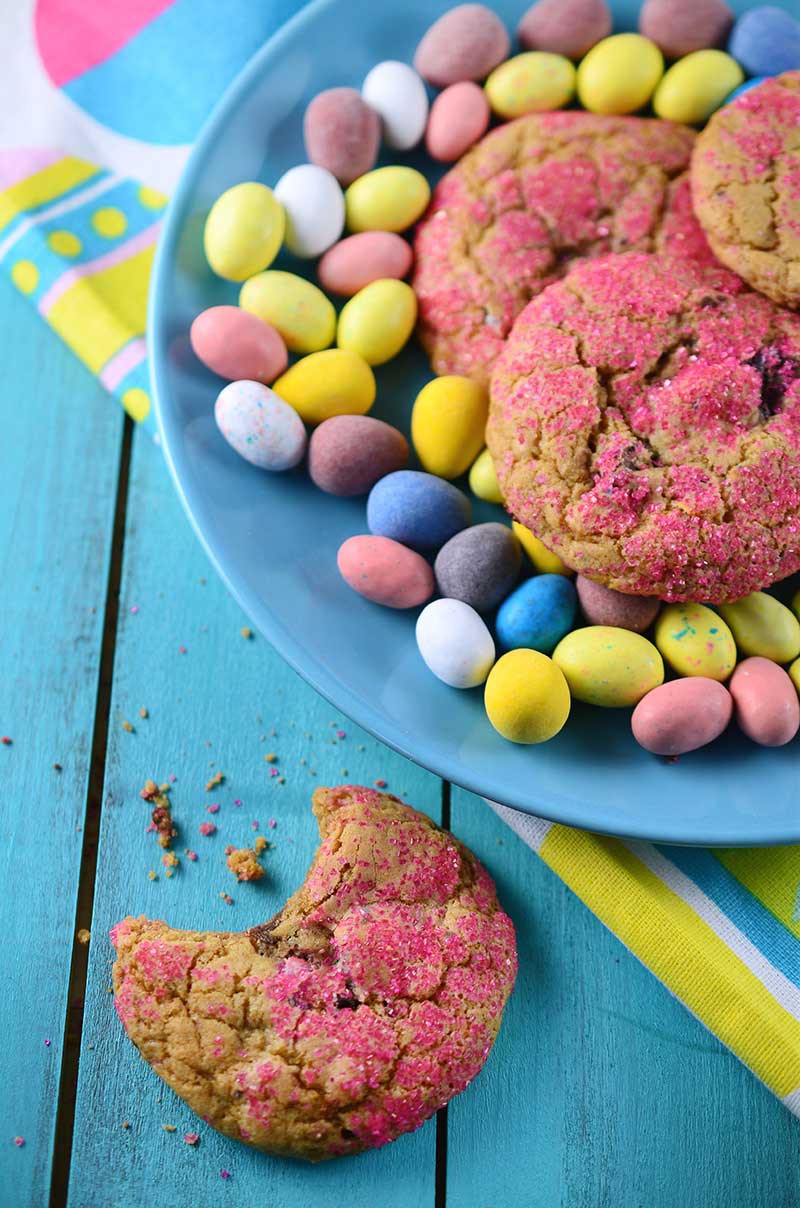 These are called Easter Candy Cookies though, so use what ever candy you have left over. You'll need about a cup of chopped candy. Chocolate candies will probably work the best as opposed to jelly beans. Peanut butter eggs or those mini cookies n' creme eggs would be awesome too.
Whichever candy you choose, make sure you make these Easter Candy Cookies soon. You know…before all the Easter candy is gone. ;)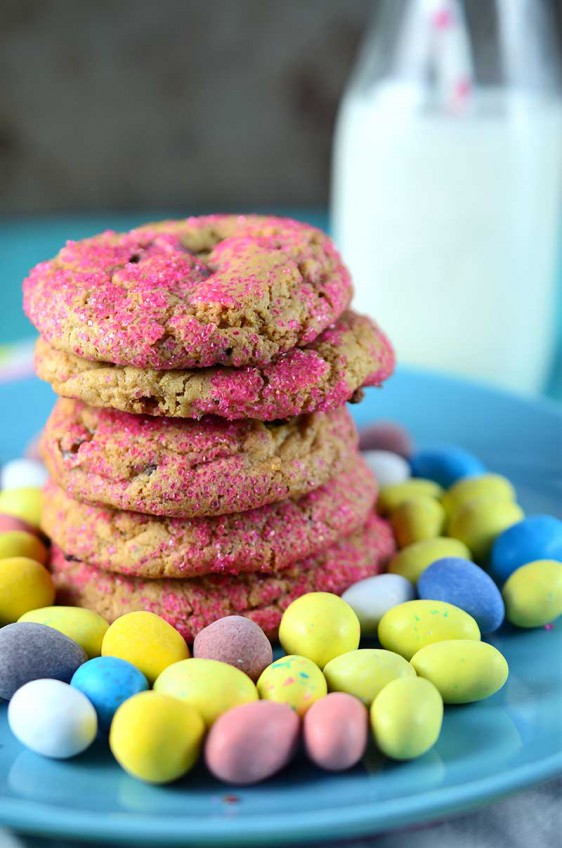 Easter Candy Cookies
These Easter Candy Cookies are a sweet, soft and chewy way to use up your leftover Easter candy.
Ingredients:
1/2

cup

unsalted butter

softened

1

cup

dark brown sugar

1/2

cup

granulated sugar

2

eggs

1

teaspoon

vanilla extract

2 1/4

cups

all purpose flour

1

teaspoon

baking soda

1/4

teaspoon

salt

1/2

cup

crushed robins eggs candy

1/2

cup

crushed dark chocolate candy coated mini eggs

1/4 - 1/2

cup

pink colored sugar crystals
Preheat oven to 375 degrees.

In the bowl of a stand mixer cream together butter, brown sugar and granulated sugar for 3 minutes.

Beat in eggs one at a time. Scraping down the sides of the bowl after adding each egg. Beat in vanilla.

In another bowl whisk together flour, baking soda and salt.

Add dry mixture to wet mixture and beat just until it comes together, 1 -2 minutes.

Fold in candy.

Use a cookie scoop to make rounded tablespoonfuls of dough. Roll dough in sugar crystals and place 2 inches a part on cookie sheet. Bake in preheated oven for 10 minutes.

Remove from oven allow to cool for a couple minutes then transfer to a cooling rack to cool completely. Serve.
Keywords:
cookies, Easter, easter candy