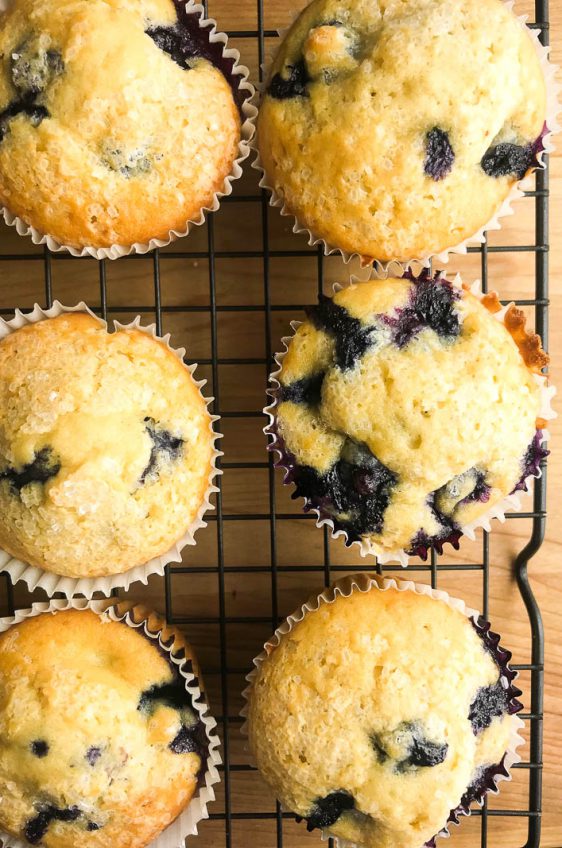 Easy Blueberry Muffins
Easy blueberry muffins are a classic for a reason. Moist, tender and loaded with fresh blueberries. Great for breakfast or afternoon snacks. 
Mornings are rough around here. Like real rough.
The alarms go off. No one moves. No one wants to get up. Myself included.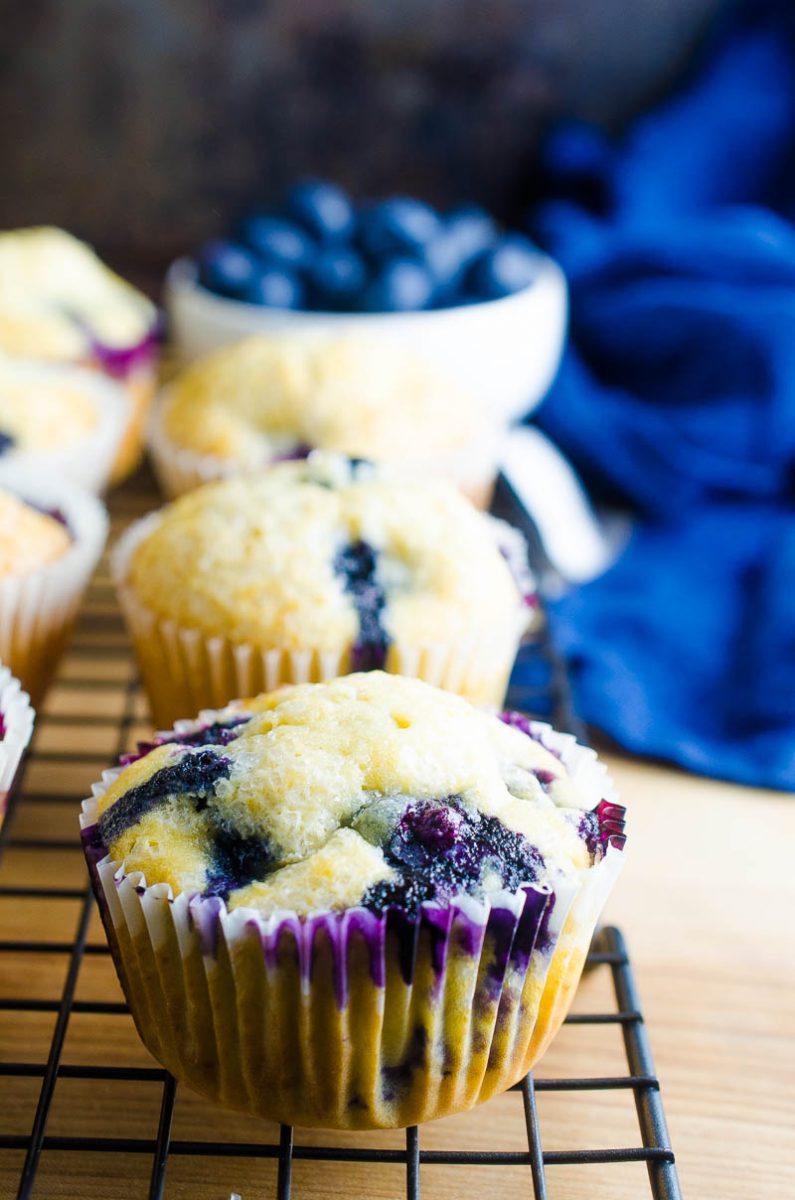 Then we've got to hurry to get dressed, get backpacks together and somewhere in there, eat breakfast.
This is why I love quick breakfasts, on the go. That is where muffins come in handy. Especially Easy Blueberry Muffins. Loaded with fresh plump blueberries.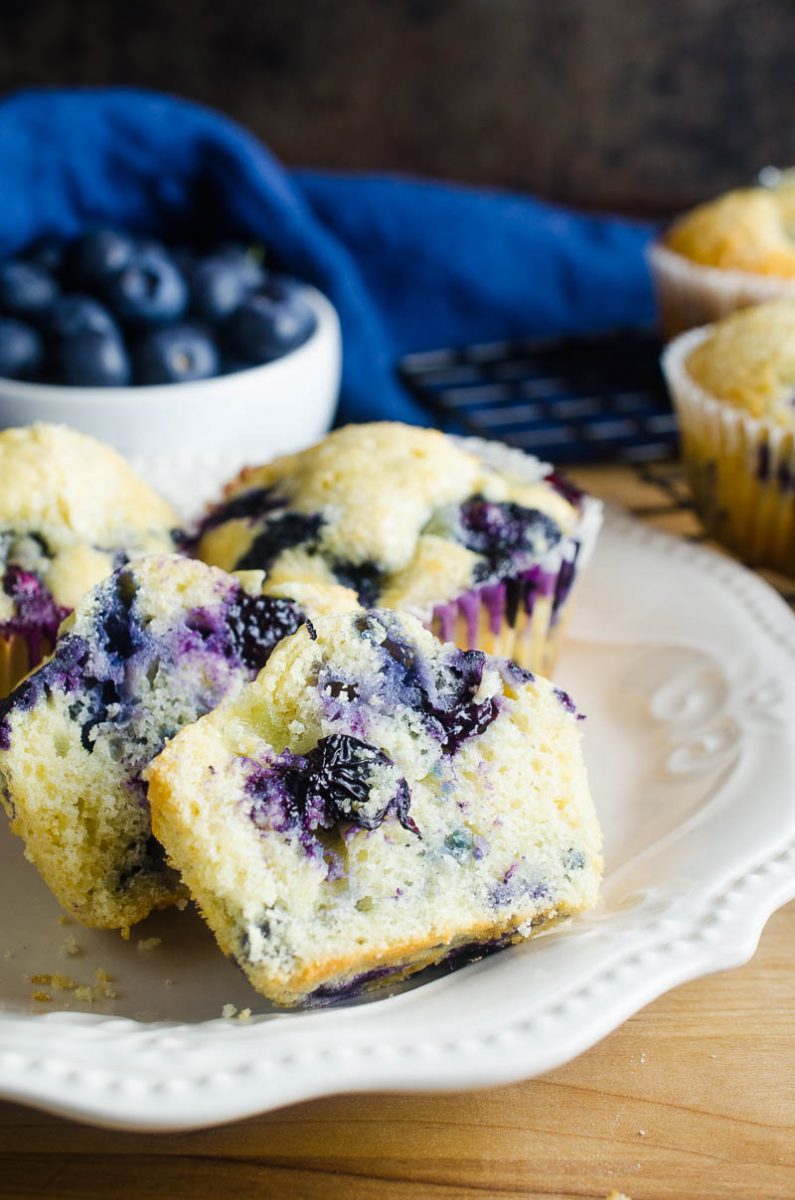 Tips for making Easy Blueberry Muffins:
Tip #1: Don't over mix the batter. This is a big one. I've learned, while recipe testing, that an over mixed batter will result in tough cupcakes. Instead of using my stand mixer to make muffins, I prefer to go back to basics and use a whisk and a wooden spoon. This helps ensure just the right amount of mixing.
Tip #2: To help the berries from sinking to the bottom of the pan, it sometimes helps to toss them with a little flour before folding them into the batter.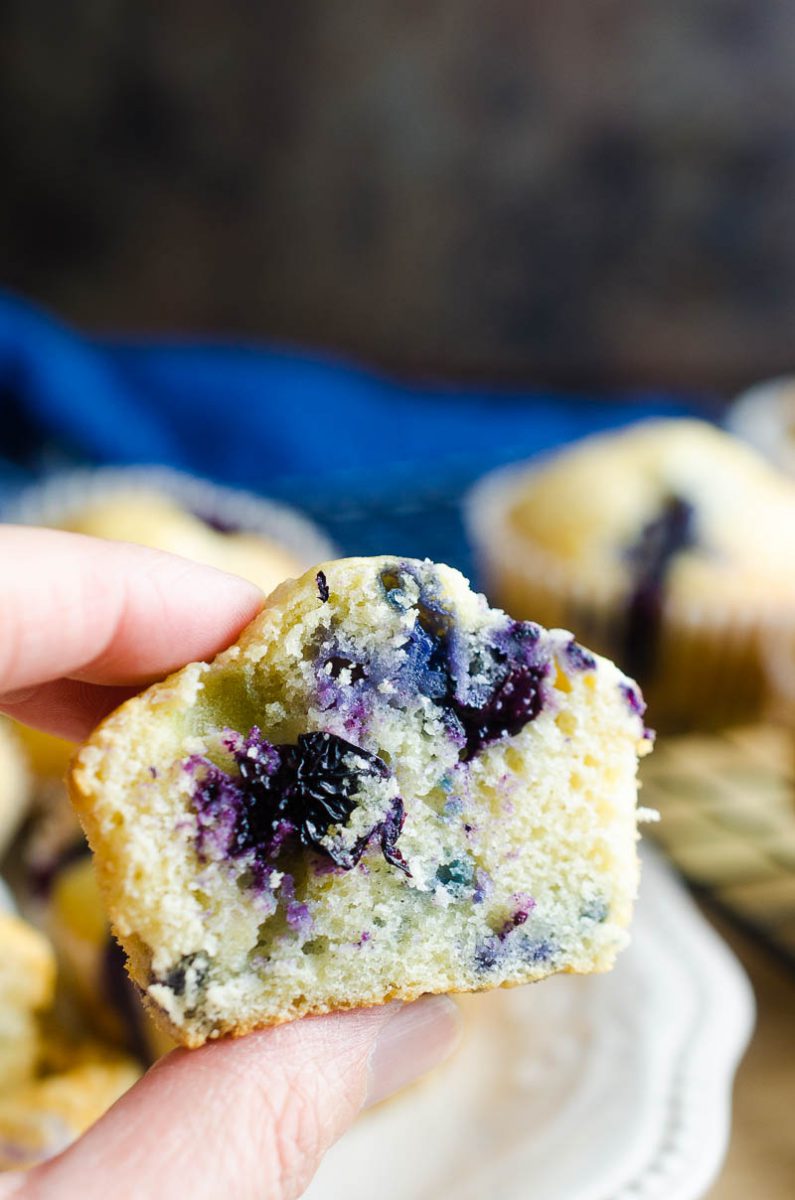 Tip #3: Stir your mix-ins in last. For this recipe, that means mix everything together before adding the blueberries. Once you add the blueberries do one quick fold in just until the berries are covered.
Tip #4: Use cupcake liners. It just really makes things so much easier from clean up to taking them on the go. Cupcake liners are life savers.
Tip #5: If you want a topping, like the sparkling sugar in this recipe, add it before baking. That way the topping will bake into the muffin as it cooks.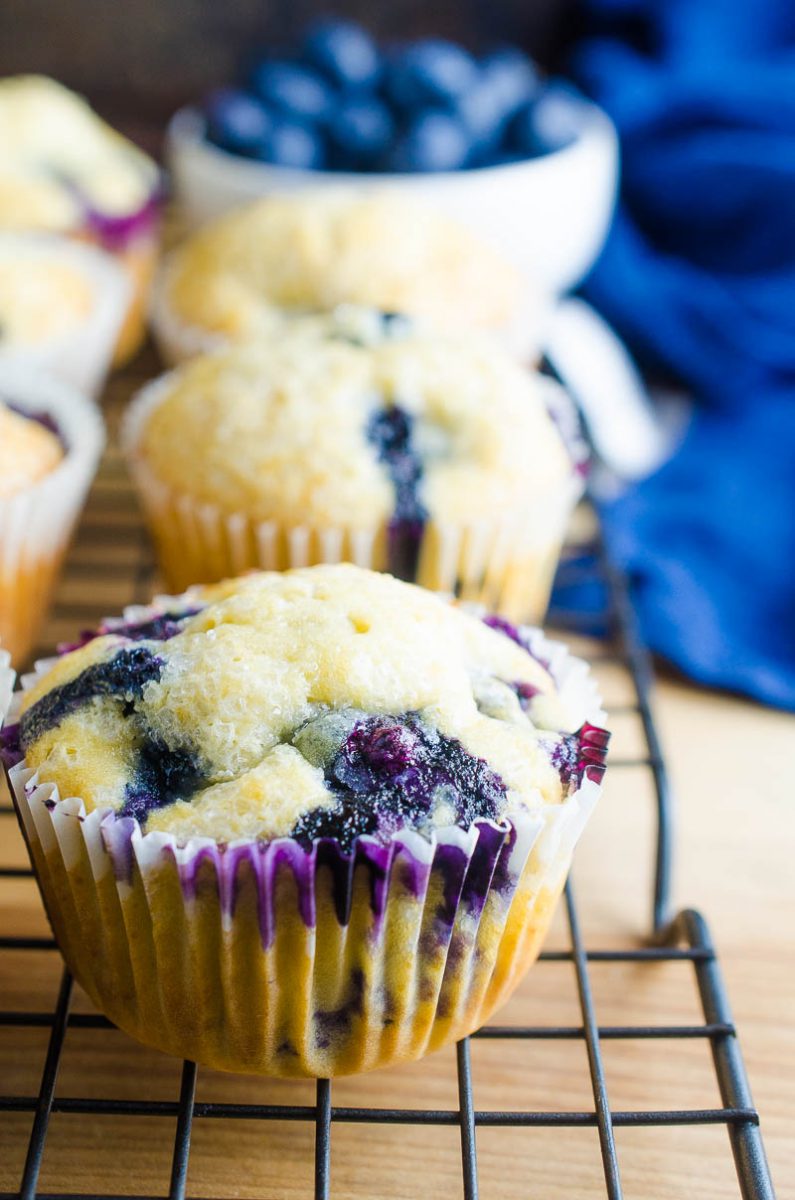 Tip #6: To get a higher top to your muffins, cook them for 5 minutes at a 425 then reduce the temperature to 375 for the remaining 15 minutes.
Can you freeze blueberry muffins?
Yes! Muffins freeze well. Simply wrap them in plastic wrap and place them in the freezer. When you are ready to eat them, thaw them at room temperature. If you don't have time for that, simply remove the plastic wrap, place them on a napkin and microwave them for about 30 seconds.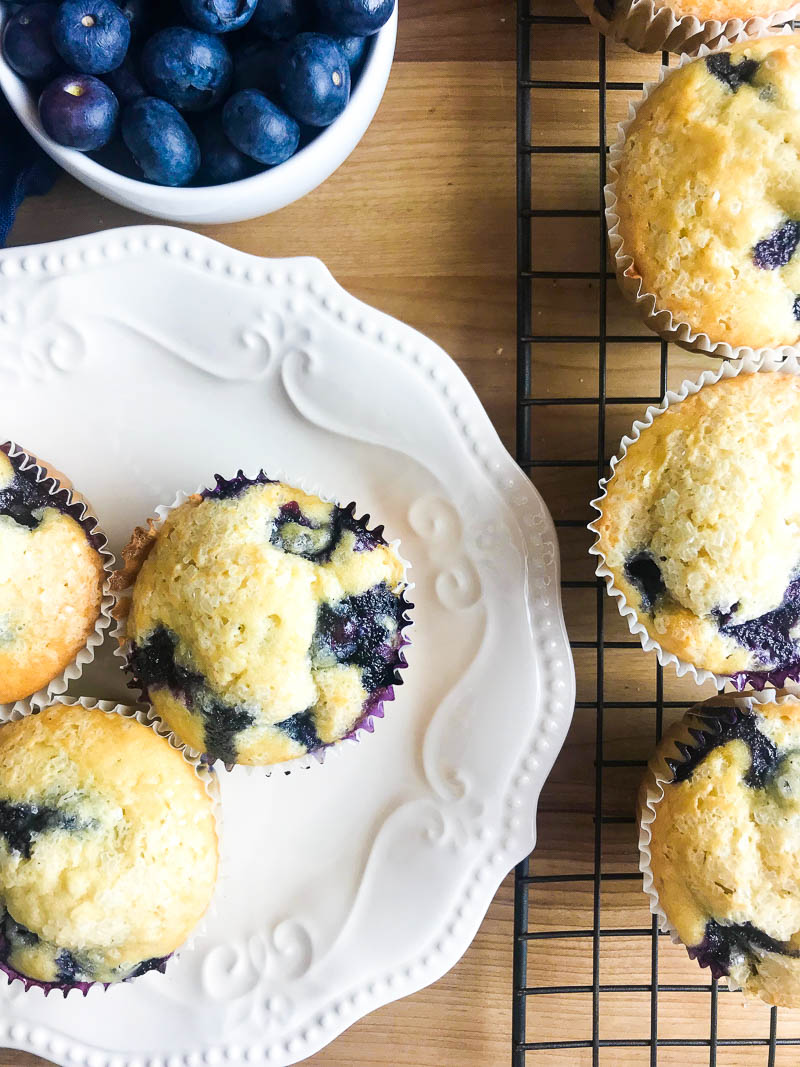 Whether you want to enjoy them for a quick breakfast on the go, or with your afternoon coffee, these easy blueberry muffins are perfection.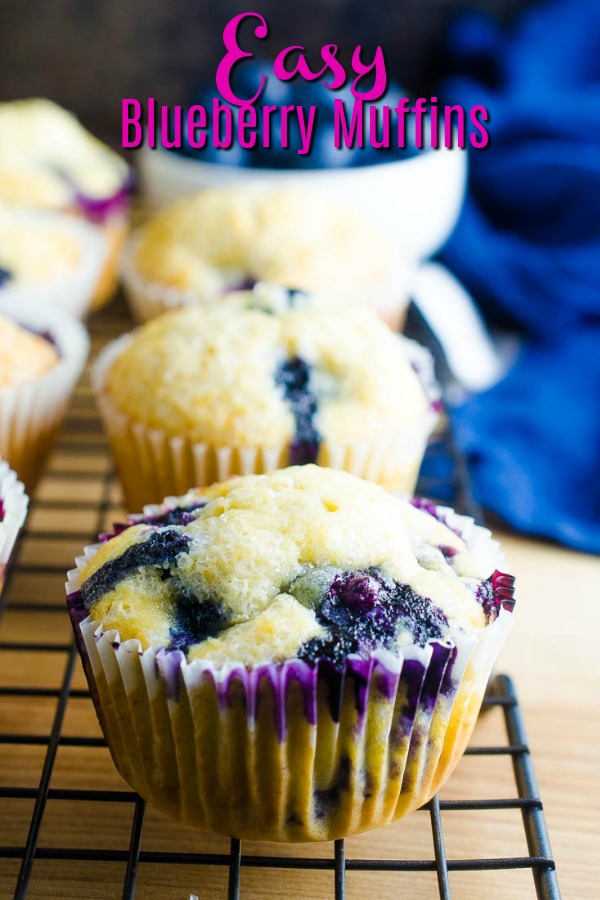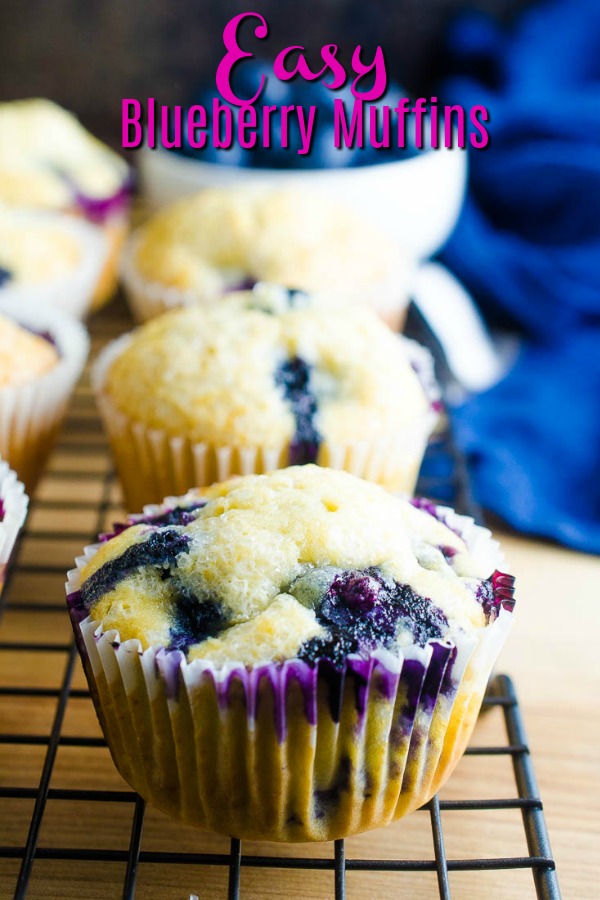 If you're looking for other great ideas for breakfast on the go try these: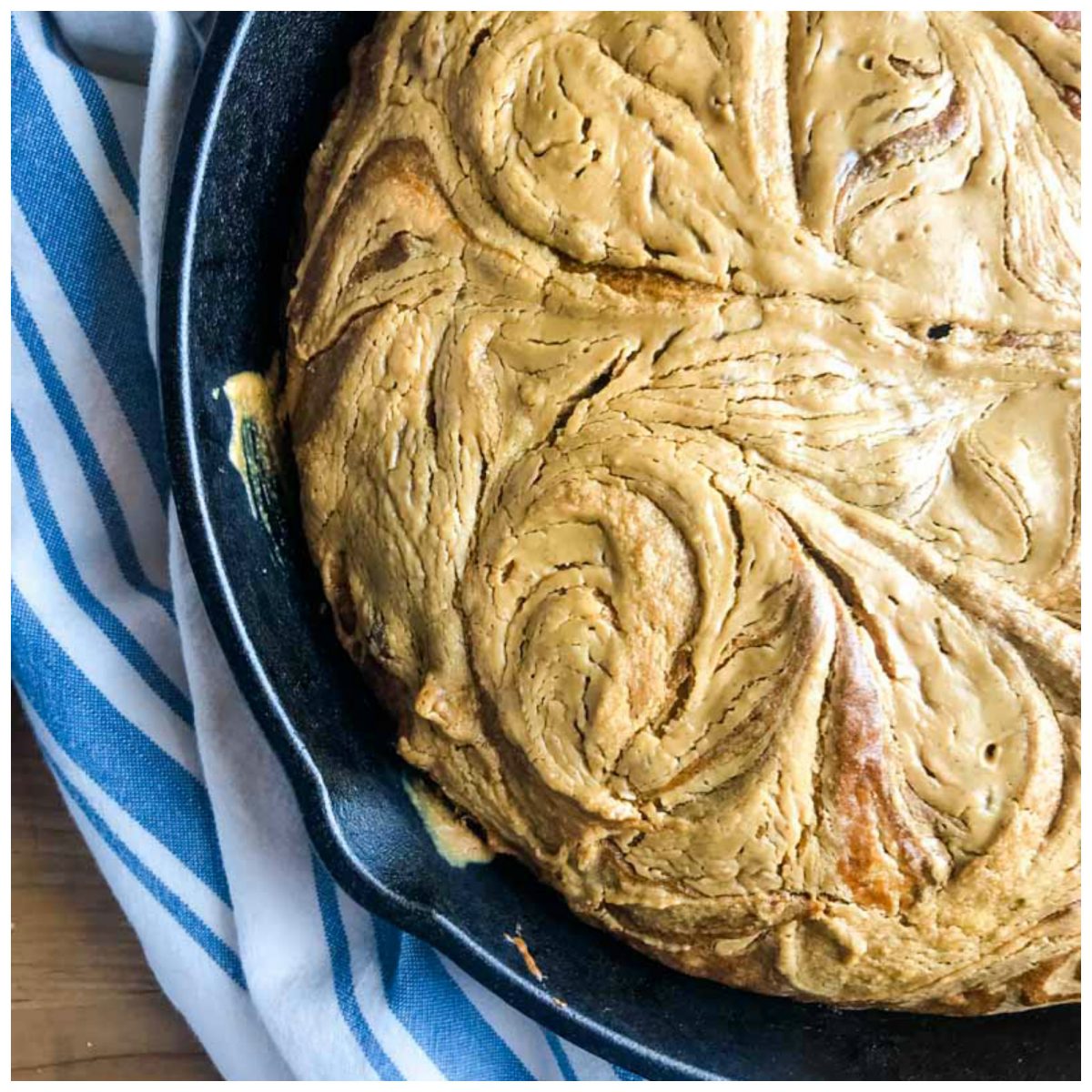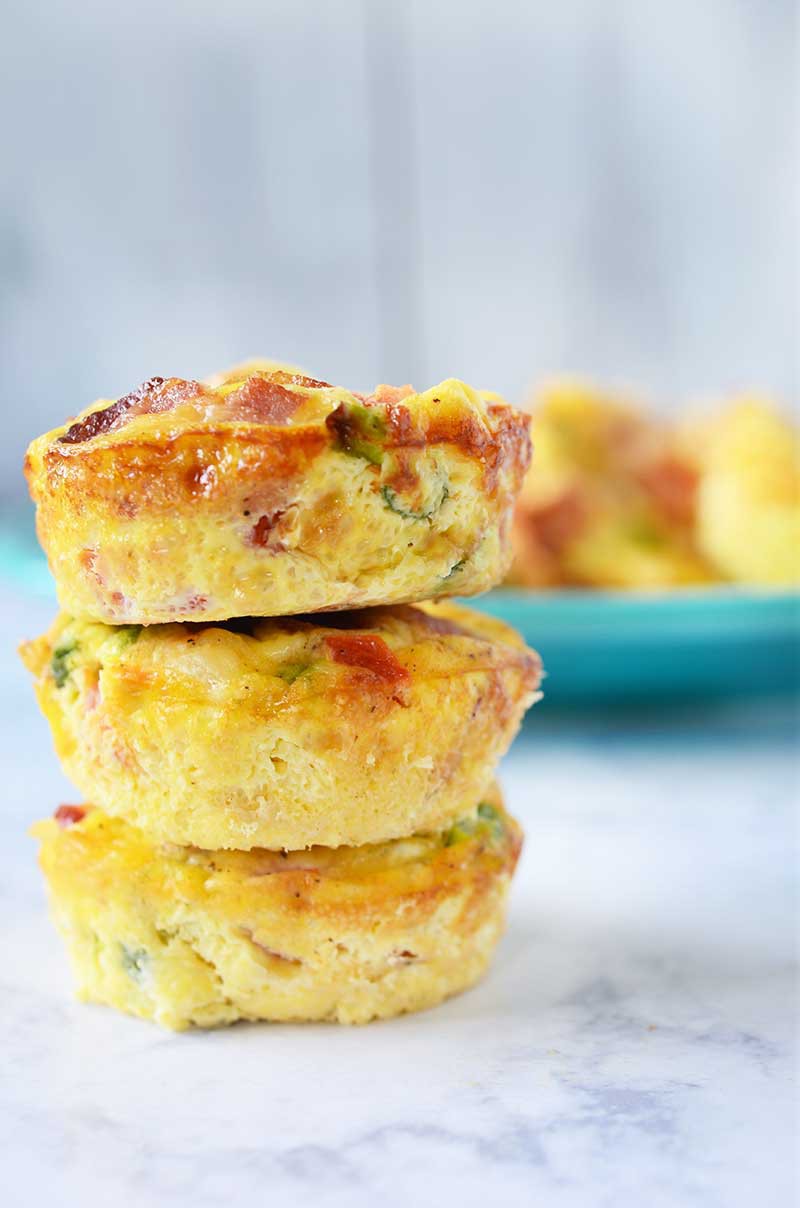 Easy Blueberry Muffins Recipe
Ingredients:
1/2 cup butter, melted
1/2 cup granulated sugar
1/2 cup brown sugar
2 eggs
1 teaspoon vanilla extract
2 cups plus 1 tablespoon, all purpose flour
2 teaspoons baking powder
3/4 teaspoon salt
1 cup milk
2 cups blueberries
Instructions
1
Preheat oven to 425 degrees. Line a muffin tin with cupcake liners

2
Whisk together butter, granulated sugar and brown sugar. Whisk in eggs one at a time. Whisk in vanilla.

3
In another bowl combine 2 cups flour, baking powder and salt. Slowly mix dry ingredients into the wet ingredients. Slowly whisk in milk. Mix just until combined.

4
Combine the blueberries and remaining tablespoon flour.

5
Gently fold in blueberries.

6
Fill each cup of the tin with 1/4 cup batter. Sprinkle with sparkling sugar if desired.

7
Bake in preheated oven for 5 minutes. Reduce heat to 375 and continue baking for 15 more minutes or until a toothpick inserted comes out clean.

8
Cool completely on cooling rack before serving.

Notes
Nutrition facts not guaranteed.
Nutrition information
Calories: 141 , Total Fat: 5.5g , Saturated Fat: 3.2g , Cholesterol: 30mg , Sodium: 136mg , Carbohydrates: 21.1g , Fiber: 0.7g , Sugar: 10.6g , Protein: 2.4g