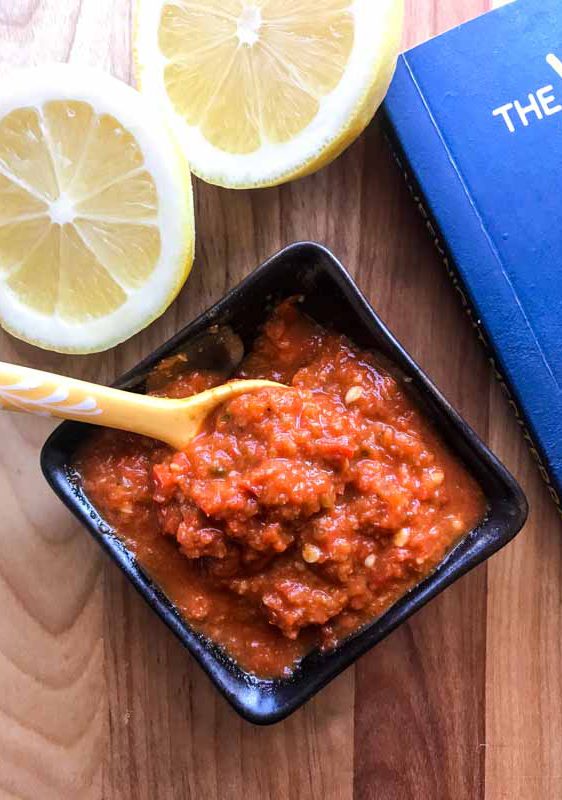 Easy Homemade Harissa
Easy Homemade Harissa is super easy to make. A blend of red bell peppers, fresno peppers and spices, this chili paste is favorite for spice lovers!
One of the awesome things about this whole blogging world, is all of the wonderful people I meet along the way. I have met some really talented people by doing this job and today I am sharing a cookbook from one of them.
The Weeknight Mediterranean Kitchen is the new book by my friend Samantha Ferraro and it is a must have.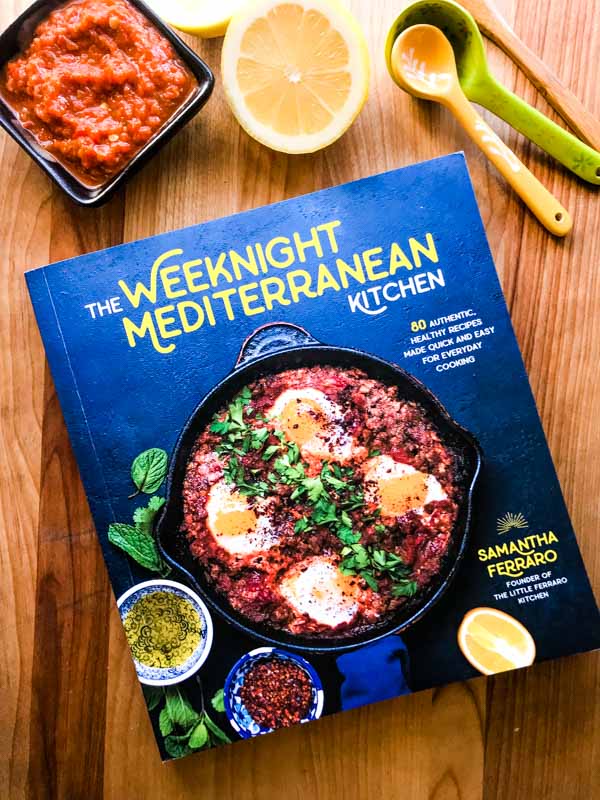 Samantha is the founder of the blog Little Ferraro Kitchen. And if you've never been there before, you need to check it out. Samantha is a culinary wizard when it comes to worldly cuisines. Her blog is loaded with recipes full of bold flavors that are also easy to make.
And her new book "The Weeknight Mediterranean Kitchen" is no different. There are 80 authentic recipes that are quick and easy. Perfect for weeknight cooking. And now that the kiddos are back in school and things are going to get hectic again this book is going to come in handy!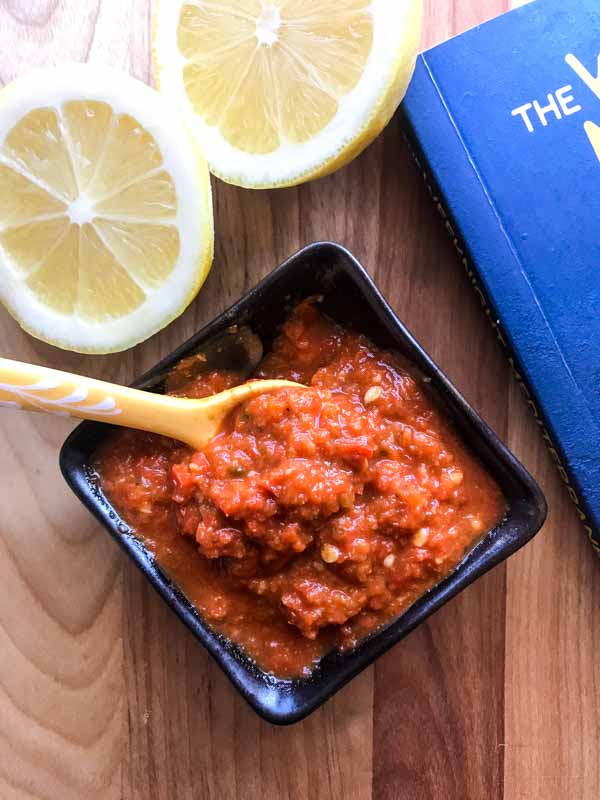 There are recipes like Everyday Chicken Shawarma, Spiced Baked Pita Chips and Hummus. There is also a recipe for Shakshuka with Lamb and Spices that I am dying to try.
I mean really, there is so much flavor in every recipe.
The book is broken down into 6 chapters:
Appetizers and Meeze
The Main Meal
Soups and Salads
Vegetables, Grains and Pulses
Sauces, dips and spreads
Sweets and sips
Each recipe also includes a tip. It may offer an explanation on a technique or a tip on a good substitution. I love when cookbooks add this little feature. It makes a good cookbook even more helpful.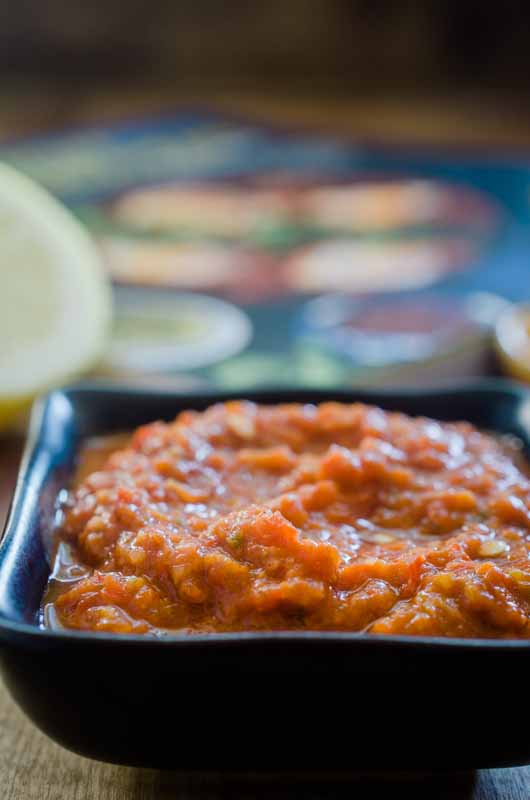 It was so difficult to pick a recipe to share with you today but ultimately I decided to go with this Easy Homemade Harissa because, as you know, I love me some spicy hot recipes. And I am a huge harissa fan but I had no idea that you could make it so easily on your own.
What is harissa?
Harissa is a North African Chile Paste. It has been gaining in popularity over the last few years. I have even used it in several of my recipes like Harissa Chicken Wings , Harissa Aioli  and Lamb Burger with Harissa Mayo. Like I said, I am a huge harissa fan. I have always bought it but now that I know just how easy it is to make on your own, I'll be doing that instead.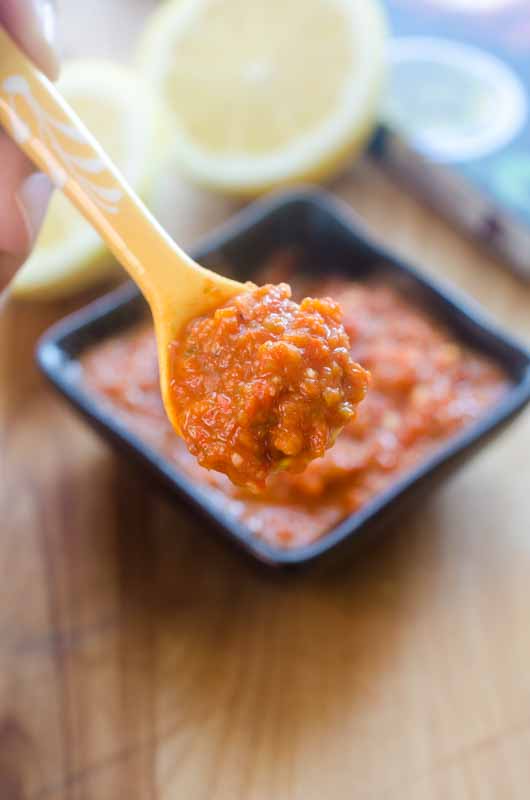 Sam's recipe for Easy Homemade Harissa is, like the name says, super easy. It includes 10 ingredients and most of them are kitchen staples. The recipe calls for fresno peppers, which are similar to a jalapeno but are hotter and smokier because they have aged longer. My grocery store didn't have any this week, but thanks to the tip provided with the recipe, I knew that I could also use serrano peppers and get the same amount of heat. It worked perfectly.
I will be putting this Homemade Harissa on all the things.
And now that I think about it, I think it would make a perfect holiday gift! Along with a copy of The Weeknight Mediterranean Kitchen, of course.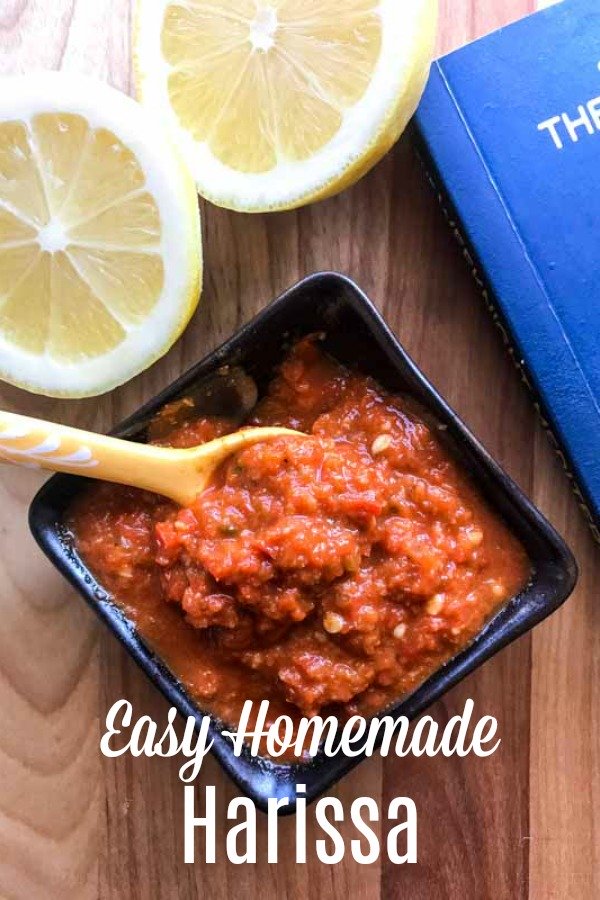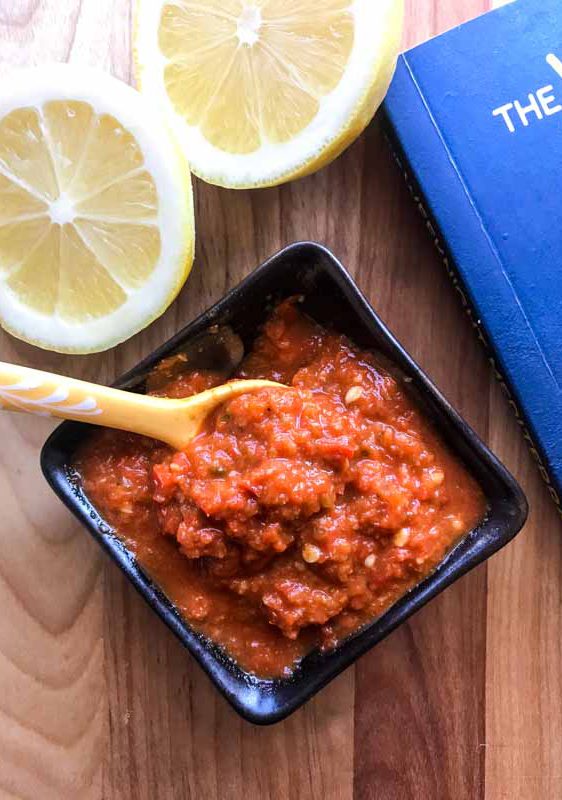 Easy Homemade Harissa
Easy Homemade Harissa is super easy to make. A blend of red bell peppers, fresno peppers and spices, this chili paste is favorite for spice lovers!
Preheat oven to broil or 550 degrees and line a baking sheet with foil. Place the bell peppers on the baking sheet. Wrap the garlic cloves in a small piece of foil and place on the baking sheet with the peppers. This will ensure that the garlic doesn't burn to quickly.

Broil the peppers and garlic until the entire pepper is softened and you can see black char, about 10 to 12 minutes. Once done, remove the peppers from the oven and cover with another piece of foil and allow to cool enough to handle. This also helps make the outer charred skin easier to remove.

Once cool enough to touch, remove the skin, seeds and stems from the peppers and place the flesh in a food processor along with the roasted garlic cloves.

Add the tomato paste, cumin, paprika, oil and lemon juice and zest to the food processor and pulse until there is a smooth yet coarse consistency. Taste for seasoning and add salt as needed.

Pour the harissa into an airtight container and keep in the fridge for up to 4 days.
Recipe provided courtesy of Samantha Ferraro.
Nutrition facts not guaranteed.
Calories:
22
kcal
Carbohydrates:
3.8
g
Protein:
0.7
g
Fat:
0.8
g
Saturated Fat:
0.1
g
Sodium:
23
mg
Fiber:
0.8
g
Sugar:
2
g
Keywords:
harissa, homemade harissa, the weeknight mediterranean kitchen