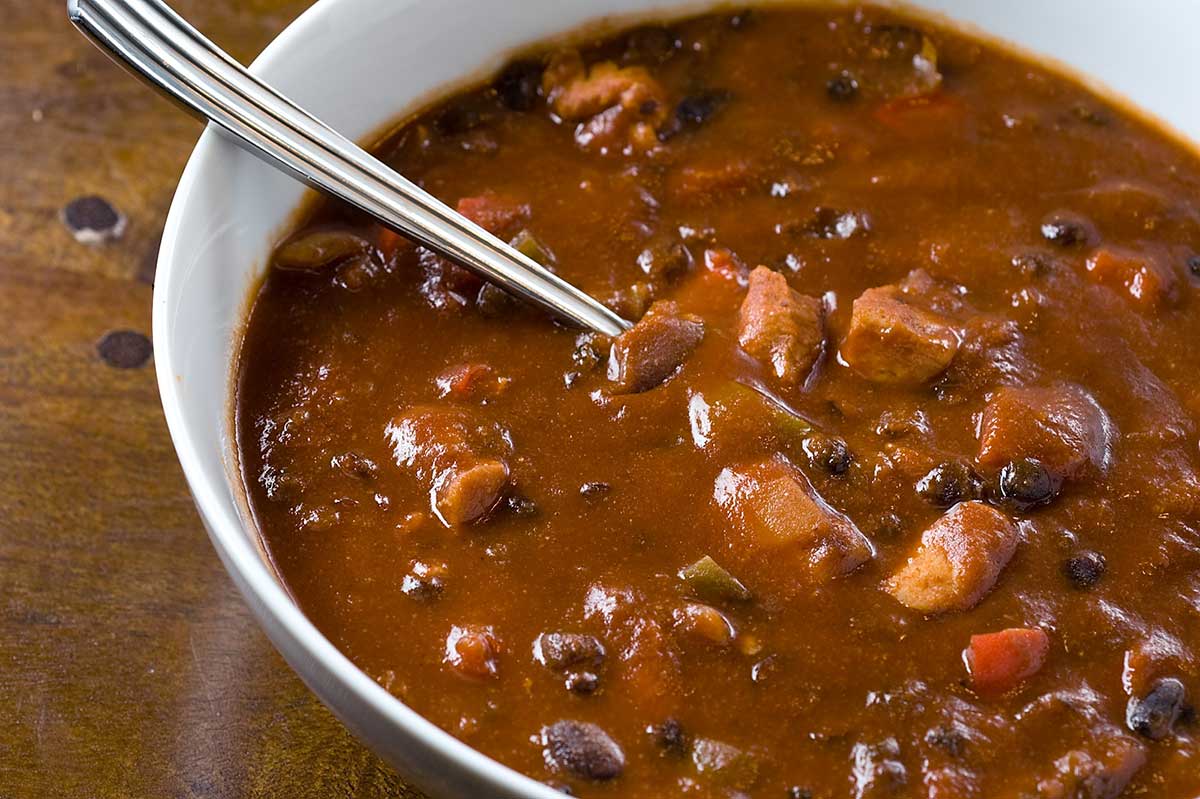 Fajita Chicken Chili
This is one of those dishes where I set out to make one thing but it turned into something completely different. In this case, I originally wanted to make black bean chili. I had just about everything I needed but then I just started adding stuff. I had a few bell peppers that I needed to use, a onion and some chicken. Once I started cooking everything, it stopped looking like a black bean chili. Instead, it had all the markings of a faijta just in chili form. Thus Fajita Chicken Chili was born.
One of the things about getting off track when you are cooking is that you can accidentally add some ingredients that you didn't mean to add . For instance, I intended to grab a can of diced tomatoes when making this chili. But I got slightly distracted when in the pantry and didn't notice that I grabbed a can of tomato sauce until I opened it. I couldn't just waste it so I said what the heck and threw it in. It turned out to be a tasty mistake. It gave the chili a much smoother consistency than I originally intended but it worked. The chili, albeit not the black bean chili that I set out to make for dinner, turned out to be quite the success, especially when scooped up with some warm flour tortillas.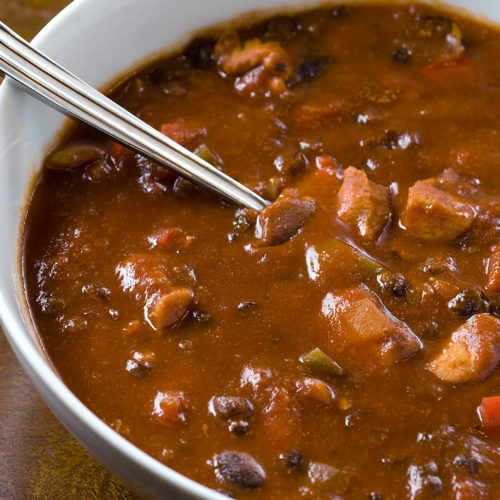 Fajita Chicken Chili
If you like chicken fajitas you'll love this tummy warming fajita chicken chili.
Ingredients:
2

teaspoon

garlic powder

2

teaspoon

ground cumin

1

teaspoon

kosher salt

1

teaspoon

chili powder

1/2

teaspoon

chipotle powder

optional

1 1/4

pound

chicken breast

diced into bit size pieces

4

tablespoons

olive oil

1/2

medium yellow onion

diced

1

red bell pepper

seeds and ribs removed, diced

1

green bell pepper

seeds and ribs removed, diced

1

28 ounce can tomato sauce

2

15 ounce cans black beans drained

1

7 ounce can diced green chilies, drained
In a bowl combine 1 teaspoon garlic powder, 1 teaspoon cumin, 1/2 teaspoon kosher salt, 1/2 teaspoon chili powder, 1/4 teaspoon chipotle powder, chicken breast and 2 tablespoons olive oil. Stir until the chicken is coated in the spices. Cover and refrigerate for 1 hour.

After the chicken has marinated, heat 1 tablespoon of olive oil in a pot over medium heat. Cook chicken just until browned. Transfer to a plate.

In the same pot that you cooked the chicken in add remaining tablespoon of olive oil. Cook onions and bell peppers until softened, about 3 minutes. Return chicken to the pan. Pour in tomato sauce, black beans and green chilies. Add in remaining garlic powder, cumin, salt, chili powder and chipotle powder. Reduce heat to low and allow to simmer uncovered for 1 hour. Season to taste with salt.

Ladle into soup bowls and serve with flour tortillas.
Keywords:
chicken, chicken breasts, chicken fajita, chili, entree, Food, Recipe, soup