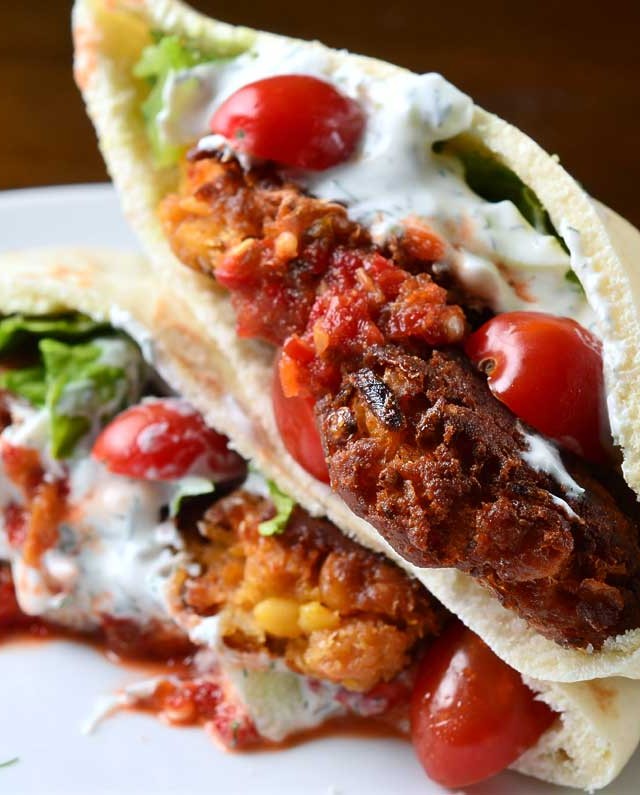 Falafel Pita Sandwich
It's funny how pregnancy affects your appetite. I am usually always planning on how to incorporate meat into dinner. But during the last 4 months, meat just doesn't sound that great to me. Except for the meat that I can't have. Oh what I wouldn't do for a salami sandwich with provolone and olive tepenade on crusty bread. My mouth waters just thinking about it. But other than that chicken has been very meh this pregnancy, and beef isn't good because I have to eat it well done. This is a good thing though because Ryan and I are finally discovering how filling vegetarian meals can actually be. Vegetarian meals like this Falafel Pita Sandwich.
I've made these pita sandwiches a couple times in the last week because they are just that good. And because I shared a tzatziki recipe on Tuesday, I thought it would make perfect sense to share a falafel pita sandwich recipe today.
Whenever we go to our favorite Gyro place here in Seattle, I always get falafel. I've always been a huge fan. But until recently, I never had the courage to try it at home. It always seemed so difficult to make. I'm not sure why. Because in actuality, it is really easy to make. You simply mash garbanzo beans with seasonings, egg and bread crumbs then fry them up.
You can eat them alone and they are divine, but I like to put them in a pita with some lettuce, tomatoes, tzatziki and chili garlic sauce. The tzatziki sauce is cool and the chili garlic sauce adds a nice kick to it. It's quickly becoming a favorite in our house.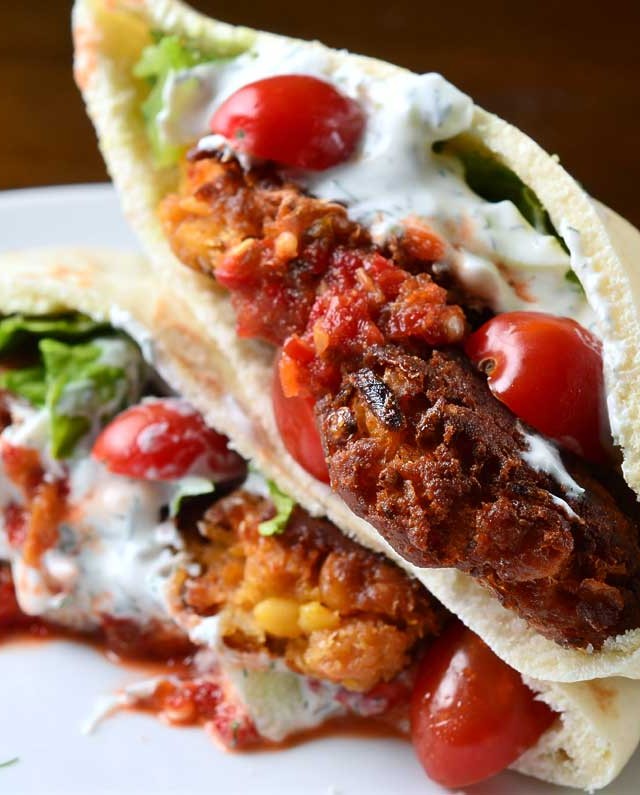 Falafel Pita Sandwich
A hearty vegetarian sandwich with falafel, lettuce, tomatoes, tzatziki and chili garlic sauce.
Pulse onion and garlic in a food processor until finely minced.

Place garbanzo beans in a bowl and smash with a fork.

Add minced onion and garlic to garbanzo beans along with salt, oregano, cumin, baking powder, paprika, cayenne and egg. Mix well. Add in the bread crumbs slowly until the mixture becomes dry but you can still roll it together. Form the mixture into 12 balls. Set aside.

Heat 1/2 inch of oil in a skillet over medium heat. Slightly flatten falafel and fry until golden brown, in batches if necessary, about 2 minutes each side. Use a slotted spoon to transfer to a paper towel lined plate. Sprinkle with salt.

To assemble the sandwiches. Place lettuce and tomatoes inside one half of a pita. Place two falafel inside and top with tzatziki and chili garlic sauce. Repeat with remaining ingredients. Serve.
Keywords:
falafel, middle eastern, pita, Vegetarian