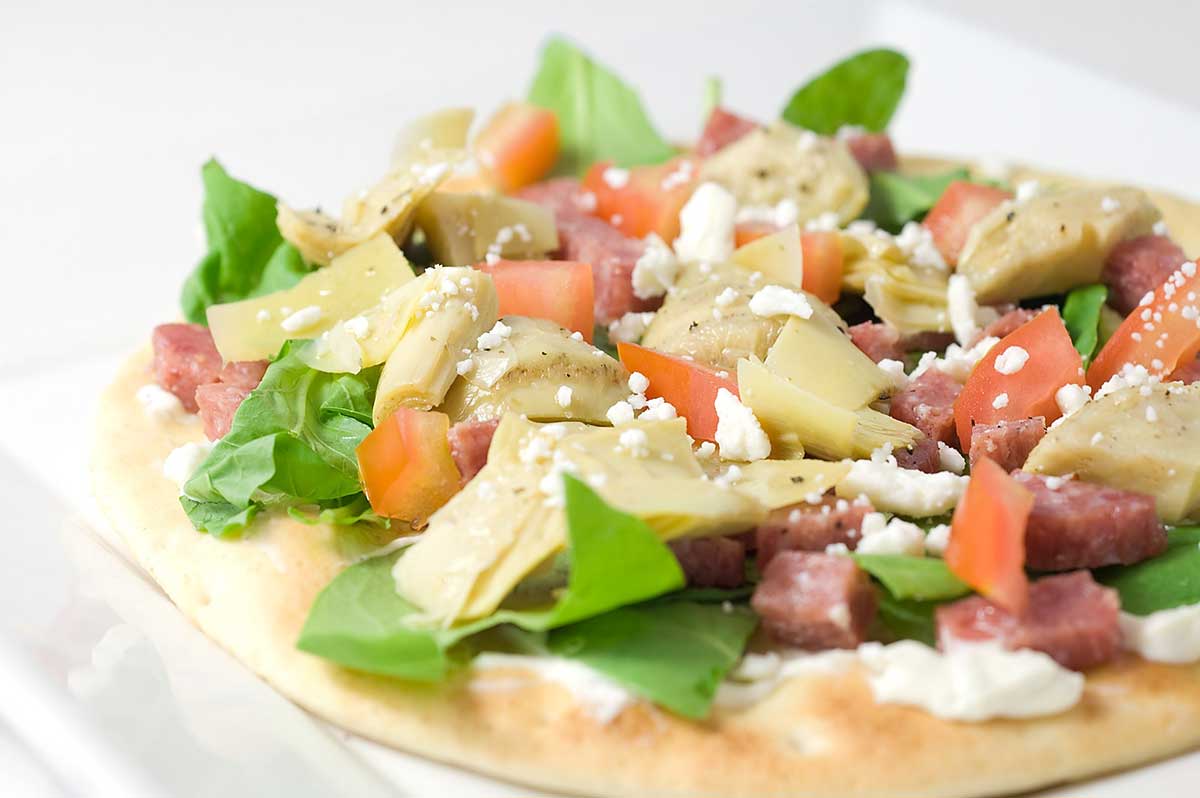 Flat Bread Pizza with Salami and Arugula
I am a sucker for pizza. It is right up there with spaghetti and meatballs as one of the things I could eat everyday and never really get sick of. So it should come as no surprise when I tell you that I was craving pizza the other day. But it was just too hot to eat the traditional pizza with thick crust and loads of meat and cheese. Instead, I decided to make this lighter version with flat bread, salami, arugula and a few other goodies.
You will notice that there is no tomato sauce or mozzarella on this pizza.  Instead I used a little olive oil and garlic and herb cheese spread.  I have used this spread in quite a few of my recipes because I love the creamy, garlicky flavor that it adds to dishes.  In this dish, it compliments the peppery arugula nicely. As does the diced salami, fresh tomatoes, marinated artichoke hearts and crumbled feta cheese.
For the crust, I decided against making my own. Instead I picked up a package of pita flat bread. It was the perfect size for personal pizzas and actually cooked quite nicely under the broiler. It had a little crunch to it but was still soft.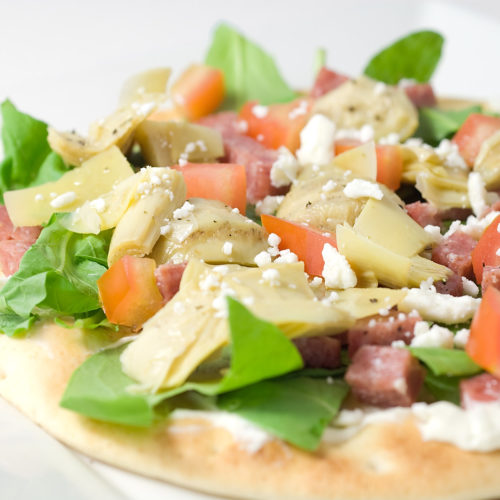 Flat Bread Pizza with Salami and Arugula
A crispy flat bread pizza with salami, arugula, tomatoes. artichoke hearts, feta and garlic and herb spread.
Ingredients:
2

pieces

of pita flat bread

olive oil

1/4-1/2

cup

garlic and herb cheese spread

2

handfuls baby arugula

1/2

cup

diced salami

1/2

cup

chopped marinated artichoke hearts

1 to

mato

diced

2-3

tablespoons

feta cheese crumbles
Preheat oven broiler

Brush flat bread with olive oil. Place under the broiler for 2-3 minutes or until bread is slightly golden.

Spread a layer of garlic and herb cheese spread on the top of flat breads. It may melt slightly at first, just keep adding until you get a thin layer.

Top flat breads with remaining ingredients. Slice and serve.
Keywords:
artichoke hearts, arugula, crumbled feta cheese, feta cheese, flat bread, Food, garlic and herb cheese sprea, marinated artichoke hearts, pita, pizza, Recipe, rondele cheese, salami, tomatoes