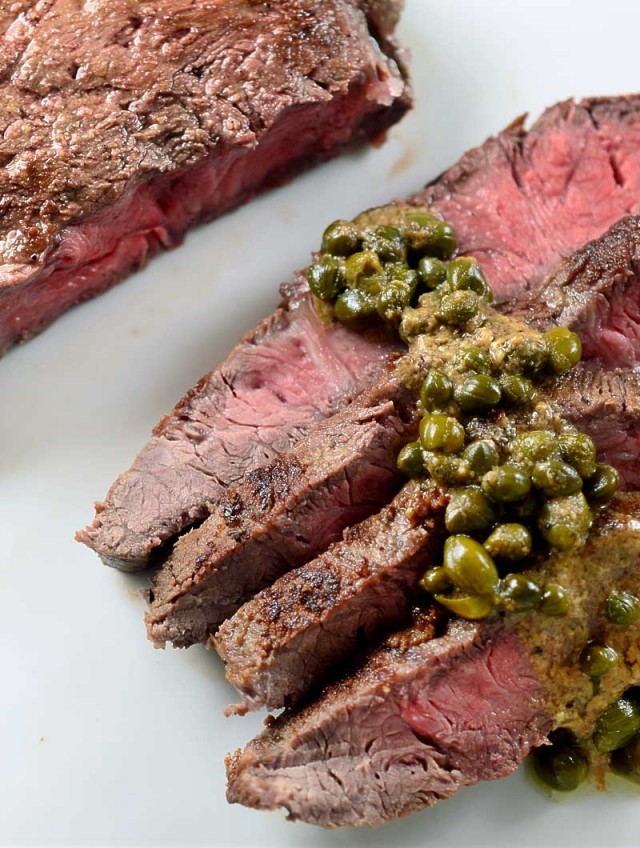 Flat Iron Steak with Dijon Caper Sauce
We don't eat a lot of beef in our home. It's not all that intentional I just usually buy chicken, some kind of sausage or pork. So on the rare occasion that we do have steak for dinner, it's kind of a big deal. It's kind of like our fancy dinner. And what says fancy dinner more than a perfectly cooked steak? A perfectly cooked flat iron steak with a delectable dijon caper sauce spooned over the top.
I've mentioned before how I prefer to eat steak at home rather than at the steak house because it's 1: cheaper 2: fun to eat in your pjs and 3: I seriously think it tastes better.
This steak is no exception. And it's not even cooked on a grill. That's right. It's cold here now in Seattle. We've put the grill away for the winter. But that doesn't mean that steak dinners come to a screeching halt. No, not at all. Did you know that you can get a perfectly cooked steak by using a cast iron skillet?
It works like magic. Just heat the skillet until it's piping hot. Cook the steak for 2 minutes on one side. Do not touch it. No matter how much you want to. No matter how much you want to see if it's getting that nice color you want. Do not touch it for 120 seconds. You can do it!
Then you flip it over and don't touch it again. For another 2 minutes. I know it can be hard but trust me it's worth it. Then finally you take the whole skillet, steak and all and pop it in the oven for a few more minutes. Finally, remove it. And this is the most important part, do not slice into it. Do not puncture it with a fork or tongs or anything. Let it rest for 10 whole minutes. Then slice against the grain. That is all there is to it.
Well,  I lied. That's not all there is to this steak. Usually that's good enough, but the fine people at STAR Fine Foods sent me over an unbelievably humungo jar of capers and they were just begging to be added to this steak. So while the steak was doing it's mandatory resting, I decided to whip up a quick Dijon caper sauce to spoon over the top.
It was a splendid idea, friends. And only reconfirmed that I very much prefer to eat steak at home.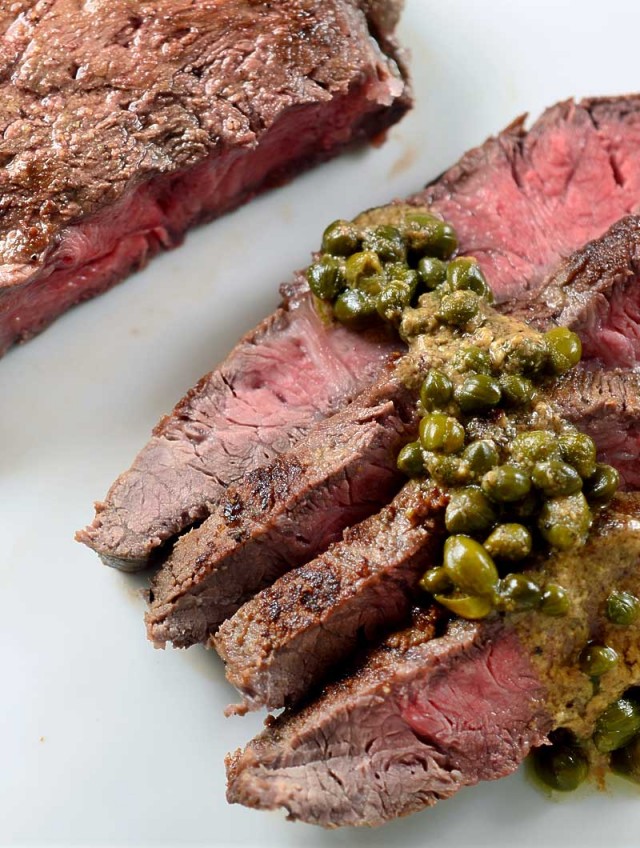 Flat Iron Steak with Dijon Caper Sauce
A perfectly cooked flat iron steak topped with a cream dijon caper sauce.
Place steak in a resealable plastic bag. Whisk together 2 tablespoons olive oil, red wine vinegar, garlic, pepper and salt. Pour marinade over steak. Refrigerate 6 - 8 hours or overnight.

Preheat oven to 400 degrees.

When ready to cook, heat a 12 inch (or one big enough to fit your steak) cast iron skillet over high heat until hot. Place steak in pan and cook two minutes. After two minutes, flip and cook for another two minutes. Use a hot pad to hold the handle and transfer the cast iron skillet to the oven and cook for an additional 3 - 4 minutes for medium rare.

Remove steak from the oven, place on a serving platter to rest.

Heat remaining olive oil and butter in a skillet over medium heat until butter melts. Whisk in dijon mustard and capers. Cook 30 seconds - 1 minute or until capers are warmed through.

Slice steak against the grain and spoon sauce over the top. Serve.
Keywords:
beef, capers, dijon sauce, entree, Food, Recipe, steak