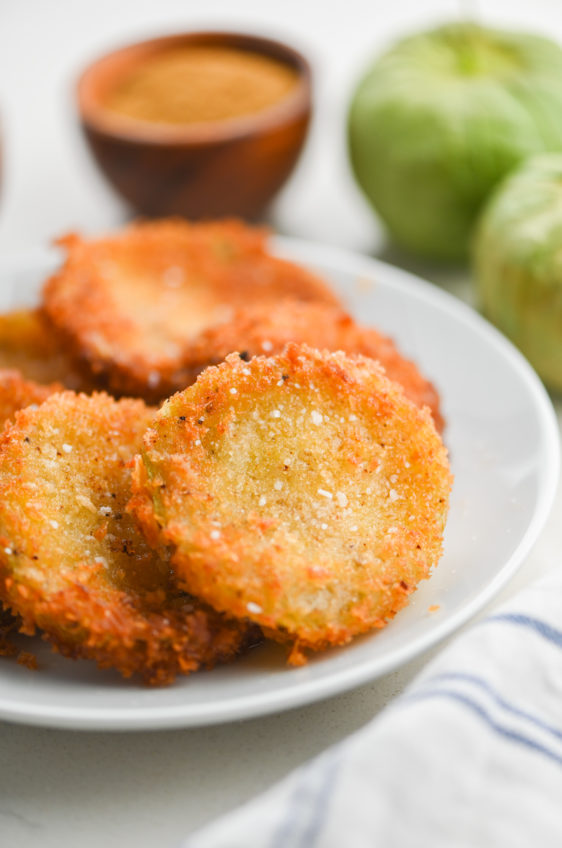 Fried Green Tomatillos
Fried green tomatillos are a southwestern twist on a classic southern dish, fried green tomatoes. Perfect as a side dish on their own, or add them to burgers and salads. Delicious!
Who loves fried green tomatoes? I know I do. I love them served with bacon ranch dip. They are great on burgers, with mozzarella sandwiched in between and in grilled cheese sandwiches. Today though, I am switching things up a bit and am sharing a southwestern twist on the southern classic with these Fried Green Tomatillos with Creamy Chipotle Dipping Sauce.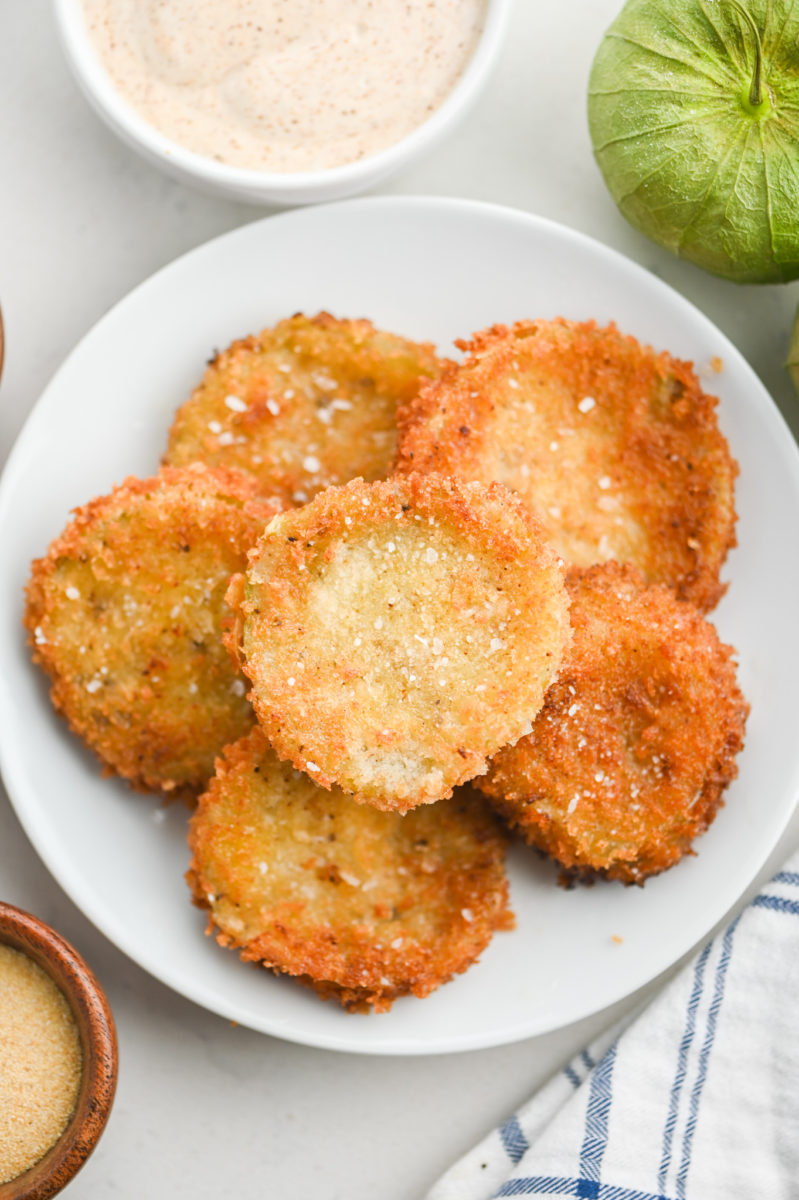 I don't know why it never occurred to me to fry tomatillos before, but these Fried Green Tomatillos are so stinkin' good, guys. They get the traditional batter treatment with flour, egg/milk wash and panko bread crumbs. Then they are fried until they are crispy and golden and dipped in a creamy, spicy, chipotle dipping sauce.
Ingredients you'll need:
This recipe is broken up into two separate recipes: the fried tomatillos and the creamy chipotle dip.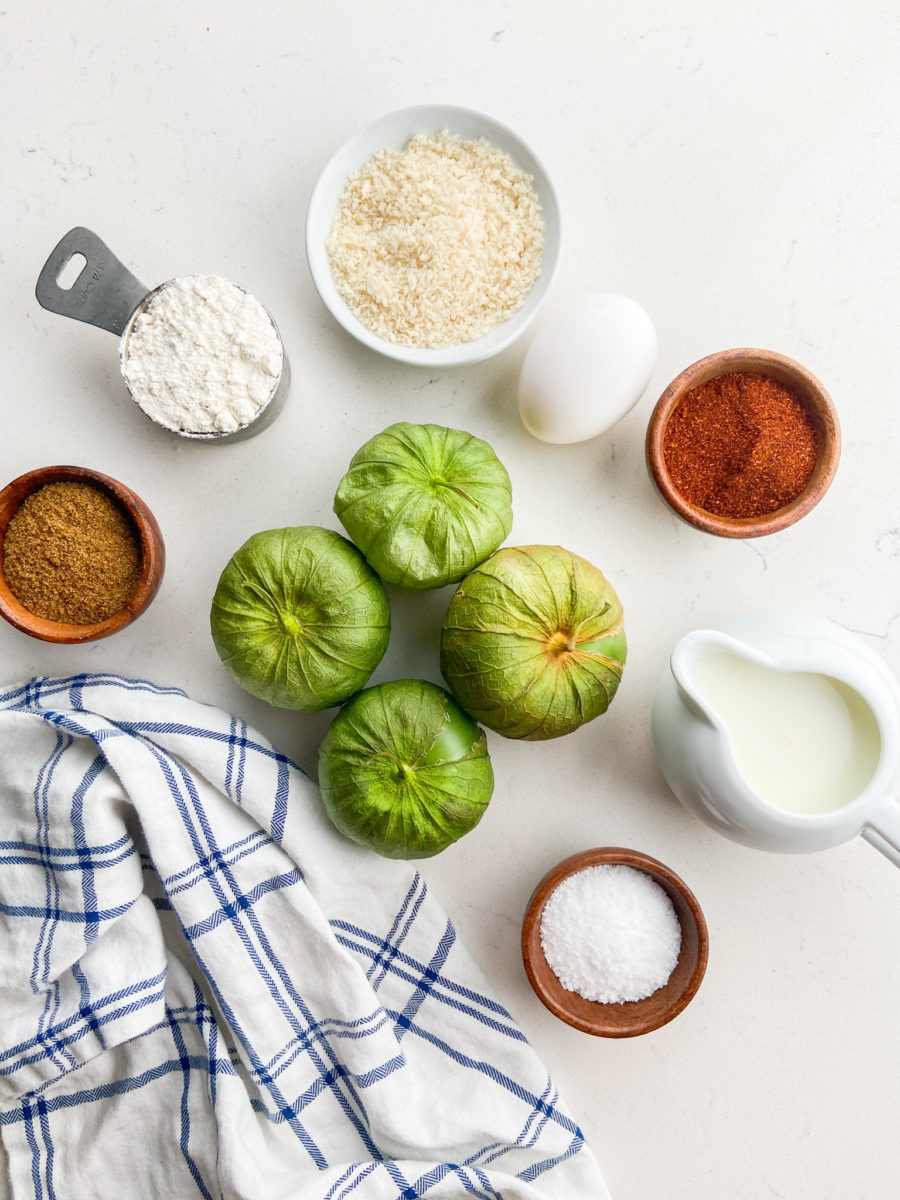 TOMATILLOS: Tomatillos are part of the nightshade family, like tomatoes. They are shaped similar but have a husk and are slightly more acidic and less sweet than their red counterparts.
FLOUR: All purpose flour works great for this recipe. It gives the egg/milk something to stick to.
EGG/MILK: This is sticks to the flour and will help bind the panko bread crumbs to the tomatillo.
CUMIN/CHILI POWDER/SALT: To season the panko bread crumbs
OIL: I use something neutral (and less expensive) for deep frying. Canola, peanut or vegetable oil works great.
Creamy Chipotle Dip Ingredients: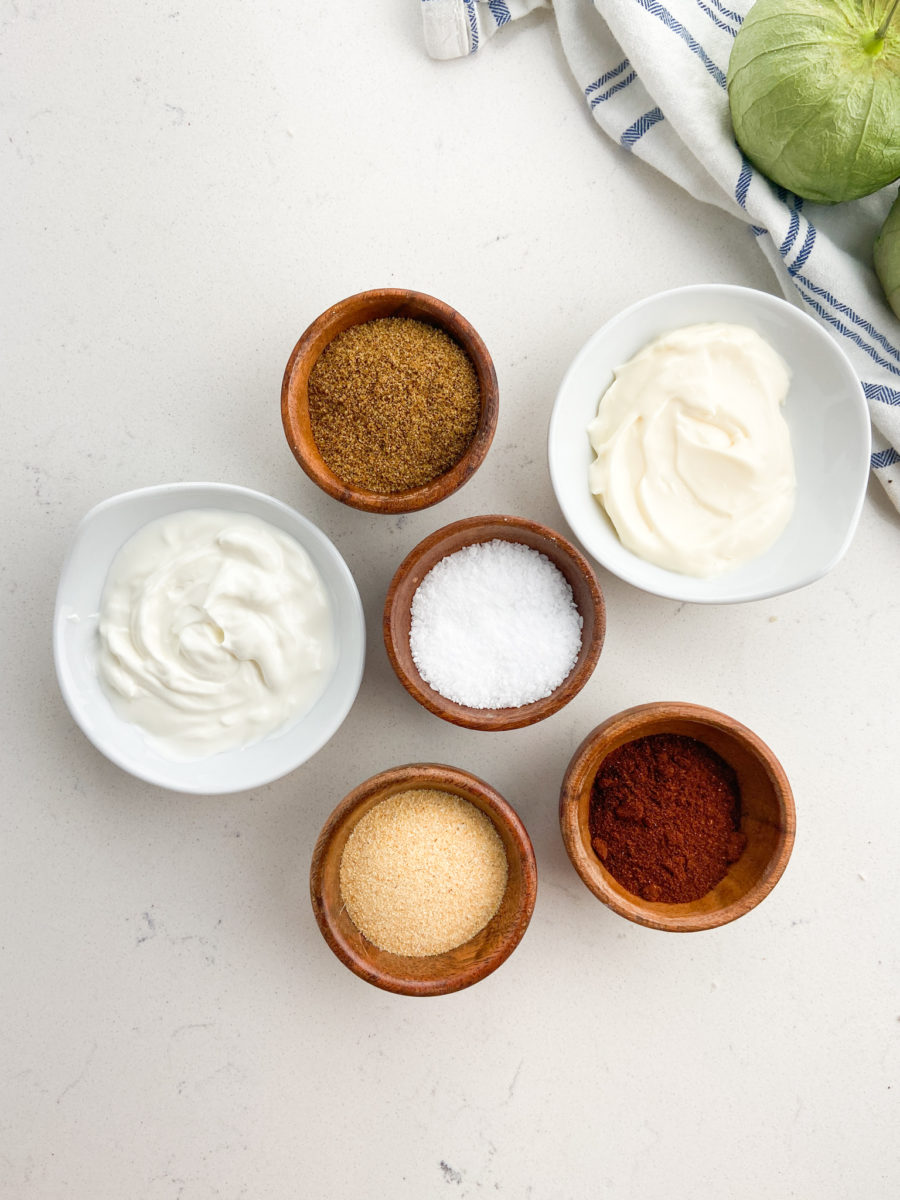 MAYONNAISE/SOUR CREAM: These are going to be the base of the creamy dip. The mayonnaise adds the creamy oil texture and the sour cream adds tang
DISTILLED VINEGAR: Also adds tang and cuts some of the richness from the mayo.
CHIPOTLE POWDER: A little different than traditional chili powder, this has the smoky heat of smoky chipotle.
SALT/GARLIC POWDER: to help round out the seasoning flavor.
How to make Fried Tomatillos:
Fried tomatillos are easy to make if you follow a couple of my tips, mainly you want to set up an assembly line so coating the tomatillos is easy. Follow along with these step by step photos and instructions to learn how to make them.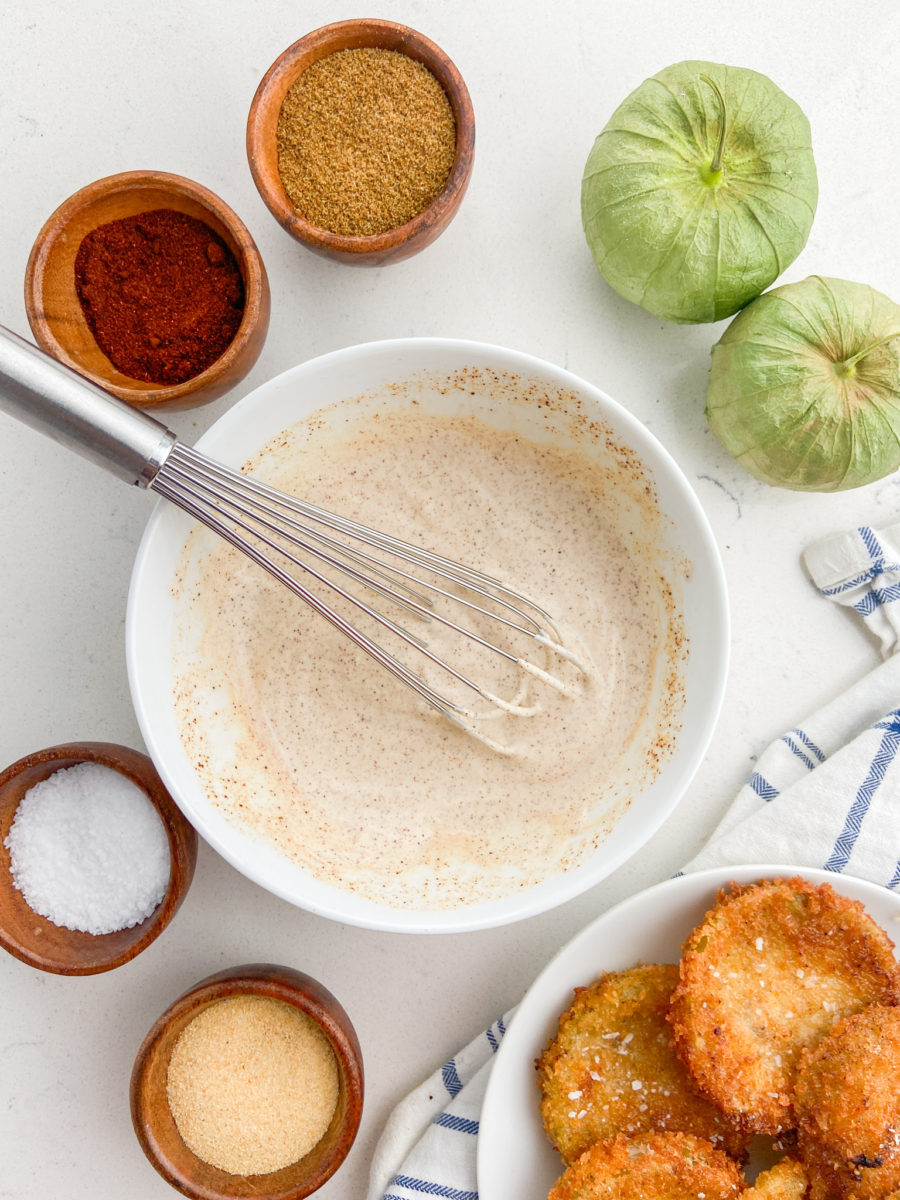 STEP #1: Make the chipotle dip first. That way the flavors have a chance to meld while you're frying the tomatillos.
STEP #2: You'll need three separate plates/bowls. Place flour in one bowl, whisk together egg/milk in another and in the third bowl combine the panko with chili powder and cumin.
STEP #3: Season the tomatillos with salt and pepper. Dredge in flour, dip in egg and press into seasoned panko.
STEP #4: Fry.
Storage and Leftovers:
These are really best eaten the day they are made, ideally once they are cool enough to eat. Otherwise the tomatillos continue to release liquid and make the breading soft.
The creamy chipotle dip will last for several days in the refrigerator though. Try adding it to a burger or some fish tacos!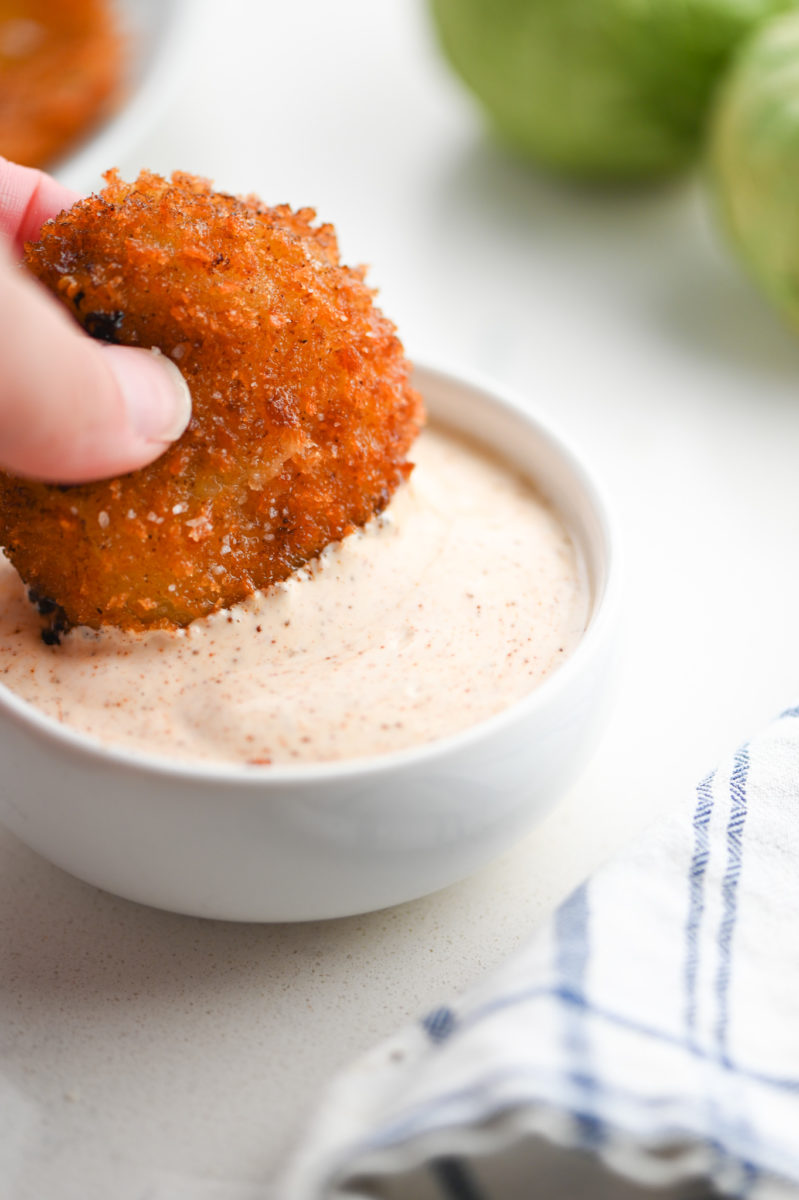 So as much as I love fried green tomatoes, when I can't get my hands on the tomatoes, tomatillos are an excellent substitute. They are a little more tangy than their southern cousins, but fried green tomatillos are just as delicious.
Trust me.
Note: Post originally published in 2015. Updated with new photos, step by step photos and nutrition information in 2022.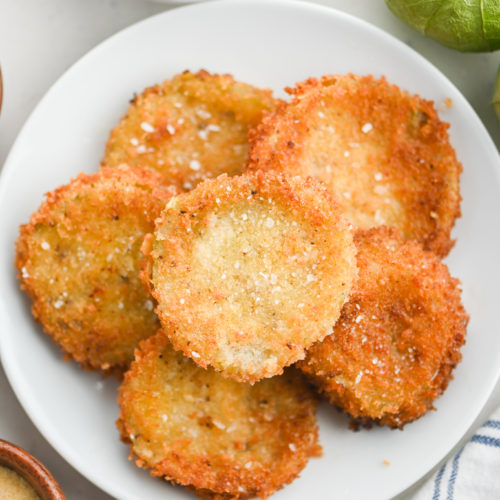 Fried Green Tomatillos
Fried green tomatillos are a southwestern version of a classic southern dish, fried green tomatoes. Perfect as a side dish or a burger topping. Recipe here!
Fried Green Tomatillo Ingredients:
Creamy Chipotle Dip Ingredients:
1/4

cup

mayonnaise

1/4

cup

sour cream

1

tablespoon

white vinegar

1/4 - 3/4

teaspoon

chipotle powder

1/4

teaspoon

ground cumin

1/4

teaspoon

kosher salt

1/4

teaspoon

garlic powder
Make creamy chipotle dip first by whisking all ingredients together. Cover and refrigerate for at least 30 minutes.

Season the tomatillos lightly with salt and pepper.

Set up an assembly line: In one bowl place flour, in another bowl whisk together the egg and milk, in a third bowl combine panko, cumin, chile powder and salt.

Dredge a tomatillo in the flour, dip it in the egg mixture and then dredge in the panko. Repeat with remaining tomatillos until all are coated.

Heat a 1/4 inch of oil in a skillet over medium-high heat until hot. Drop a few panko bread crumbs in and if they sizzle its hot enough. Fry tomatillos, in batches if needed, until crispy and golden, about 3 minutes. Transfer to a paper towel lined plate, sprinkle with salt. Serve immediately with creamy chipotle dip.
Avoid overcrowding the pan when frying the tomatillos. Cook in batches if needed. Overcrowding will result in less crispy fried tomatillos. 
Start with 1/4 teaspoon of the chipotle powder if you're concerned about the spiciness of the dip. 3/4 was a little on the spicy side. 
Nutrition information for estimation purposes only. 
Calories:
280
kcal
Carbohydrates:
27
g
Protein:
7
g
Fat:
16
g
Saturated Fat:
4
g
Polyunsaturated Fat:
7
g
Monounsaturated Fat:
4
g
Trans Fat:
1
g
Cholesterol:
57
mg
Sodium:
527
mg
Potassium:
219
mg
Fiber:
2
g
Sugar:
4
g
Vitamin A:
412
IU
Vitamin C:
4
mg
Calcium:
79
mg
Iron:
2
mg
Keywords:
chipotle, Fried Green Tomatoes, tomatillos