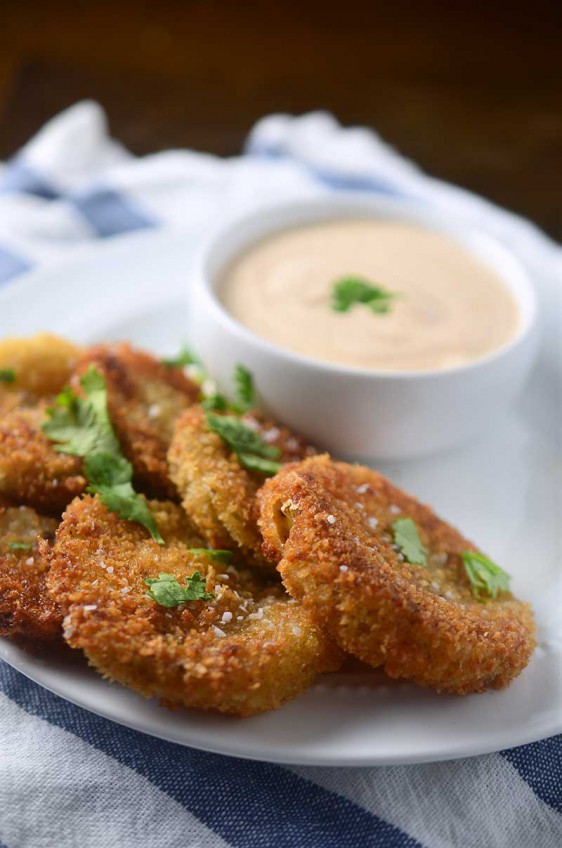 Fried Green Tomatillos
Fried green tomatillos are a southwestern twist on a classic southern dish, fried green tomatoes. Perfect as a side dish on their own, or add them to burgers and salads. Delicious!
Who loves fried green tomatoes? I know I do. I love them served with bacon ranch dip. I love them on burgers, with mozzarella sandwiched in between and in grilled cheese sandwiches. Today though, I am switching things up a bit and am sharing a southwestern twist on the southern classic with these Fried Green Tomatillos with Creamy Chipotle Dipping Sauce.
So guys, I am a little sad. You see, I love fried green tomatoes so much that the reason I grow tomato plants every year is so that I can ensure that I can enjoy them at least once. It is the only way I can be sure, since green tomatoes aren't sold in our grocery stores here in the great PNW. But alas, it doesn't seem like I'll get to enjoy them this year.
I thought that with the hot, hot weather that we've been having this summer that my tomatoes, heck my whole garden, would be doing well. I thought that I'd have tomatoes, cucumbers, peppers, onions, basil, green beans and edamame coming out of my ears. But I am sitting here writing this after I just threw my last pots of herbs away. All I have left is a cucumber plant with one little cucumber on it, a shishito plant with currently no shishitos and a jalapeño plant that hasn't actually produced any jalapeños, but I'm keeping it, because I'm holding out hope.
And 3 tomato plants.
3 tomato plants with a combined total of about 10 tomatoes on them and I am not even sure that they are going to get much bigger than the size of cherry tomatoes. I'm not sure if it's because it was just too hot early on that my tomatoes didn't get the chance to grow like they should or that I didn't water them enough or a combo of the two. Either way,  I have pretty much given up on the idea of chowing down on some fried green tomatoes this year.
But to try to turn my sadness around, I have instead turned to something I can find all year round, tomatillos. I decided to make Fried Green Tomatillos.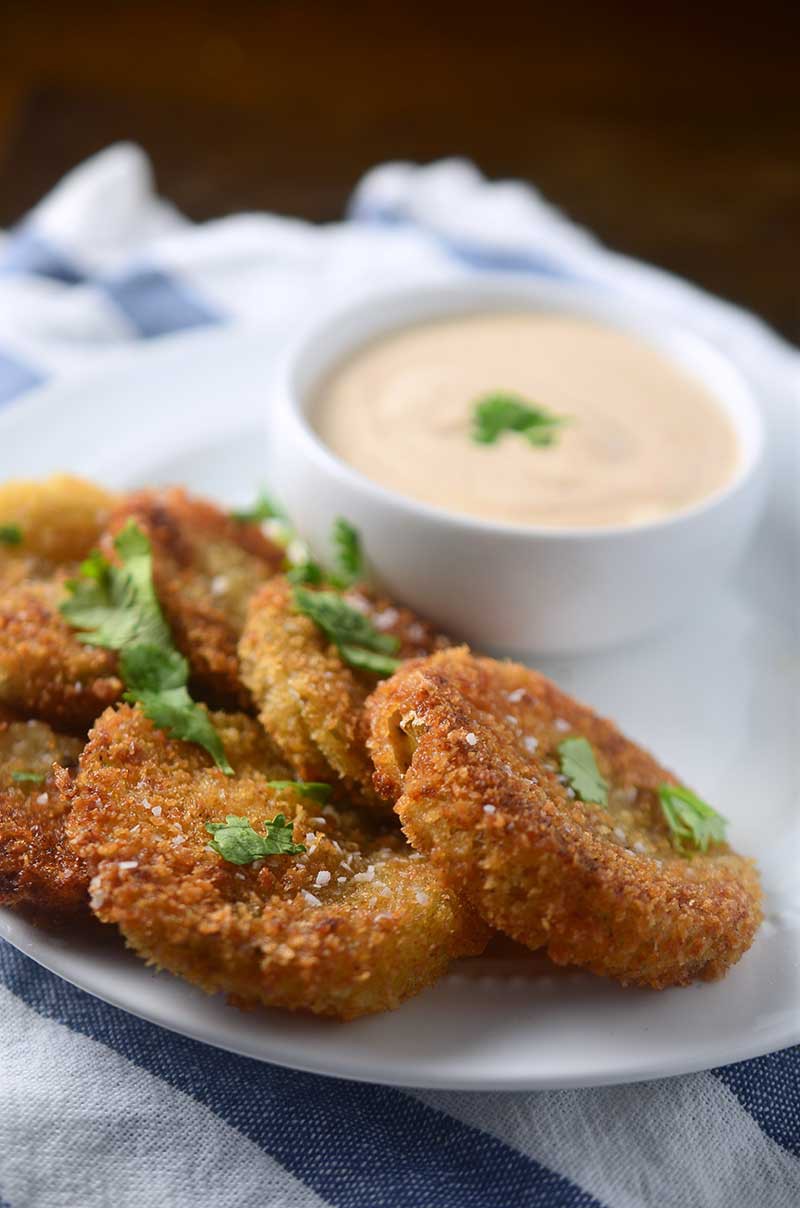 I don't know why it never occurred to me to fry tomatillos before, but these Fried Green Tomatillos are so stinkin' good, guys. They get the traditional batter treatment with flour, egg/milk wash and panko bread crumbs. Then they are fried until they are crispy and golden and dipped in a creamy, spicy, chipotle dipping sauce.
They are a little more tangy than their southern cousins, but fried green tomatillos are just as delicious.
Trust me.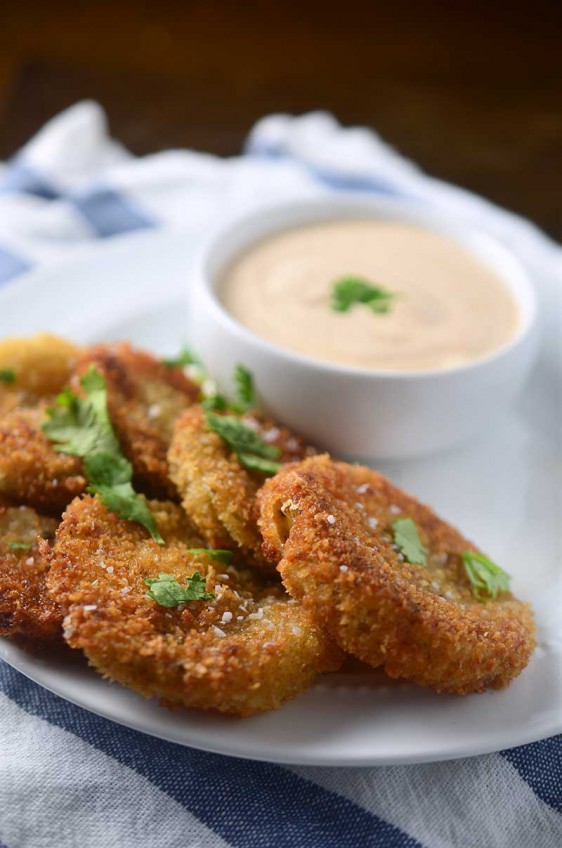 Fried Green Tomatillos
Fried green tomatillos are a southwestern version of a classic southern dish, fried green tomatoes. Perfect as a side dish or a burger topping. Recipe here!
Fried Green Tomatillo Ingredients:
Creamy Chipotle Dip Ingredients:
1/4

cup

mayonnaise

1/4

cup

sour cream

1

tablespoon

white vinegar

3/4

teaspoon

chipotle powder

1/4

teaspoon

ground cumin

1/4

teaspoon

kosher salt

1/4

teaspoon

garlic powder
Make creamy chipotle dip first by whisking all ingredients together. Cover and refrigerate for at least 30 minutes.

Season the tomatillos lightly with salt and pepper.

Set up an assembly line: In one bowl place flour, in another bowl whisk together the egg and milk, in a third bowl combine panko, cumin, chile powder and salt.

Dredge a tomatillo in the flour, dip it in the egg mixture and then dredge in the panko. Repeat with remaining tomatillos until all are coated.

Heat a 1/4 inch of oil in a skillet over medium-high heat until hot. Drop a few panko bread crumbs in and if they sizzle its hot enough. Fry tomatillos, in batches if needed, until crispy and golden, about 3 minutes. Transfer to a paper towel lined plate, sprinkle with salt. Serve immediately with creamy chipotle dip.
Keywords:
chipotle, Fried Green Tomatoes, tomatillos