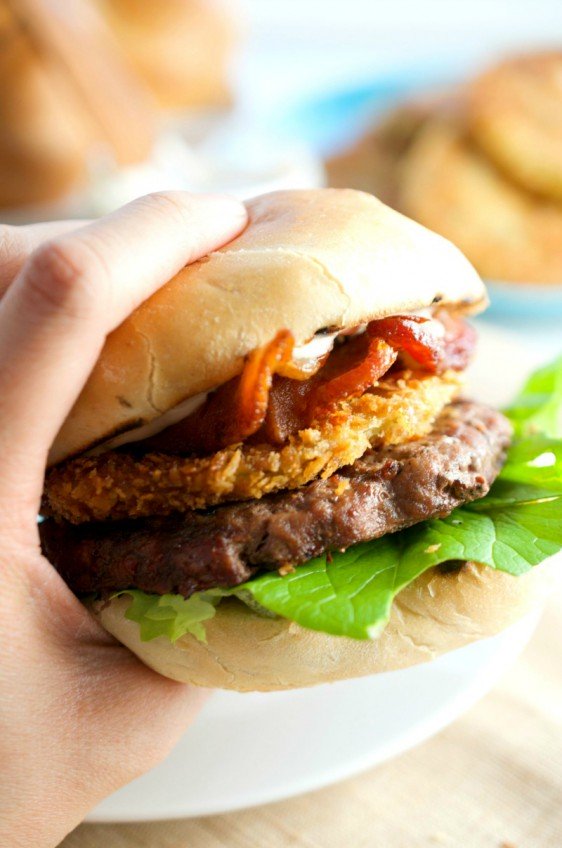 Fried Green Tomato Bacon Burger
I posted a photo on Facebook and Twitter showing some sliced green tomatoes, flour, milk and panko with the caption "Guess what I am making" It didn't take long for people to guess fried green tomatoes. And while those of you that guessed that were right, I was making fried green tomatoes, you probably assumed that was it. Ohhhh but it wasn't my friends. Not at all. I had more things in store for those beauties. More things like this glorious Fried Green Tomato Bacon Burger.
If you've been following the blog for the past couple of weeks then you already know that I have a ton of green tomatoes in my garden that I need to figure out a use for. Over the past month or so I have found a few different ways like making a salsa with them or making this spicy relish, but in truth, there is not much better than a perfectly crisp fried green tomato.  Whether you dip them in bacon ranch, make a grilled cheese sandwich with them or sandwich mozzarella in between two of them, fried green tomatoes are down right delicious. But when you take a perfectly crispy fried green tomato and place it on top of a burger with lettuce and a cajun mayo, well in the words of Uncle Jesse, have mercy.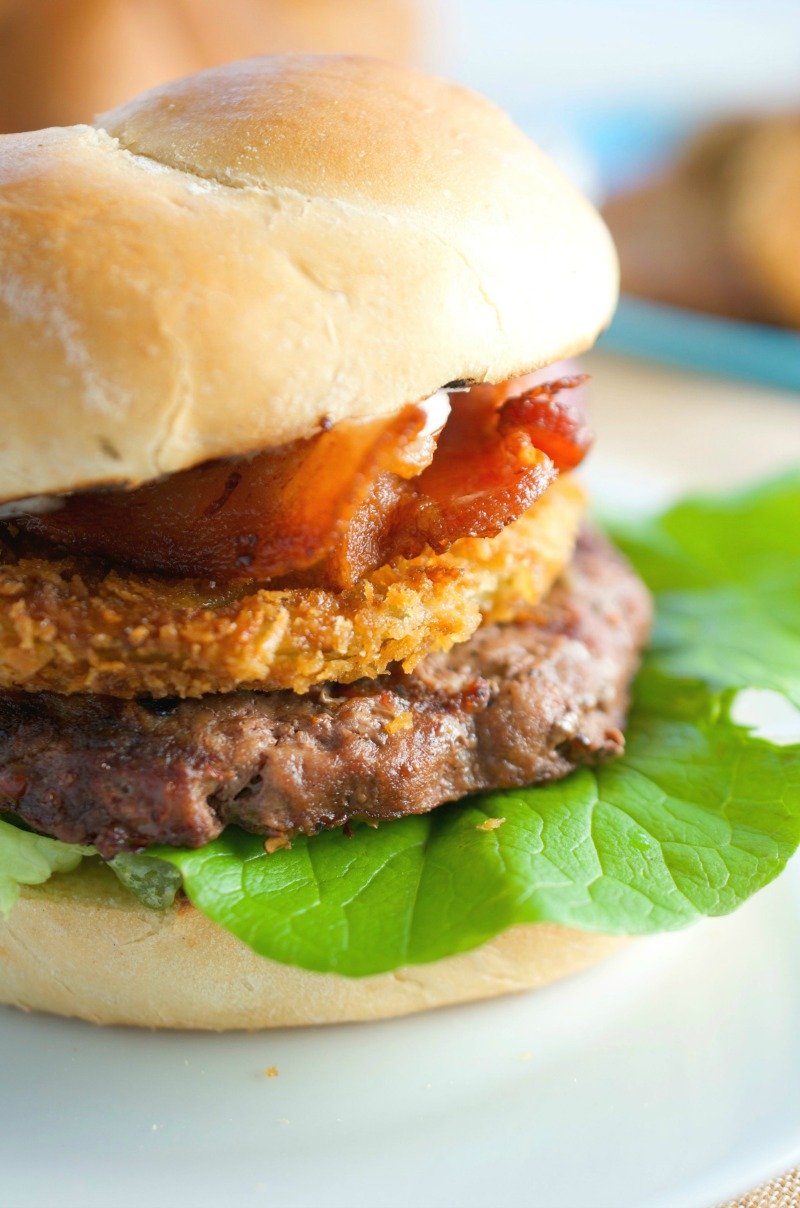 You can use unripened red tomatoes to make this burger or you can use heirloom green tomatoes. I have made this Fried Green Tomato Bacon Burger with both before. The key is to make sure that the tomatoes are firm. Firmer tomatoes hold up much better when you are frying.
Note: This post was originally posted in 2012 but was updated with new photos in 2016.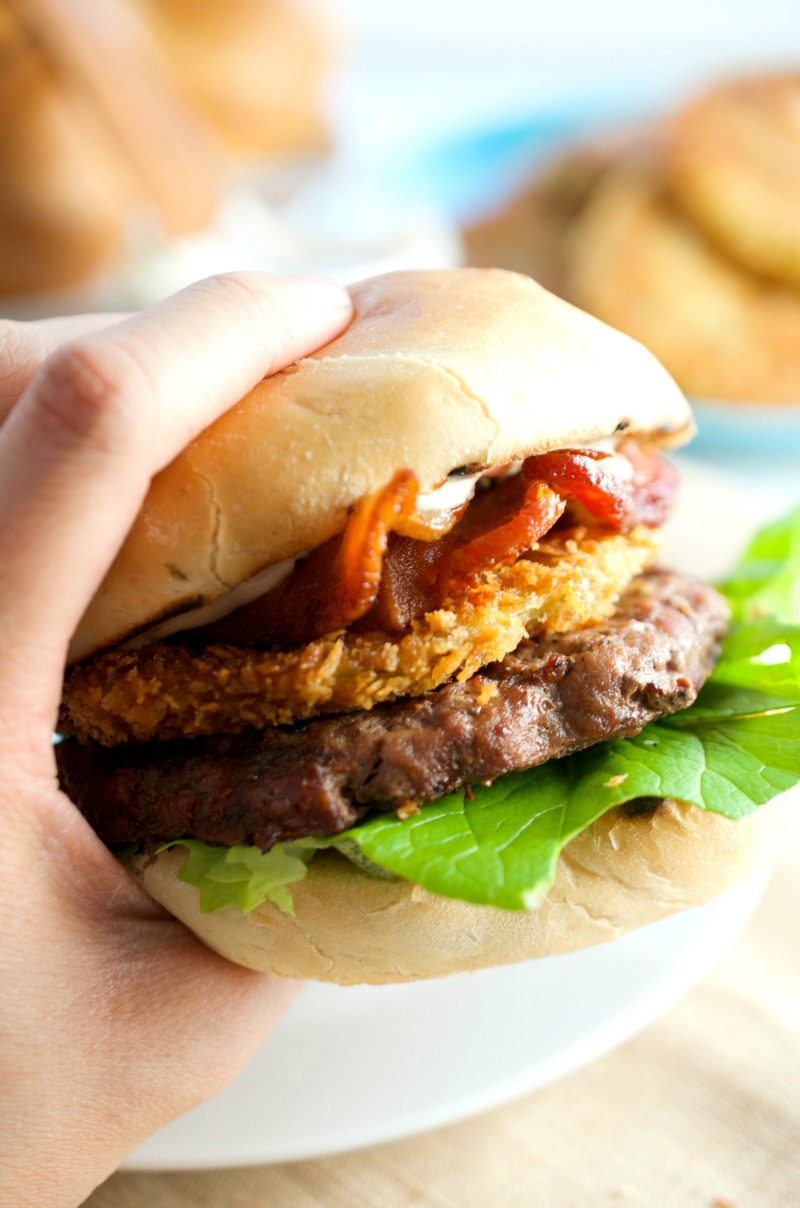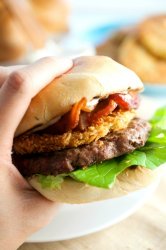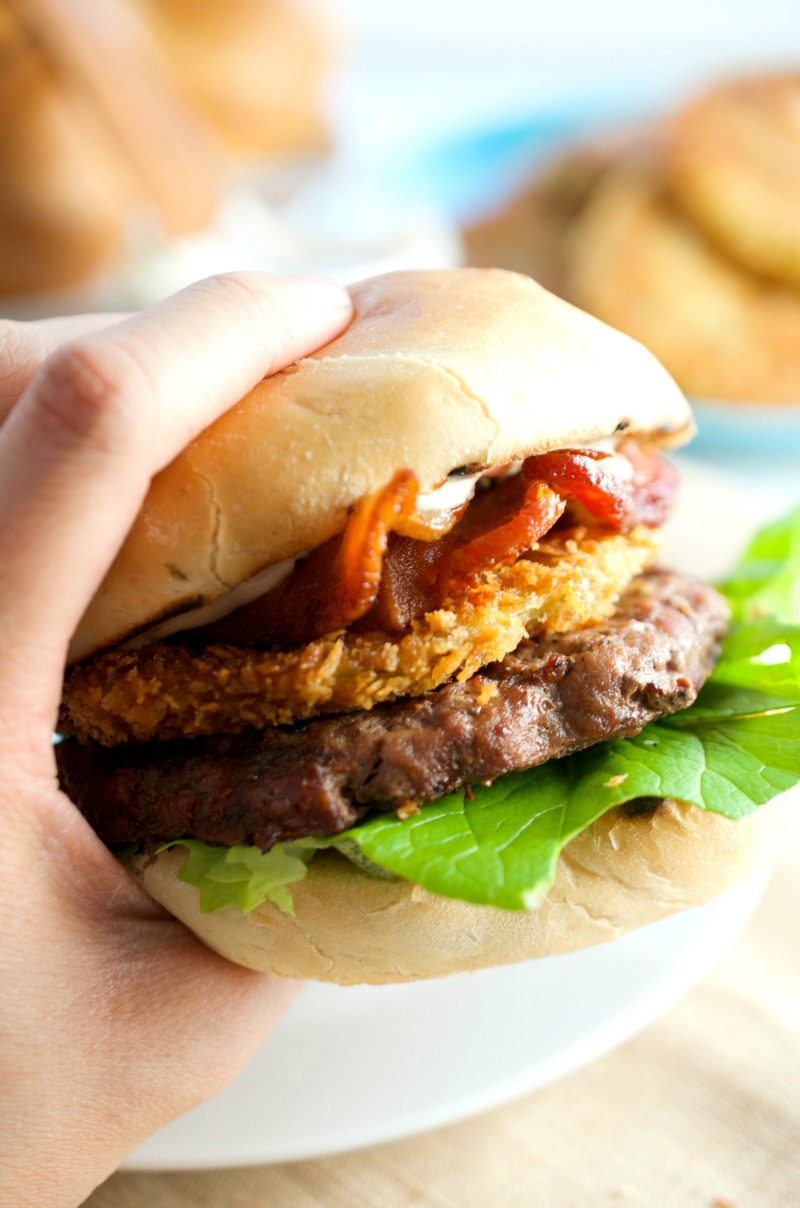 Fried Green Tomato Bacon Burger
This burger gets a southern twist with bacon and a fried green tomato. Perfect way to use summer garden tomatoes!
Ingredients:
1/4

cup

mayonnaise

2

tablespoons

sour cream

1

teaspoon

Cajun seasoning

1

tablespoon

white vinegar

1

teaspoon

Dijon mustard

4

slices

bacon

cut in half

1/2

cup

flour

1

egg

1/4

cup

milk

1

cup

panko bread crumbs

2

medium green tomatoes

cut into 1/4 inch slices

salt and pepper

4

ground beef patties

lettuce

4

hamburger buns
In a bowl combine mayonnaise, sour cream, cajun seasoning, vinegar and Dijon mustard. Chill until burgers are finished.

Cook bacon in a pan over medium heat. Transfer to a plate. Reserve pan drippings. Remove from heat while you prep the tomatoes.

Place the flour on a plate. Whisk the egg and milk together in a bowl. Place panko bread crumbs on another plate.

Season the green tomatoes with salt and pepper on both sides. Dredge the tomatoes in the flour. Then dip in the egg/milk wash then dredge in the panko bread crumbs. Repeat until all tomatoes are coated.

Return the pan with bacon drippings to the heat. Drop a couple panko bread crumbs in, if they sizzle then it's ready to go. Fry the tomatoes 2 - 3 minutes per side or until golden brown. Transfer to a plate. Cover to keep warm.

In the same pan, cook the hamburger patties. You can also grill them if you prefer.

Turn on the oven broiler and broil hamburger buns 1 minute or until golden.

Spread cajun mayonnaise over the top bun. Place lettuce on the bottom bun. Top with ground beef patties. Top each burger with a couple slices of bacon and 2 fried green tomatoes. Serve.
Keywords:
4th of July Recipes, burger, Food, fried green tomato recipes, Fried Green Tomatoes, hamburger, Labor day recipes, Memorial Day recipes, Recipe