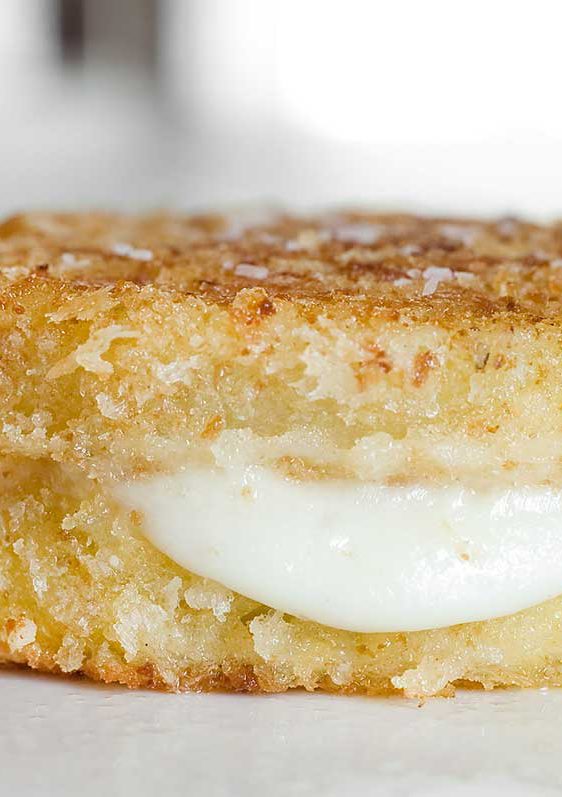 Fried Green Tomatoes with Mozzarella
Oooey, gooey mozzarella sandwiched between two crispy, crunchy fried green tomatoes.
Do you have a book AND a movie that you love? It's often hard to get one that is as good as the other. In my experience, the book is usually the better of the two. That, however, is not the case with the Fried Green Tomatoes movie. It is, even 26 years later, one of my favorite movies OF ALL TIME.
I have watched the movie so many times that I can recite it line by line. The book is great too but man, the movie. I have been obsessed with fried green tomatoes ever since Idgie made them for Ruth before their kitchen food fight.
Tips for making fried green tomatoes:
Green tomatoes and tomatillos are NOT the same thing. They are both members of the nightshade family. But the tomatillo isn't a tomato. It is the fruit of a different plant.
Although there are various kinds of green heirloom tomatoes, the best tomatoes for making Fried Green Tomatoes are firm, unripened tomatoes. I prefer unripened Beefsteak Tomatoes.
The tomatoes are traditionally coated with cornmeal or a wet better. Other crust options include panko bread crumbs, like this recipe.
I have made them several different ways over the years. I have made Fried Green Tomatoes with Bacon Ranch Dip, a BLT and even a burger. And now I am making these Fried Green Tomatoes stuffed with mozzarella. It is every bit as heavenly as it sounds.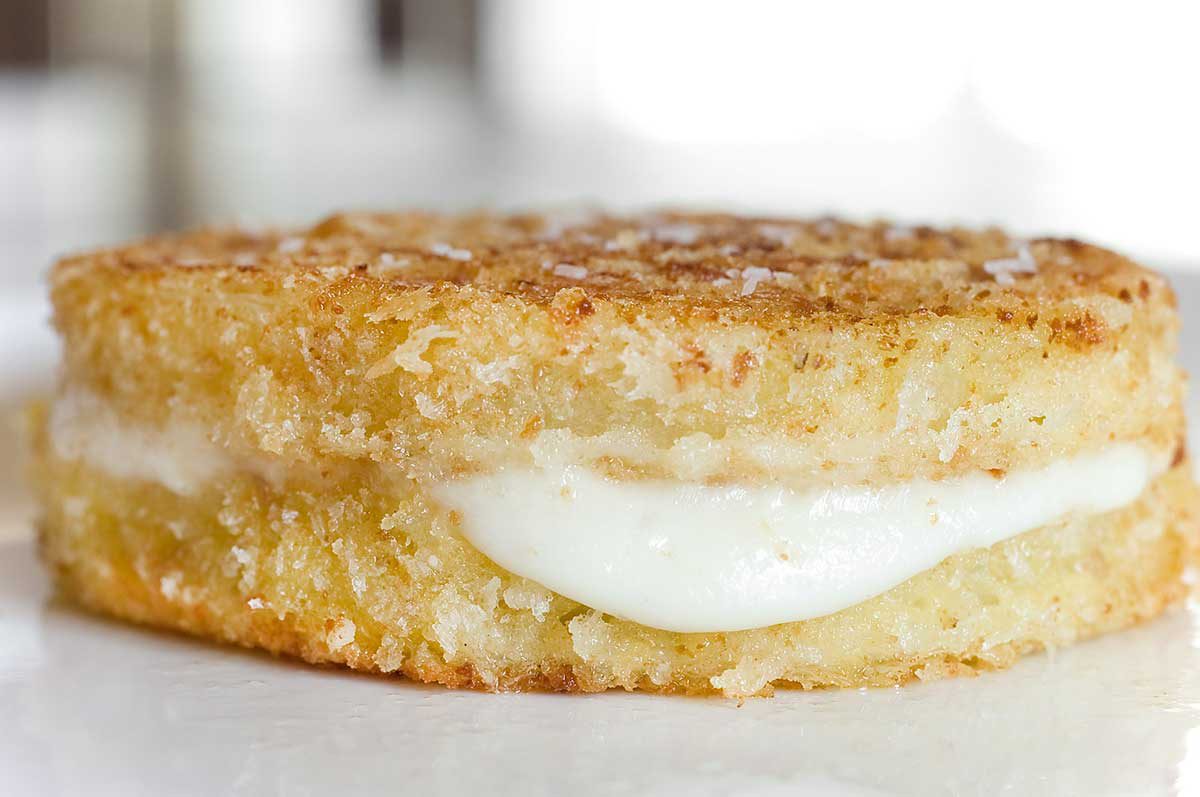 To get these Fried Green Tomatoes with mozzarella perfectly crisp, while keeping the mozzarella nice and melted, I cooked the tomatoes individually first. Next, I added a slice of mozzarella between two and cooked them until the mozzarella was melted. and The tartness and crunch of the green tomatoes paired perfectly with the creamy saltiness of the mozzarella.
I know that this isn't the way that Idgie and Ruth may have had them at the Cafe, but I'd like to think that they would enjoy it just the same!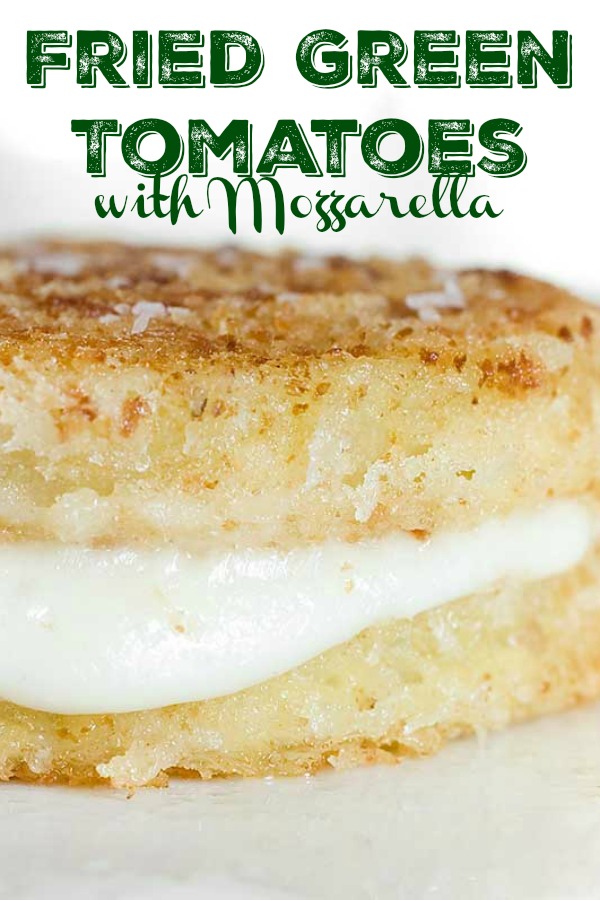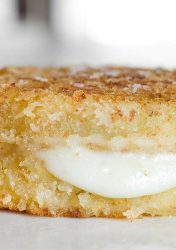 Fried Green Tomatoes with Mozzarella
Oooey, gooey mozzarella sandwiched between two crispy, crunchy fried green tomatoes. A cheesy take on a classic southern dish.
Ingredients:
2

medium green tomatoes cut into 1/4 inch slices

you should have 8 tomato slices

fresh cracked pepper and kosher salt

1/2

cup

all purpose flour

2

eggs

1/2

cup

panko bread crumbs

1/2

cup

plain bread crumbs

4 1/4

slices

of mozzarella

oil for frying
Season both sides of the sliced tomatoes with salt and pepper .

Place flour in one bowl. In another bowl beat eggs. In a third bowl combine panko and plain bread crumbs.

Dip sliced tomatoes into flour, then the eggs, then dredge in the bread crumb mixture until coated. Shake off excess

Pour enough oil in a frying pan to coat the bottom. Heat over medium heat. Sprinkle a couple of bread crumbs into the oil, if it sizzles it's ready. Fry the tomatoes until light golden brown on each side. About 2 minutes per side.

Place 1 slice of mozzarella on top of 4 of the tomatoes. Place remaining 4 tomatoes on top. Gently press down, cook about 2 more minutes per-side or until tomatoes are golden brown and mozzarella is melted.

Serve hot.
As tomato season winds down, those of you without tomatoes growing in your back yard will likely find many green tomatoes at farmers markets. And if you do, snatch them up because this snack is too good to wait until next tomato season to try. Enjoy!
Keywords:
appetizer, bread crumbs, breadcrumbs, Food, fresh mozarella, Fried Green Tomatoes, green tomatoes, mozzarella, panko, panko breadcrumbs, Recipe, salty, snack