When it comes to epic burgers, this one is right up there. If you love fried pickles, if you love fry sauce and burger spread you are going to absolutely love this Fried Pickle Burger. I've made it twice in as many weeks because it's such a hit. The combination of the juicy burger, the homemade spread and the crispy fried pickles is burger perfection.
I've been a fan of fried pickles for a while now. In fact, I shared a recipe a few years ago for fried pickles. They are a guilty pleasure of mine. It sounds weird right? Well at least it did to me the first time I heard someone order them at a restaurant I used to work at. But don't knock it till you try it, friends. Fried pickles are where it's at. They are tangy, salty, crispy and crunchy and they make an excellent burger topping.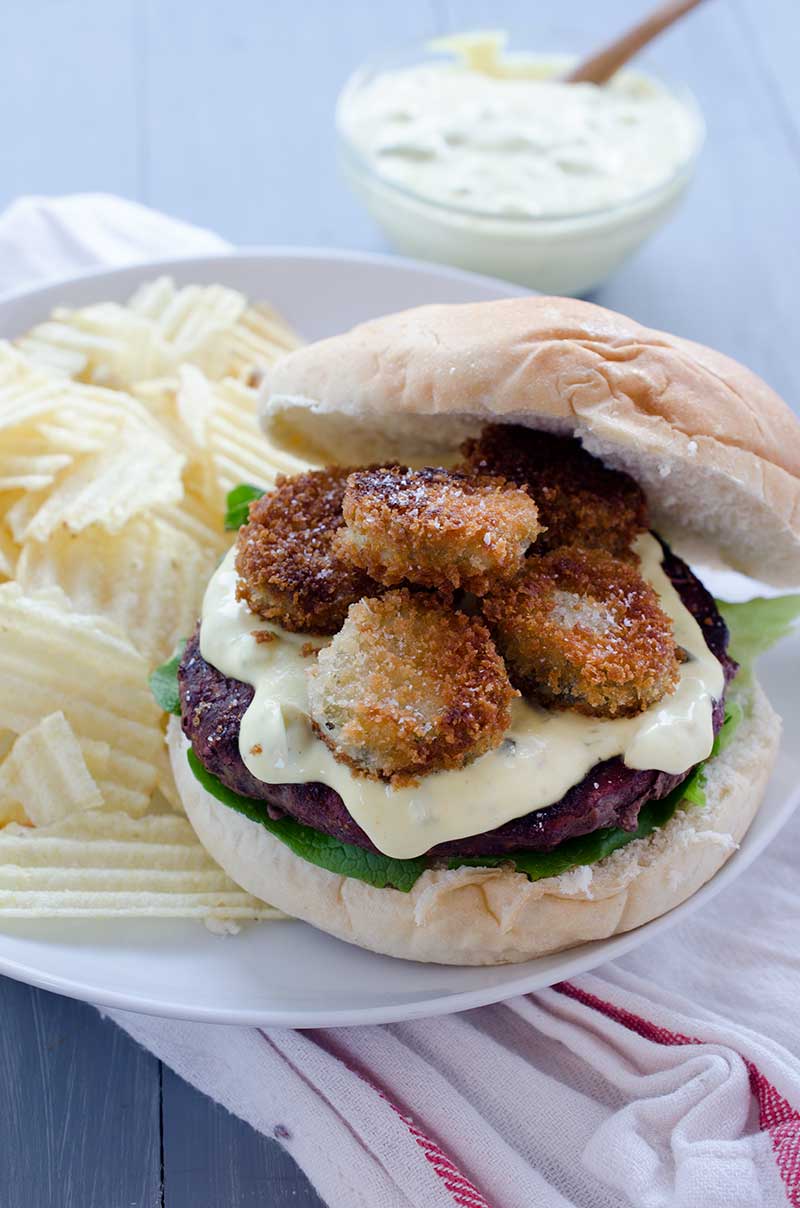 The pickles I used were actually the Claussen hot and spicy pickle chips, because you know me, if I can make it spicy, I am SO going to do it. These pickles can be hard to find and are indeed spicy. So if you cannot find them, or if you want to keep things more on the mild side, any pickle chips will do. You do want to make sure you use pickle chips though, that way they fit on the burger.
As good as the pickles are, this burger would not be nearly as epic if it wasn't for the burger spread. I use my homemade copycat Burgerville burger spread in this recipe. The five ingredients make it easy to make and the fact that it has dill pickle relish and sweet pickle relish made it a natural topping for this Fried Pickle Burger.
And it's an excellent fry dip too. Just sayin…
Ingredients:
4 (1/4 - 1/3 pound) ground beef patties
seasoning salt
20 hot and spicy pickle chips
1/2 cup all purpose flour
1 egg
1/4 cup milk
1 cup panko bread crumbs
oil for frying
4 hamburger buns
lettuce
burger spread
Burger Spread
1/2 cup mayonnaise

1 tablespoon dill relish

1 tablespoon sweet pickle relish

1 1/4 teaspoon yellow mustard

3/4 teaspoon granulated sugar
Instructions
1
Whisk together all ingredients for burger spread. Cover and refrigerate until ready to use.

2
Heat a grill to medium heat. Season burger patties liberally with seasoning salt. Cook until desired doneness. Transfer to a plate and cover to keep warm.

3
Meanwhile while burgers are cooking, build an assembly line: place flour on one plate, whisk together egg and milk in a bowl and place panko bread crumbs on a third plate.

4
Dredge the pickle chips in the flour, then dip in the egg wash and finally press into the panko crumbs to coat completely. Repeat until all pickles are coated.

5
Heat oil in a skillet over medium-high heat. Cook pickles, in batches if necessary, until golden and brown. 1 - 2 minutes per side. Transfer to a paper towel lined plate and sprinkle lightly with salt.

6
Assemble the burgers: Place lettuce on the bottom bun and place cooked burger patty on top. Spread burger spread on top of burger and top with 4 - 5 fried pickles. Repeat until 4 burgers are made. Serve immediately.