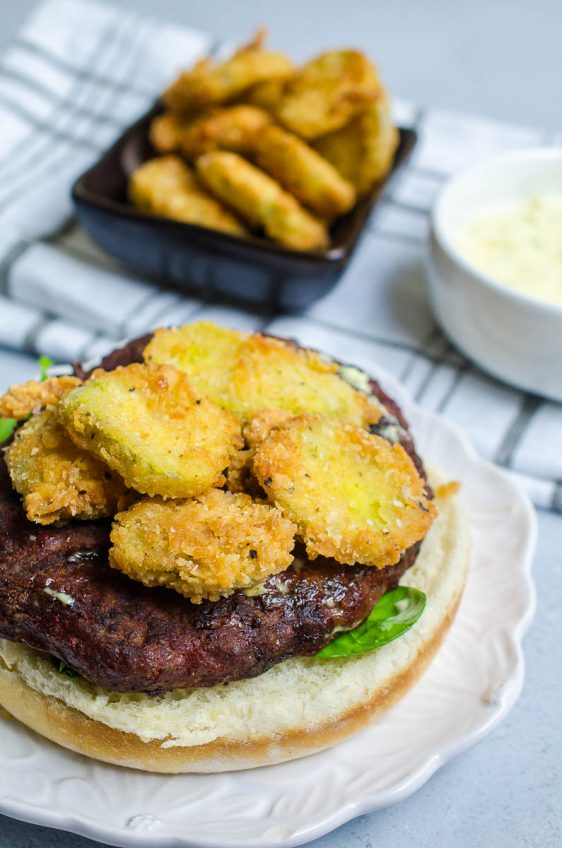 Fried Pickle Burger
This Fried Pickle Burger is a MUST MAKE for pickle lovers. Topped with fried pickles and delectable burger sauce, it's a burger of epic proportions. 

When it comes to epic burgers, this one is right up there.
If you love fried pickles, if you love fry sauce and burger spread you are going to absolutely love this Fried Pickle Burger. I've made it twice in as many weeks because it's such a hit. The combination of the juicy burger, the homemade burger spread and the crispy fried pickles is burger perfection.

How to make Fried Pickles:
I've been a fan of fried pickles for a while now. In fact, I shared a recipe a few years ago for fried pickles. They are a guilty pleasure of mine. It sounds weird right? But they are SO good!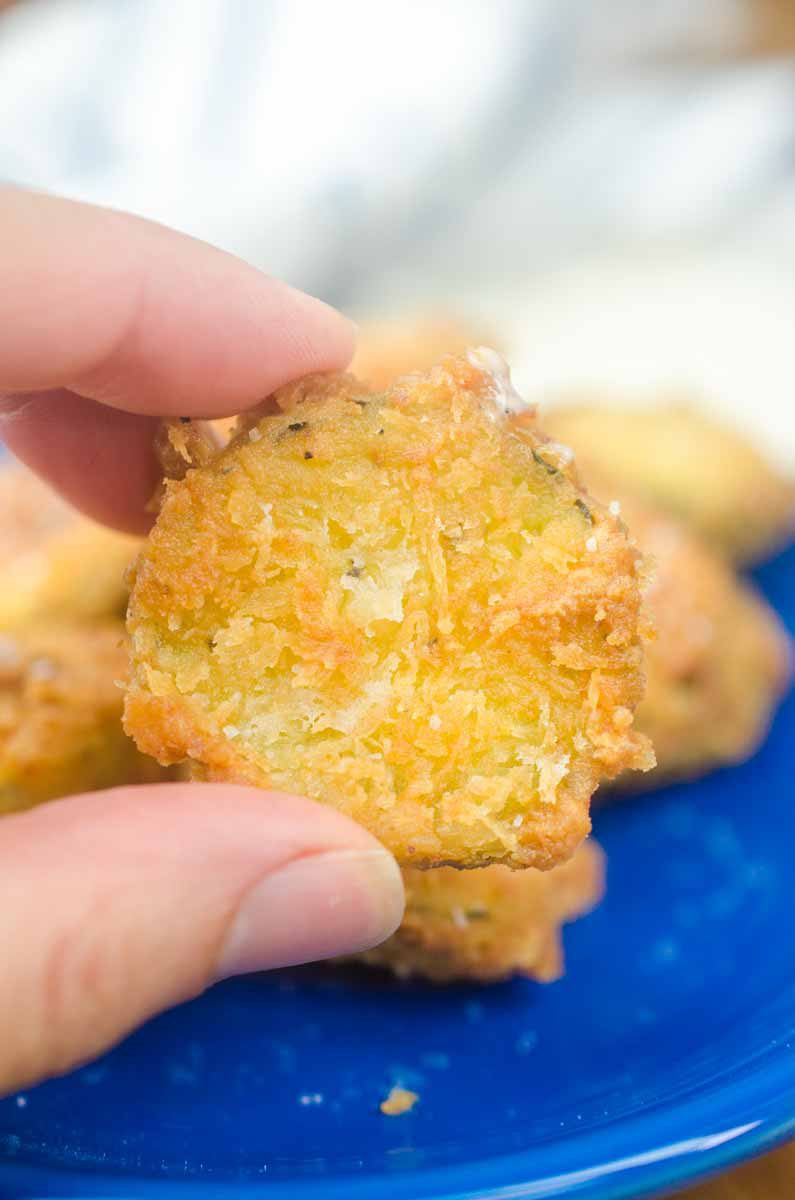 Fried pickles are where it's at. They are tangy, salty, crispy and crunchy and they make an excellent burger topping.
And making them is so easy!
Step 1: Make a wet batter with flour, egg, milk, hot sauce and Worcestershire.
Step 2: Make a dredge with flour, panko and seasonings.
Step 3: Dip then dredge the pickle slices.
Step 4: Fry.
See! So easy! And SO good!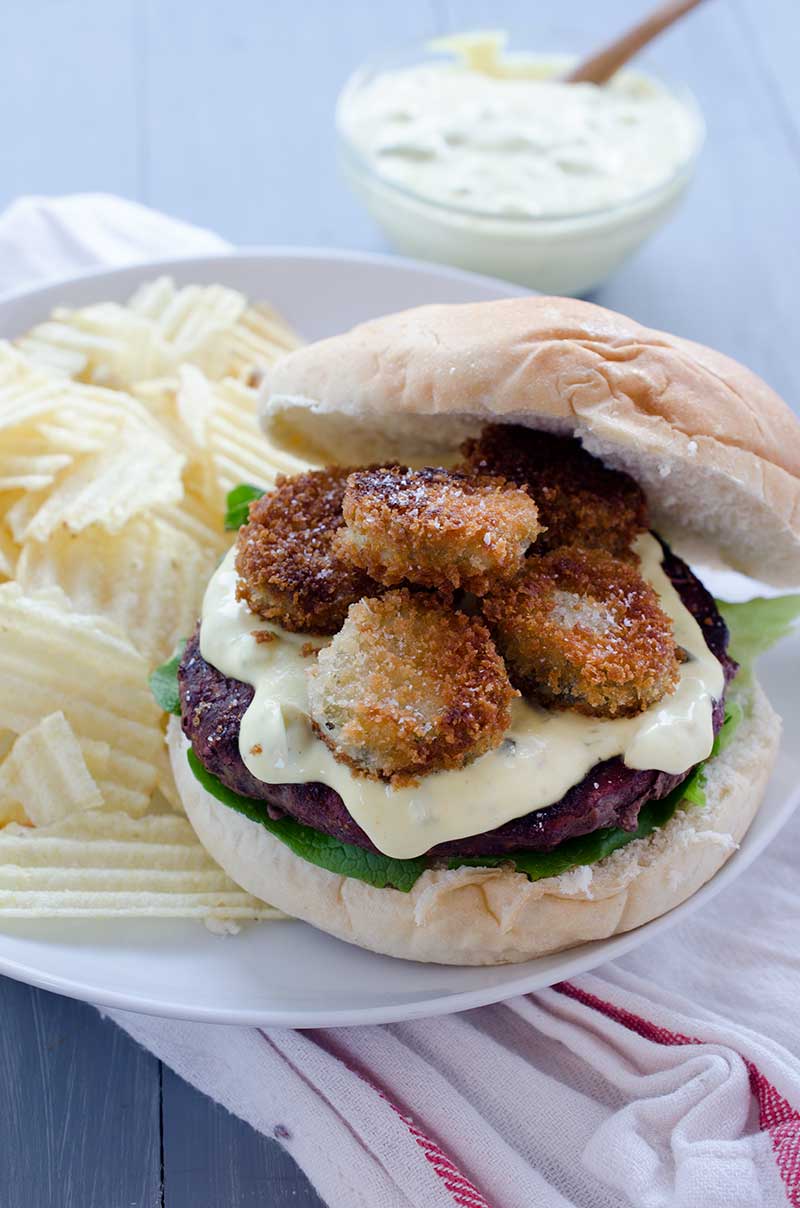 How to make Burger Sauce (Burger Spread):
As good as the pickles are, this burger would not be nearly as epic if it wasn't for the burger spread.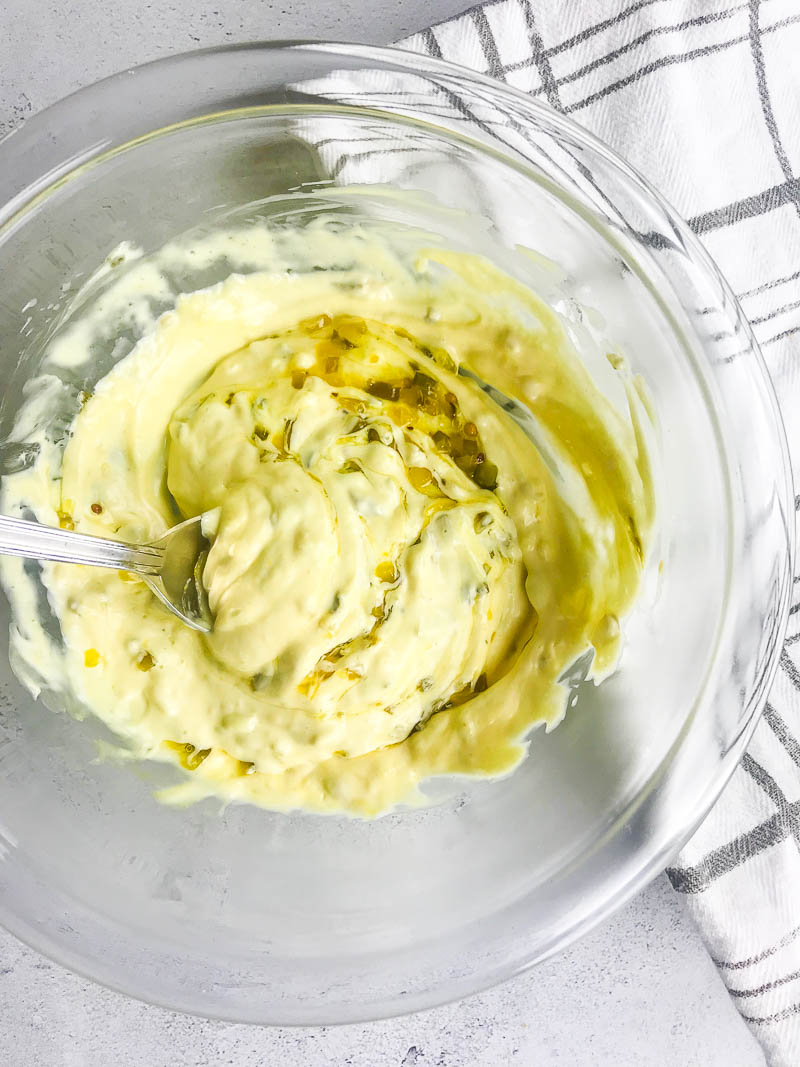 I use my homemade copycat Burgerville burger sauce in this recipe. The five ingredients make it easy to make and the fact that it has dill pickle relish and sweet pickle relish made it a natural topping for this Fried Pickle Burger.
And it's an excellent fry dip too. Just sayin…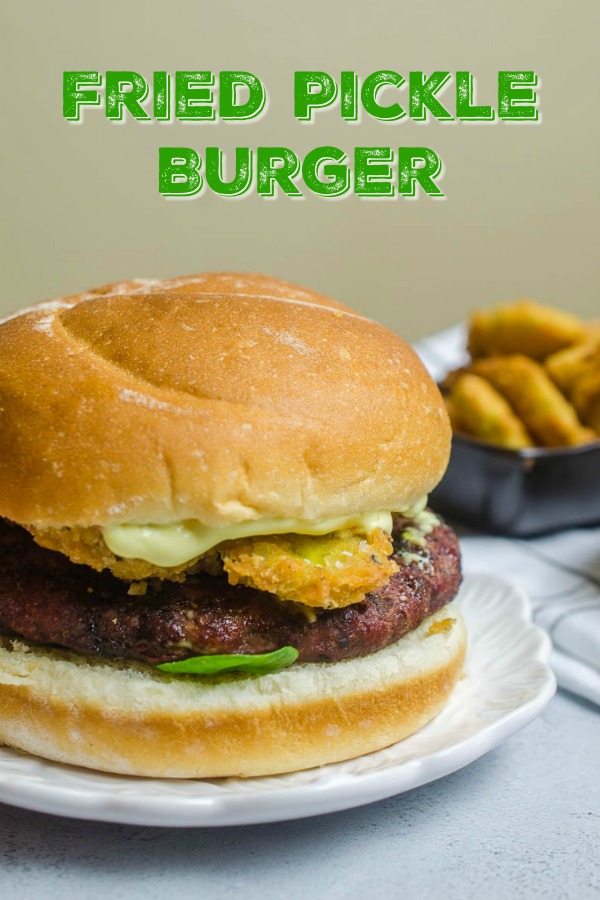 Note: Originally posted in 2016. Photos and video updated 2019.
Fried Pickle Burger Recipe
Ingredients:
4 (1/4 - 1/3 pound) ground beef patties
seasoning salt
15-20 round pickle slices
1 egg
1/2 cup milk
hot sauce
1/2 teaspoon Worcestershire
1/2 cup flour, divided
1/4 cup panko bread crumbs
1/2 teaspoon garlic powder
1/4 teaspoon ground pepper
kosher salt
oil for frying, such as canola or vegetable
4 hamburger buns
lettuce
burger spread
Burger Spread
1/2 cup mayonnaise

1 tablespoon dill relish

1 tablespoon sweet pickle relish

1 1/4 teaspoon yellow mustard

3/4 teaspoon granulated sugar
Instructions
1
Whisk together all ingredients for burger spread. Cover and refrigerate until ready to use.

2
Heat a grill to medium heat. Season burger patties liberally with seasoning salt. Cook until desired doneness. Transfer to a plate and cover to keep warm.

3
Meanwhile while burgers are cooking fry the pickles. Whisk together egg, milk, hot sauce, Worcestershire and 1/4 cup flour. On another plate combine panko, remaining flour, granulated garlic, pepper and salt.

4
Dip each pickle into the wet ingredients and then dredge in the bread crumb mixture.

5
Heat oil in a skillet over medium-high heat. Cook pickles, in batches if necessary, until golden and brown. 1 - 2 minutes per side. Transfer to a paper towel lined plate and sprinkle lightly with salt.

6
Assemble the burgers: Place lettuce on the bottom bun and place cooked burger patty on top. Spread burger spread on top of burger and top with 4 - 5 fried pickles. Repeat until 4 burgers are made. Serve immediately.