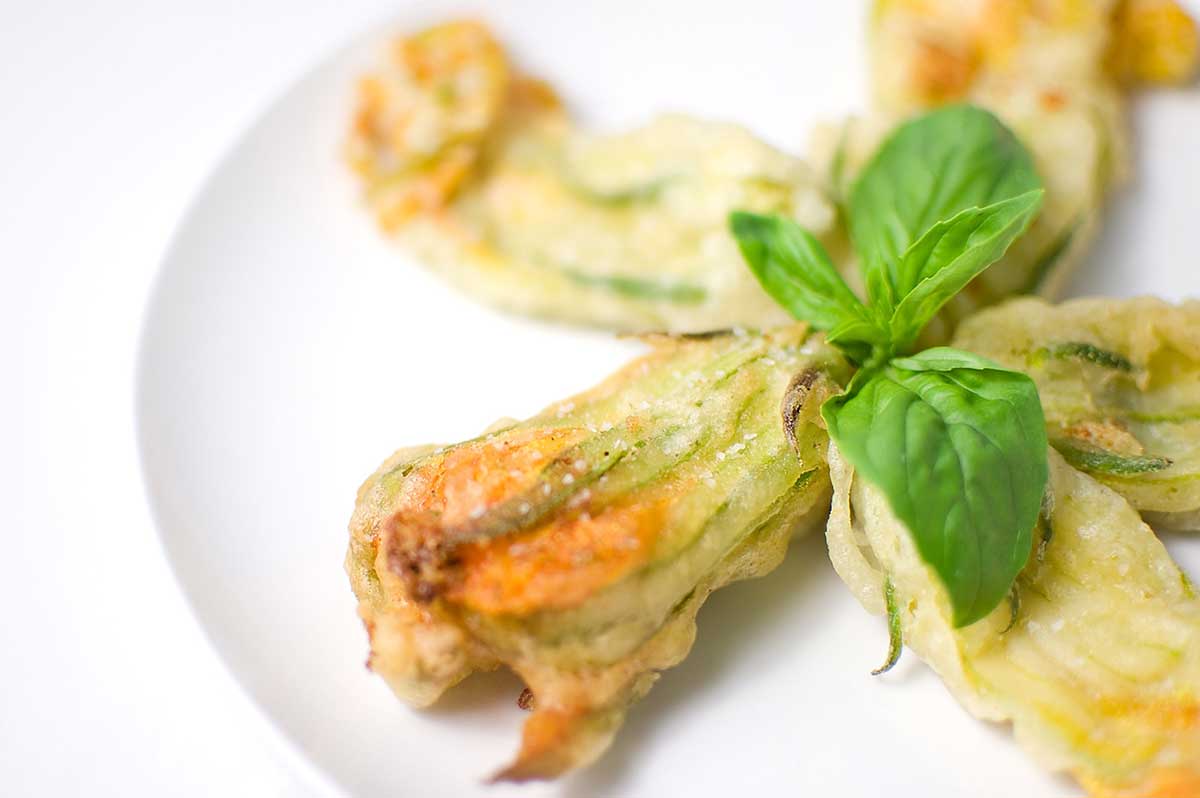 Fried Stuffed Zucchini Blossoms
Have you ever had a meal while on vacation that you just cannot find when you return home? You dream about it, crave it and search for it everywhere only to come up empty handed time and again and eventually you break down and cry. OK so maybe it is not that dramatic. But you would've thought it was if you saw my reaction when I finally found zucchini blossoms for sale at a local farmers market this weekend. Lets just say there may have been jumping involved. But once I composed myself, I rushed home, stuffed them with mozzarella and basil, fried them, sat down and enjoyed every. single. bite.
Prior to this weekend I had only had stuffed zucchini blossoms once in my life but that was enough to get me hooked. Ryan and I were on our honeymoon and ate at a restaurant just behind the Spanish Steps in Rome. I had heard about zucchini blossoms prior to our honeymoon and I knew I wanted to try them. Once I did, they were every bit as good as I imagined. They were light,crispy and stuffed with mozzarella. Pure perfection.
Once we got home, I tried and tried to get my hands on some of the blossoms. However, they proved rather elusive. I live in an apartment with barely a strip of grass and certainly not enough room to grow zucchini myself so I had to search local markets.  I searched farmers markets for the last 2 years and found nothing, until Saturday when I noticed one of the weekend farmers at Pike Place market had some. It was a dream come true and they were as delicious as I remembered.
It is important to note that these flowers are really fragile. You will want to cook them within a day of getting your hands on them. And when you are cleaning and stuffing them be very careful as the petals can tear easily.

Fried Stuffed Zucchini Blossoms
Zucchini flowers stuffed with mozzarella and basil and fried until golden brown.
Heat 1 inch of oil in a frying pan over medium-high heat.

Carefully rinse the blossoms.

Place 1 piece of mozzarella and 1 basil leaf inside each blossom. Carefully twist the petals together to close. Repeat until all blossoms are stuffed.

In a bowl, whisk together flour, salt and baking powder. Whisk in soda water. Batter should be thin like crepe batter.

Dip each stuffed flower in the batter. Hold over the bowl to let excess drip off.

Sprinkle a little flour in the oil, if it sizzles the oil is ready. Carefully place each stuffed blossom in the oil. (Note: Fry in batches if you need to, don't over crowd the pan.) Fry until browned, about 3-4 minutes. Turning occasionally.

Transfer to a paper towel lined plate with a slotted spoon. Sprinkle with more kosher salt if desired. Serve hot.
If you have a farmers market near you or are one of those lucky ones who grows zucchini in your garden, don't hesitate. Make these right now. You will be glad you did. Enjoy!
Keywords:
appetizer, basil, blossom, Food, fresh basil, italian appetizer, italian cusine, italy, mozzarella, Recipe, roman appetizer, snack, squash, zucchini, zucchini flowers