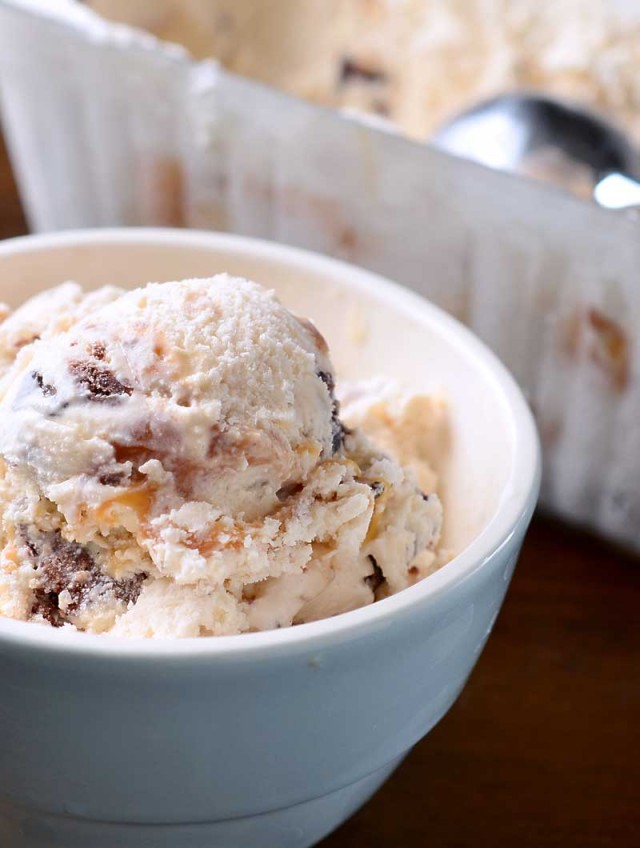 Fudgy Brownie Cookie and Caramel Swirl Ice Cream
I've had an ice cream maker for about 3 weeks now and I have made 5 batches of ice cream. That's right five. I made two batches of the Roasted Cherry and Dark Chocolate Chunk Ice Cream. And I've made 3 batches of this, Fudgy Brownie Cookie and Caramel Swirl Ice Cream. Recipe testing, you gotta love it!
No, I mean really. I LOVE recipe testing. It's fun. It gets my creative juices flowing. Oh yeah and in this case, I get to eat tons of ice cream.
Well not tons literally. But, like, I've consumed a lot of ice cream recently.
In particular a lot of this fudgy brownie cookie and caramel swirl ice cream. After all, I had to make sure it was just right before I shared it with you all. And right it is.
Or is it wrong?
No, I'm gonna go with right on this one.
From the moment I bought my ice cream maker, I knew I wanted to make an ice cream using some of my fudgy brownie cookies. Did you know that that is one of my most popular recipes? It's one of my personal favorites and if you've never made any you should do it. They are perfectly chocolatey and fudgy and I just knew they would be beyond perfect in ice cream. I also knew that I wanted to add caramel swirl because caramel and brownies and ice cream is seriously my favorite dessert ever in the history of desserts.
What I wasn't sure on exactly was the base of the ice cream. That is where the 3 batches of ice cream come into play.
When I first tested this recipe, I made it pretty much as it is here, but I used more caramel and I think it kind of bogged it down.
The second time I made this ice cream I did the French method with eggs.
The third time I made it Philadelphia style, with a little less caramel then the first batch and a little more vanilla. And DING DING DING we had a winner.
I am going to go out on a limb, and judging by the reaction on Facebook I might be one of the few that think this, but I prefer the Philadelphia (sans eggs) version of ice cream more. It's lighter. Not quite as rich. And when you're working with fudgy brownie cookies and caramel, two extremely rich things, the lighter the ice cream the better. At least I think.
Plus Philadelphia style is sooooooooo much easier.
Like way easier.
There is no cooking. Mix. Chill. Pour. Freeze. Scoop. Freeze. Eat.
No messing with eggs. No turning on the stove when it's hot out. It's easy peasy. And I like it that way.
Although, maybe because it is so easy is the reason I've made so much recently. Maybe it should be harder to make.
Nahh, I'll just keep going to Barre. It all evens out right?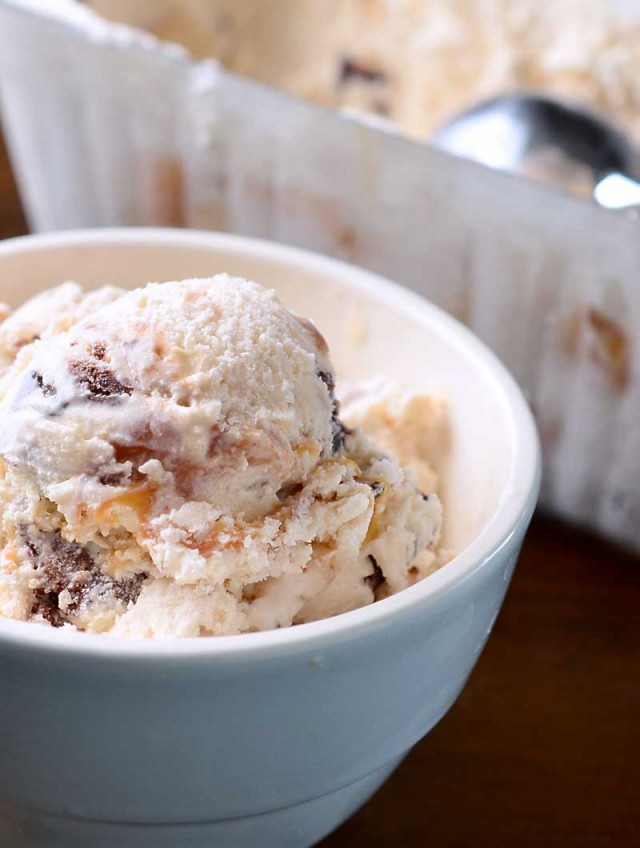 Fudgy Brownie Cookie and Caramel Swirl Ice Cream
Creamy vanilla ice cream with fudgy brownie cookie chunks and caramel swirl. It's out of this world good.
Combine heavy cream, milk, sugar, salt and vanilla together in a bowl. Whisk until sugar is dissolved. Cover and refrigerate for 1 hour or until well chilled.

Freeze ice cream according to your ice cream manufacturer's instructions. When there is about 5 minutes left, add in the chopped fudgy brownie cookies.

Transfer 1/3 of the ice cream to a freezer safe container. Drizzle half of the caramel over the top. Top with 1/3 of the ice cream. Drizzle with the remaining half of the caramel. Top with the remaining ice cream. Cover and freeze for 3 hours. Serve.
Keywords:
brownie cookies, brownie ice cream, caramel ice cream, dessert, Food, fudgy brownie cookies, home made ice cream, ice cream, national ice cream month, Recipe, sweet, treat