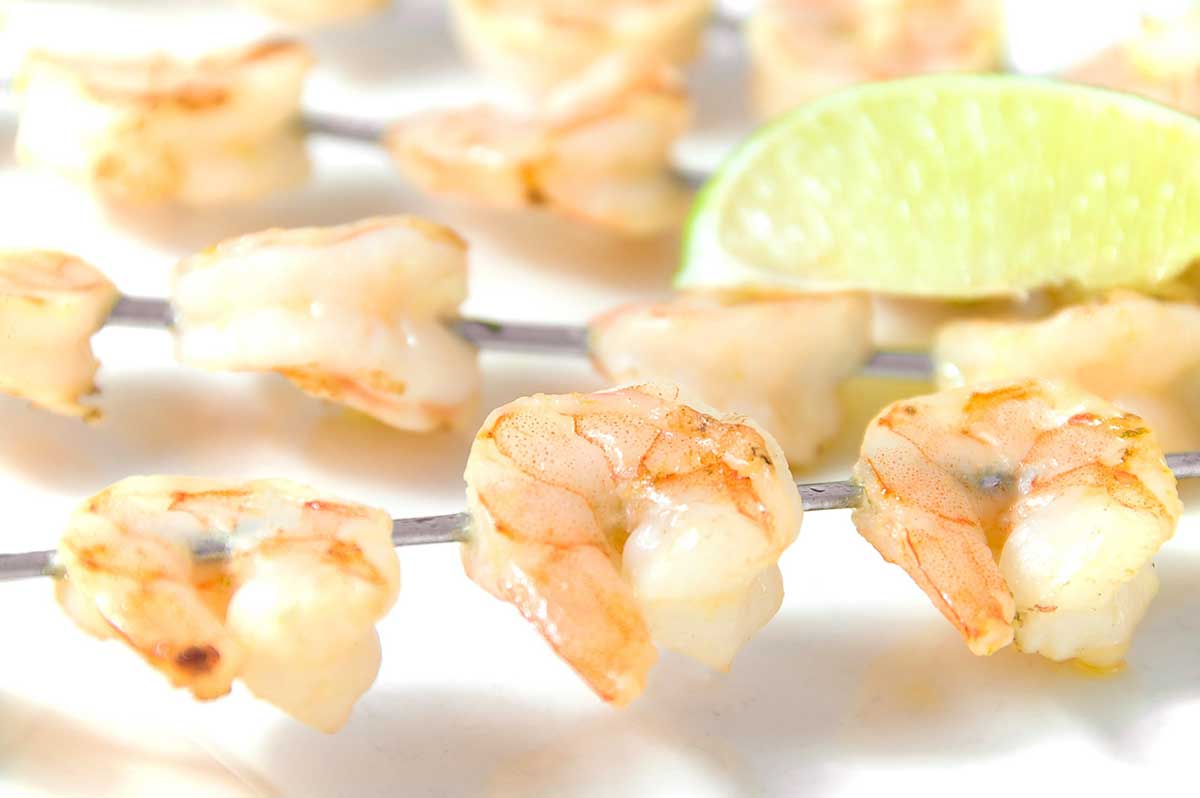 Garlic and Lime Shrimp Skewers
I am at odds with myself as summer pushes on and the days get hotter. I love cooking, but some days it is just too hot to even think about turning on my stove or oven. On days like this I turn to light, flavorful dishes that are easy to prepare and can be cooked outside on a grill.
I have been living in the same apartment now for a couple of years. It's a quirky little place in a very quirky neighborhood.  We live on the top floor of an older building which is nice because we have a great view and there is no one above us walking around, two very important things in the apartment game. However, I have found that living on the top floor has a least one drawback, in the summer when the temperature starts to rise, it becomes a sweltering oven. It gets so hot that my little dog Pumpkin, who usually loves to burrow under multiple blankets, removes all of the blankets from her bed and then lays on the cool tile next to it. I don't know about you, but on days like that, I don't want to make it even hotter by cooking indoors. That is where the grill comes in.
All too often BBQ food is kept pretty basic with burgers and hot dogs. Don't get me wrong I love a perfectly grilled hot dog with a little cream cheese. (Hey, don't knock it until you try it.) But on a hot day, even those are too heavy for me. Instead, I prefer dishes like these shrimp skewers. They are light, slightly garlicky and have the perfect burst of lime from the lime juice and the lime zest.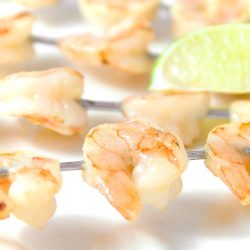 Garlic and Lime Shrimp Skewers
Shrimp skewers that are slightly garlicky and have the perfect burst of lime from lime juice and lime zest.
Ingredients:
1/2

pound

51-60 count prawns

about 25-30 prawns, peeled and deveined

juice and zest of one lime

2

cloves

garlic

minced

1

tablespoon

olive oil

1/4

teaspoon

kosher salt
Combine all ingredients in a bowl. Refrigerate for 1 hour.

Preheat grill to medium-high.

Skewer marinated shrimp. About 5 shrimp per skewer.

Grill marinated shrimp until they turn pink, about 2-3 minutes per side.

Serve with a wedge of lime.
Keywords:
bbq, diet, Food, garlic, grill, grilling, Kitchen Rendezvous, lime, Prawns, Recipe, shrimp, skewer, skewers, summer