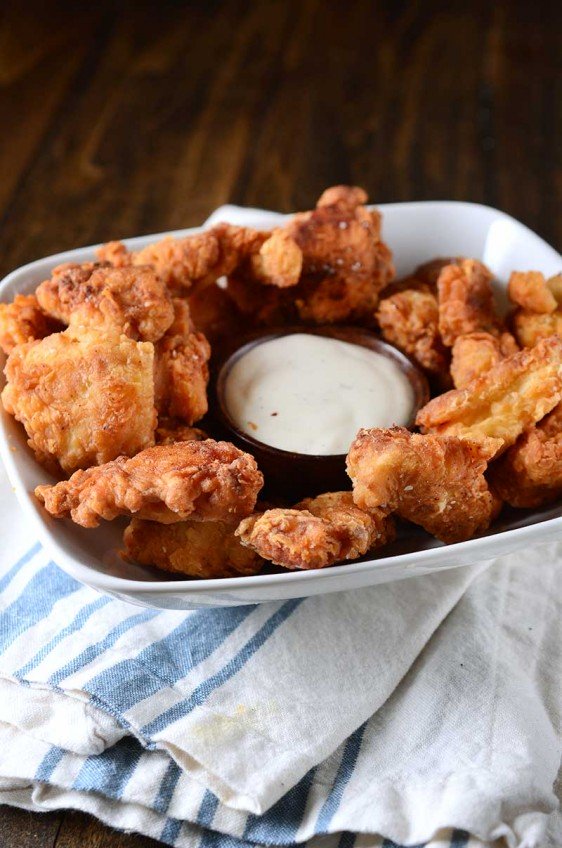 Garlic Chicken Nuggets
Chicken nuggets are one of those things that you can so easily buy at the store already breaded. They are right there in bags in the frozen section and all you need to do is heat them up. Easy peasy, just like that. This begs the question why on earth would you make them yourself? Why take the time to marinate, dredge and batter them? Because, friends, they are at least 432829483532 times better when you make them yourself.  Especially when they are marinated in loads of garlic, battered and fried until golden brown and crispy.
If you, like me, are on the never ending quest to find foods that please both kids and adults a like, then you know that chicken nuggets are aways a winner. Plain chicken nuggets with simple seasoning of salt and pepper are always good, but I wanted something a little different this time around so I decided to marinate the chicken in garlic first. The result was a dinner that both my husband and son devoured.
I, however, didn't eat as much at dinner. Not because I didn't like them though. No, not at all. In fact I liked them a little too much that I snacked on too many while I was cooking. They were so addicting: crispy, tender and a hint of garlic, I just couldn't help myself!
And, don't think I forgot the dip. There is no way  I could share a chicken nugget recipe without giving you an idea for the dip too. In my book, the winner is always ranch. Every good chicken nugget needs a creamy ranch dip to dunk it in. This Homemade Creamy Ranch Dip is one of our faves.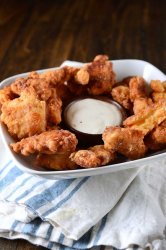 Garlic Chicken Nuggets
Chicken marinated in garlic, battered and fried until crispy and golden. A crowd pleaser for both adults and the kiddos.
Ingredients:
10

cloves

garlic

minced

1 1/2

pounds

boneless skinless chicken breasts

cut into bite size pieces

2

teaspoons

seasoning salt

1/4

cup

olive oil

2

cups

all purpose flour

1

teaspoon

granulated garlic

1/2

teaspoon

salt

1/4

teaspoon

pepper

2

eggs

1/4

cup

milk

oil for frying
Combine garlic, chicken, seasoning salt and olive oil together in a bowl. Toss to mix well. Cover and refrigerate for at least 4 hours.

When ready to cook, combine flour, garlic, salt and pepper together in a resealable plastic bag. In a bowl whisk together eggs and milk.

Place the chicken in the flour and shake to coat. Dunk the chicken into the eggs and milk and then place back in the bag of flour. Shake to coat once more.

Heat 1/2 inch of oil in a skillet over medium high heat to 350 degrees. If you don't have a thermometor, sprinkle a bit of flour in the oil and if it sizzles the oil is ready. Fry the chicken, in batches, until golden brown and cooked through, 2 - 3 minutes per side. Use a slotted spoon to transfer to a paper toweled lined plate. Place in a warm oven to keep warm. Repeat until all chicken is fried. Serve hot.
Keywords:
chicken, entree, fried food, kid friendly