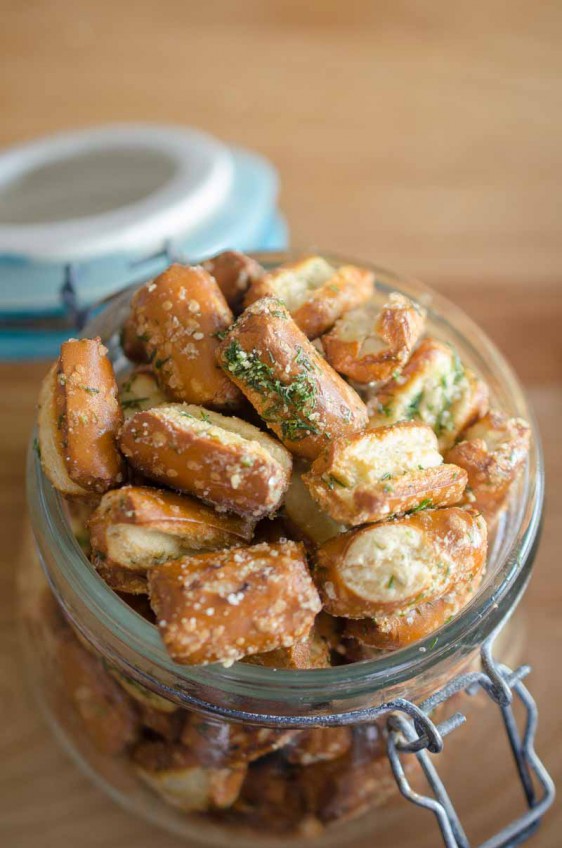 Garlic Parmesan Ranch Pretzels
Garlic Parmesan Ranch Pretzels. Sourdough pretzels tossed with garlic, Parmesan and dill. A quick, easy and addictive snack perfect for Game Day. 
What is your favorite snack? Do you reach for something sweet or salty? Whichever it is, I am going to go out on a limb here and say that one bite of these Garlic Parmesan Ranch Pretzels and you will be reaching for these. Over and over and over again.
Garlic Parmesan Ranch Pretzels are beyond easy to make, use only 5 ingredients, are done in less than 30 minutes and pretty much irresistible. My whole family loves them and I'm sure that yours will too.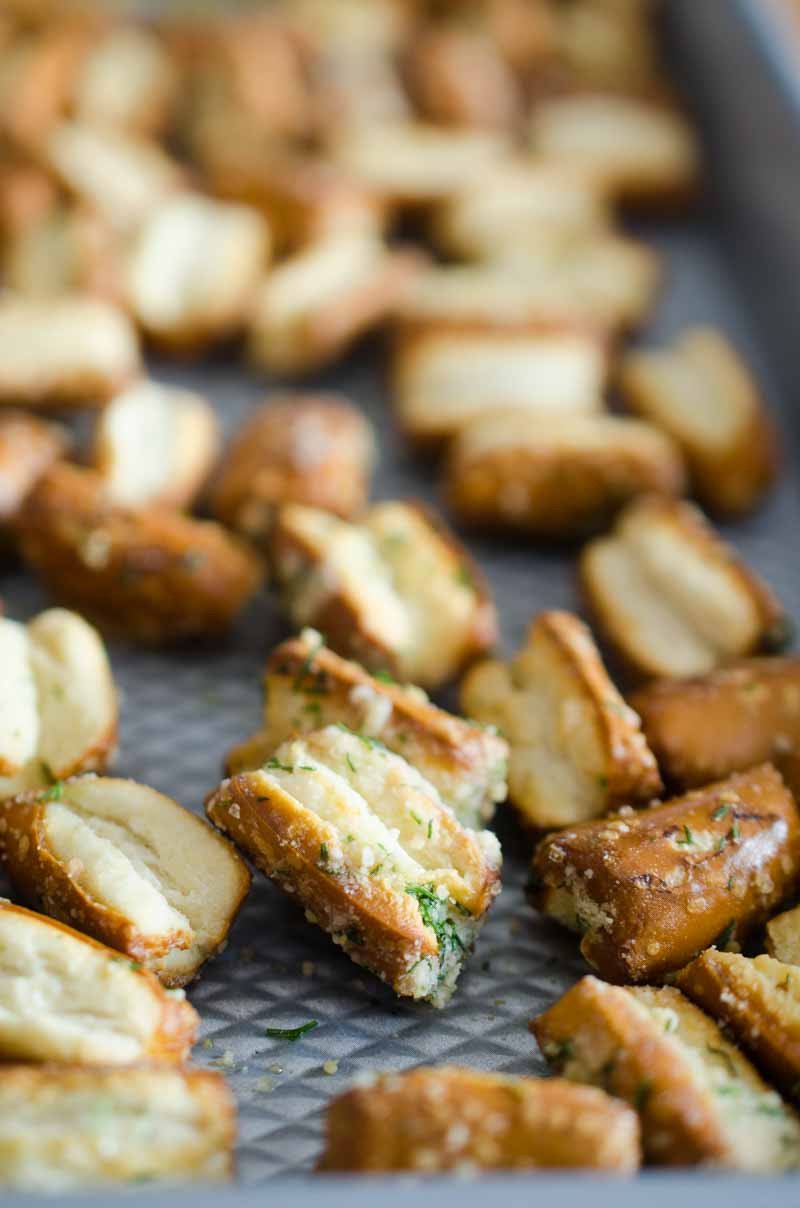 When it comes to snacking, I like pretzels but they are not the first thing I usually grab. I tend to lean towards potato chips, tortilla chips or cheese crackers. Pretzels are always reserved for when there is some sort of dip around. Usually mustard or ranch. That got me thinking. Wouldn't it be great if the pretzels themselves had all the yummy ranch seasonings?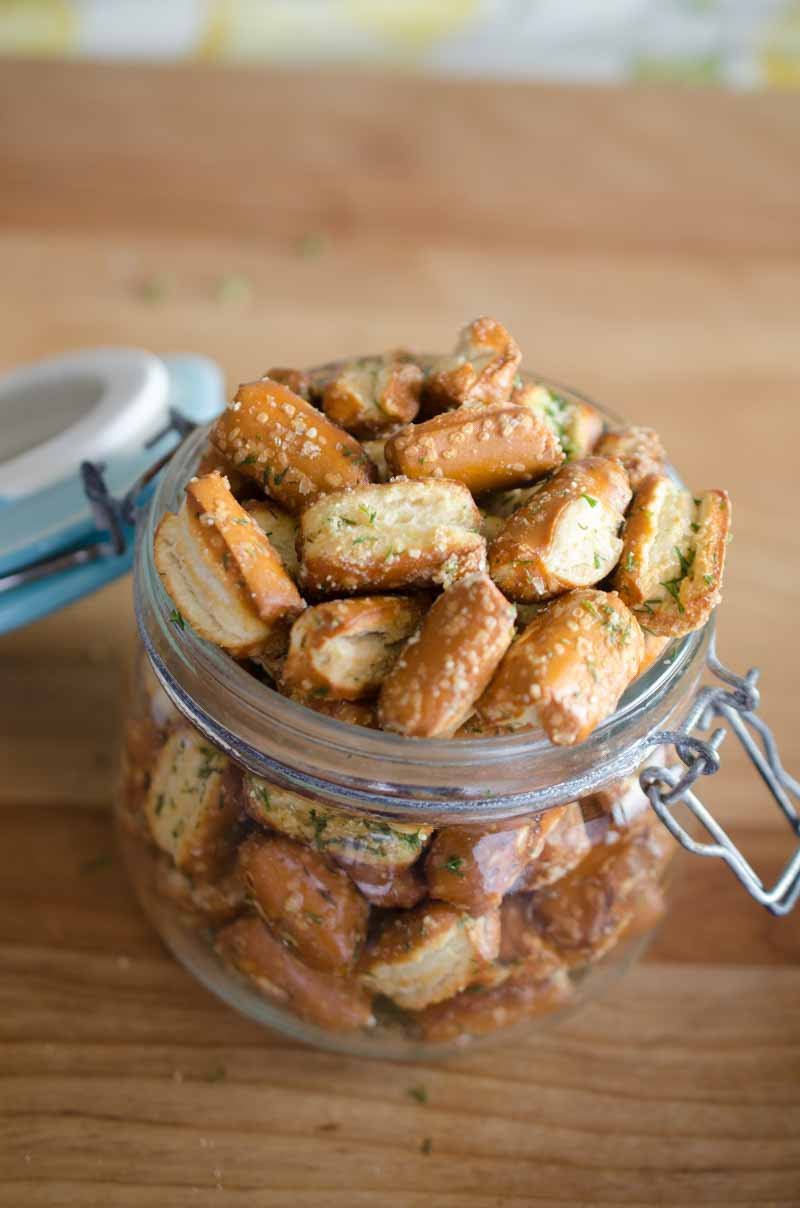 A little internet search later, and I realized that seasoned pretzels are super easy to make. Mix the pretzels with the seasonings you want and a little oil, shake 'em all up, toss 'em in a low heat oven for about 30 minutes and voila. One of the best snacks. Ever.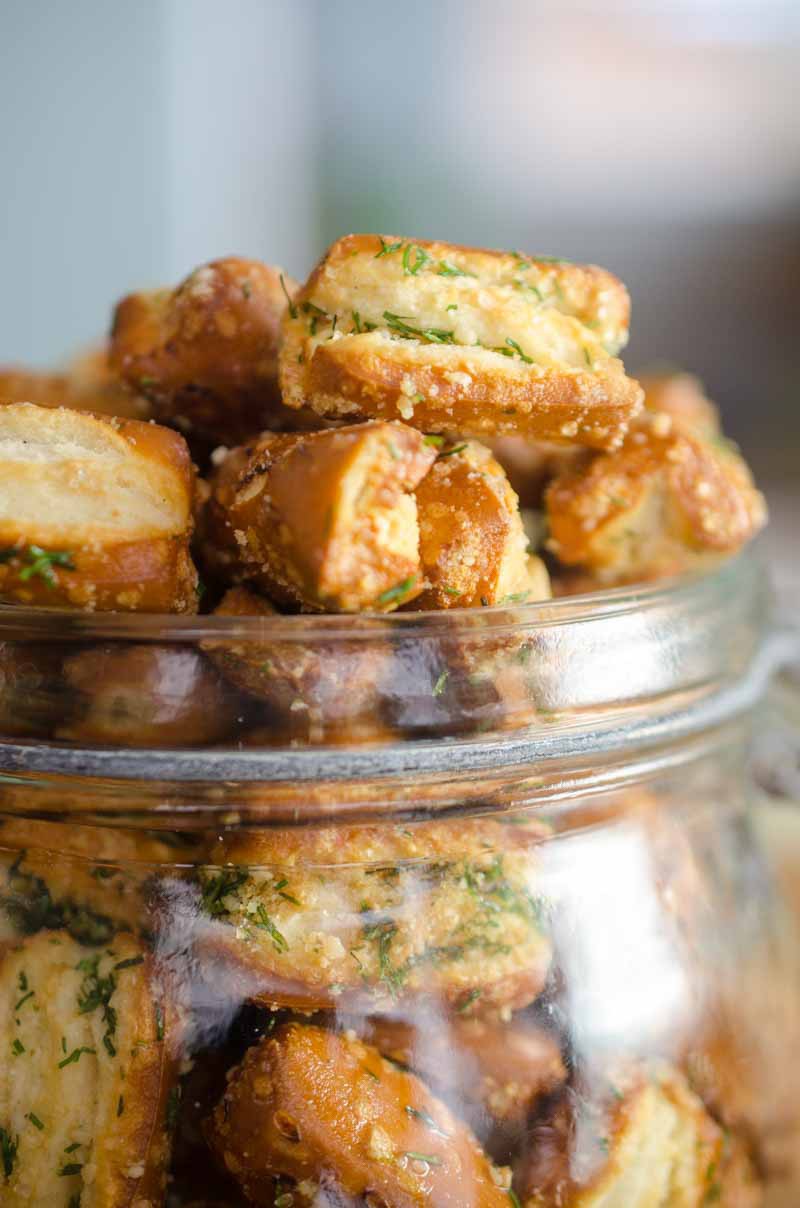 I used sourdough nibblers for this recipe because I like sourdough pretzels the best and the nibblers made the perfect bite. If you can't find the nibblers, pretzel twists would work as well.
If you are looking for other snacks to serve alongside these Garlic Parmesan Ranch Pretzels be sure to check out my collection of snacks and appetizers that are perfect for game day.
The video below shows you just how easy these Garlic Parmesan Ranch Pretzels are to make! 
Garlic Parmesan Ranch Pretzels Recipe
Ingredients:
1 pound sourdough pretzel nibblers
1/2 cup canola oil
2 tablespoons grated Parmesan cheese
2 teaspoons dried dill
2 teaspoons granulated garlic
Instructions
1
Preheat oven to 225 degrees.

2
In a bowl with a lid or a resealable plastic bag, combine all ingredients. Cover or close and shake to coat pretzels completely.

3
Pour pretzels in a single layer on a rimmed baking sheet. Bake for 30 minutes. Remove from oven, allow to cool slightly and serve. Keep leftovers in a resealable plastic bag.