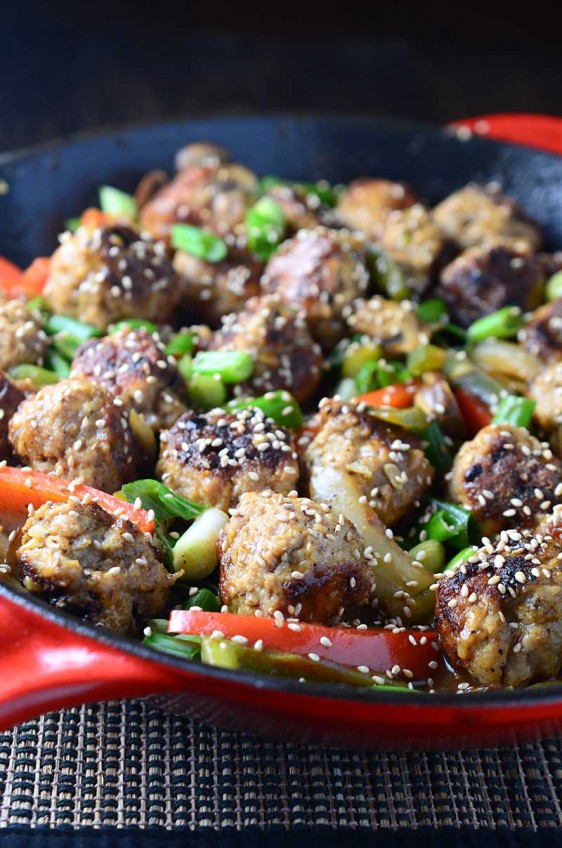 Garlic Pork Meatball Stir Fry
We are totally meatball obsessed in this house. Like seriously, if I could find a way to make meatballs for breakfast, lunch and dinner every day Kellan would be the happiest three year old on the block. It is because of this food obsession that I am constantly looking for new ways to enjoy meatballs. This Garlic Pork Meatball Stir Fry is my latest meatball creation and is bound to be a favorite.
You don't see meatball stir fries.
Like ever.
I don't think in all my experience dining out that I have ever seen a meatball stir fry on a menu.
And I have no idea why.
I wasn't entirely sure this would work out. Because again, I'd never seen meatball stir fry before. But I gave it a go anyway. And am SO SO glad I did.
Frankly, this was all kinds of delicious and beats plain ol' chicken, beef or pork stir fry any day.
Because. Meatballs.
For the base of the meatballs I used the same recipe I used to make these Garlic & Black Pepper Pork Burgers with Sriracha Slaw. It worked worked great as burgers so I knew it would work well as meatballs.
Next, I had to work the whole stir fry thing into it. The meatballs were already pretty big so I didn't want huge bites of veggies. Instead I decided to use sliced red bell peppers, sliced green bell peppers and sliced onions.
Most stir fries call for cornstarch but alas I was out. Instead, I made a quick thickening roux with flour and water. It worked just as well. You use a little bit more flour then you would cornstarch and you have to cook it a bit longer so it doesn't have a flour taste but it made a nice thick sauce to go with the stir fry. It's nice to have these little substitution tricks when you need them!
And it is nice to have quick, easy, family friendly meals like this when you need them too!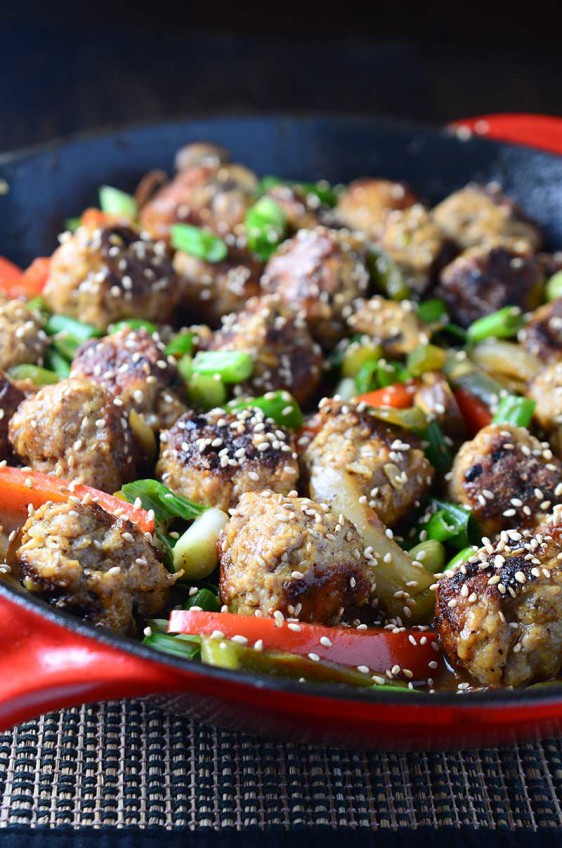 Garlic Pork Meatball Stir Fry
This garlic pork meatball stir fry is loaded with succulent garlic pork meatballs, onions and bell peppers.
Garlic Pepper Pork Meatball Ingredients:
Stir Fry Ingredients:
1

teaspoon

sesame oil

1/2

medium yellow onion

sliced

1

red bell pepper

seeds and veins removed, sliced

1

green bell pepper

seeds and veins removed, sliced

3

cloves

garlic

minced

1/4

cup

soy sauce

2

tablespoons

rice vinegar

1/2

teaspoon

ground ginger

3/4

cup

water

divided

2

tablespoons

flour

1

tablespoon

sesame seeds

3

green onions

diced
Make the meatballs by combining all ingredients together in a bowl. Mix well. Roll into approximately 20 meatballs.

Cook meatballs in a large skillet over medium heat until browned and cooked through 5 - 7 minutes. Place meatballs on a plate and set aside.

In same skillet, heat sesame oil over medium-high heat. Add in onion, red pepper, green pepper and garlic. Add in soy sauce, rice vinegar and ginger. Stir.

Whisk together 1/2 cup water and flour. Slowly pour into the stir fry and stir veggies to coat. Return meatballs to the pan and stir to coat in sauce. If sauce is too thick add remaining 1/4 cup water. Cook 2 minutes.

Sprinkle with sesame seeds and green onions. Serve.
Keywords:
dinner, entree, meatball, pork, stir fry