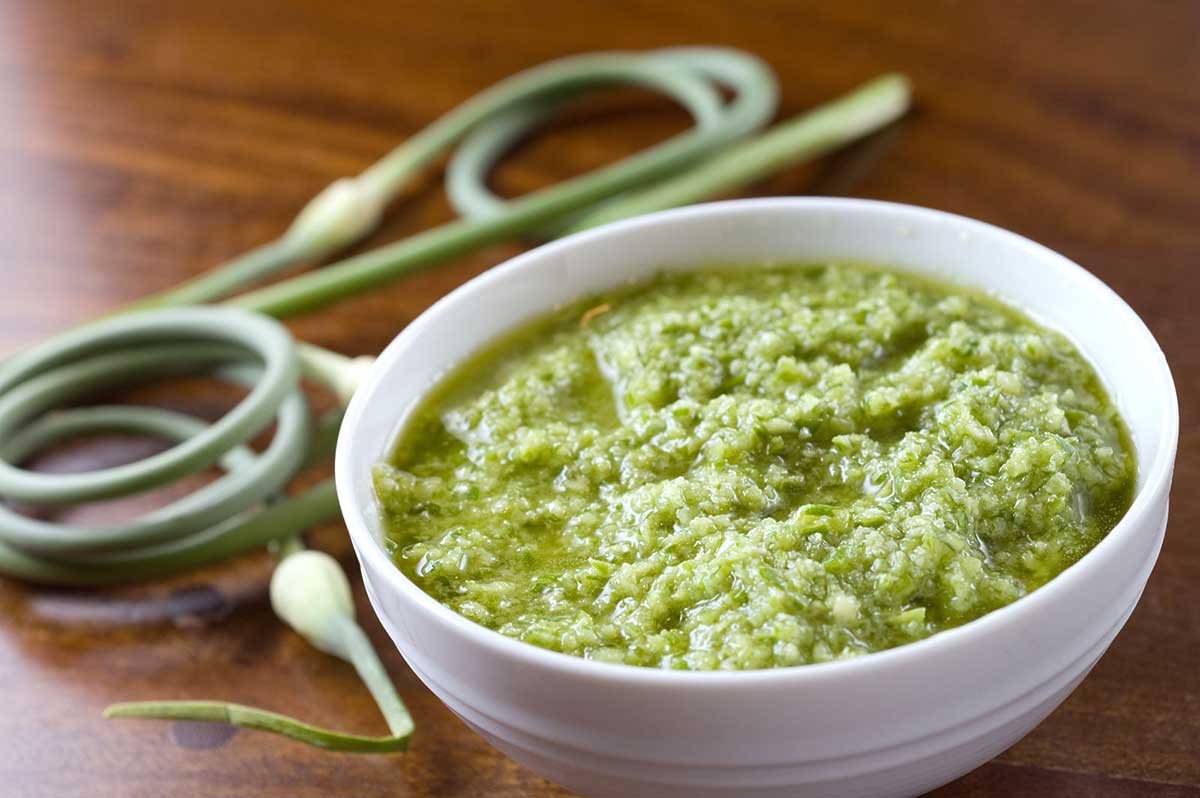 Garlic Scape Pesto
If you are looking for the perfect recipe to jazz up your summer repertoire then this is it. It's quick. It's easy and it makes a delicious addition to a variety of meals giving them a burst of garlicky lemon flavor. You would think that with a description like that that I would have been loving scapes since I was a little one. The truth of the matter is I just discovered them. And frankly…I'm in love.
I love finding ingredients that I am not familiar with. When I was at the farmer's market last weekend I came across a stand that was selling these curly things I had never seen before. I stopped to ask the farmer what they were and how to use them. He explained that they were garlic tops, or scapes and he'd seen them most often used in stir fry  or simply sauteed. I bought a bunch and headed home. I wanted to do something a little bit more interesting then adding them to a stir fry so I took to twitter to ask what people used them for. Someone suggested that I use them to make a pesto and I thought what a great idea! Now, I will say that it is a little different then regular pesto. It's a bit chunkier but the flavor is amazing.  I enjoyed this served over pasta and stirred into cream cheese as a cracker topping. Give it a try.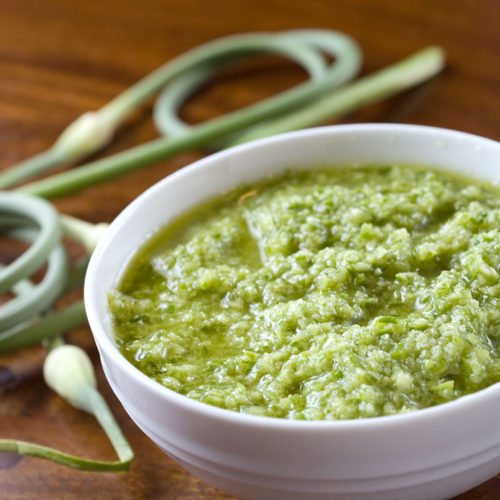 Garlic Scape Pesto
With a hint of garlic and lemon this garlic scape pesto is perfect for summer.
Ingredients:
2

cups

chopped garlic scapes

1/2

cup

grated Parmesan cheese

1

teaspoon

kosher salt

2

tablespoons

lemon juice

1/2

cup

olive oil
In a food processor combine the garlic scapes, cheese, kosher salt and lemon juice. Turn the food processor on.

With the food processor on, slowly drizzle in the olive oil. Process one minute. Serve.
Store in the refrigerator covered with plastic wrap. Use within a couple of days.
Enjoy!
Keywords:
garlic pesto, garlic scapes, garlic tops, pesto, sauce, scapes