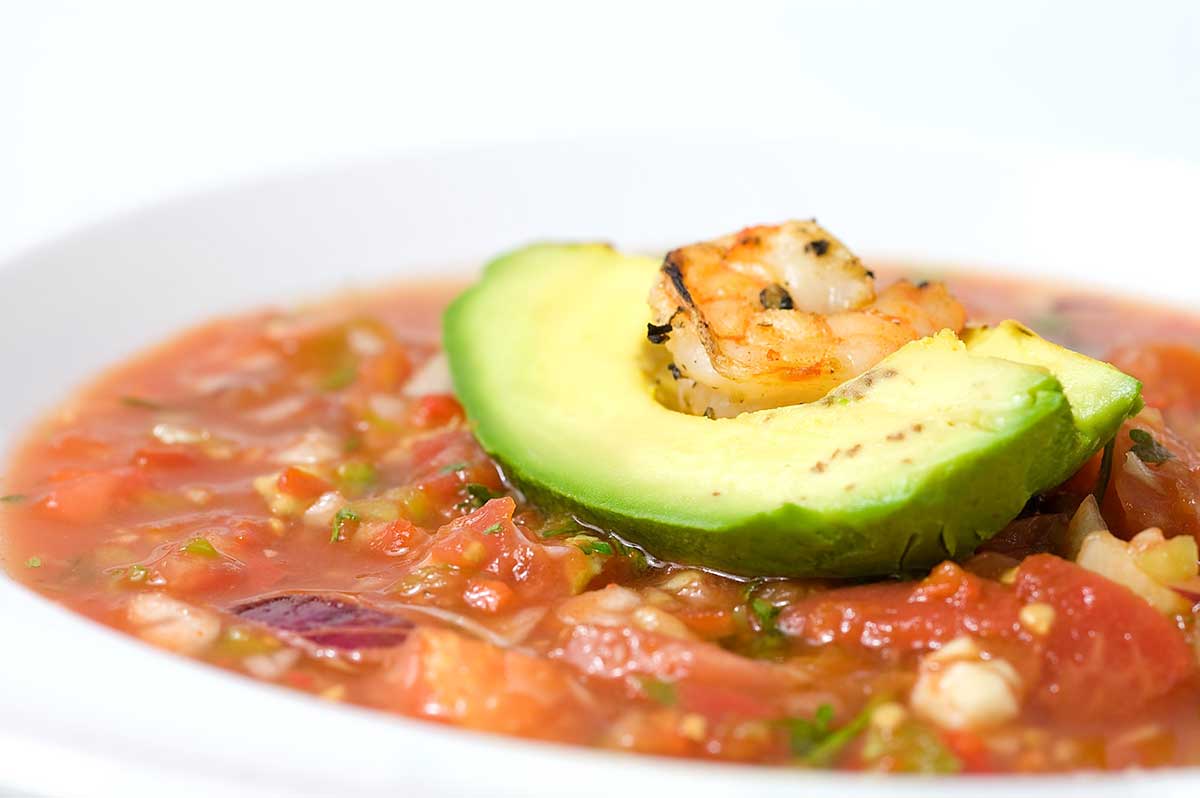 Gazpacho with Grilled Shrimp and Avocado
We're experiencing quite the heat wave here. Forecasters are saying that today may be the hottest day Seattle has ever seen. A whopping 101 degrees is expected. It may not sound too hot to some of you but man oh man we just aren't used to this kind of heat in Western Washington. It is because of this hot weather that I bring you this soup recipe. But don't worry its not a hot soup, its a cold soup filled with all kinds of fresh veggies and topped with grilled shrimp and avocado. Perfectly refreshing for a hot summer day.
For the longest time this soup has been one of those recipes that I had no real desire to try. I mean it is cold soup, and that is something that is a little bit out of my comfort zone. I like my soup to warm my belly. To comfort me on cold winter days.  Recently, however, as I explore more with cooking, I decided that it was time to step out of my comfort zone and give this cold soup a try. I could slap myself for waiting so long.
There is really not much to not like about this soup. Cool cucumbers, onions, garlic, tomatoes and bell peppers spend the night in the refrigerator and make beautiful flavor babies.  The grilled shrimp and avocado are their cute new outfits.
Gazpacho with Grilled Shrimp and Avocado Recipe
Ingredients:
5 medium ripe tomatoes, chopped
1 red onion, chopped
1 green bell pepper, chopped
1 red bell pepper, chopped
1 cucumber, peeled, seeded, chopped
handful of fresh parsley
4 cloves garlic, minced
1 jalapeno, chopped (optional)
juice of 2 lemons, divided
2 tablespoons white wine vinegar
1/4 teaspoon cayenne pepper (optional)
4 cups tomato juice
3 avocados
1 pound medium prawns, peeled and deveined
olive oil
kosher salt and fresh cracked pepper
Instructions
1
In a food processor or blender combine the tomatoes, onion, red and green bell peppers, cucumber, garlic, parsley and jalapeno (if using) and pulse until desired consistency. The mixture should be chunky.

2
Transfer vegetable mixture to a large bowl, add juice of 1 lemon, white wine vinegar, cayenne pepper (if using) and tomato juice. Stir to combine. Season to taste with kosher salt and fresh cracked pepper. Cover and chill for several hours or over night. The longer the better.

3
Shortly before you are ready to eat, preheat your outdoor grill to med-high.

4
Halve and remove the pit from the avocados. Drizzle with olive oil and remaining lemon juice. Set aside

5
Skewer shrimp, season with kosher salt and fresh cracked pepper. Drizzle with olive oil.

6
Place the avocados flesh side down on the grill, and cook for 3 minutes. Allow to cool slightly. Remove the flesh from the skin, slice.

7
Place the shrimp skewers on the grill and cook until pink. About 3-5 minutes.

8
Remove cold soup from refrigerator. Stir and check seasonings, adding more salt and pepper if desired.

9
Ladle cold soup into bowls. Place grilled avocado and shrimp on top.