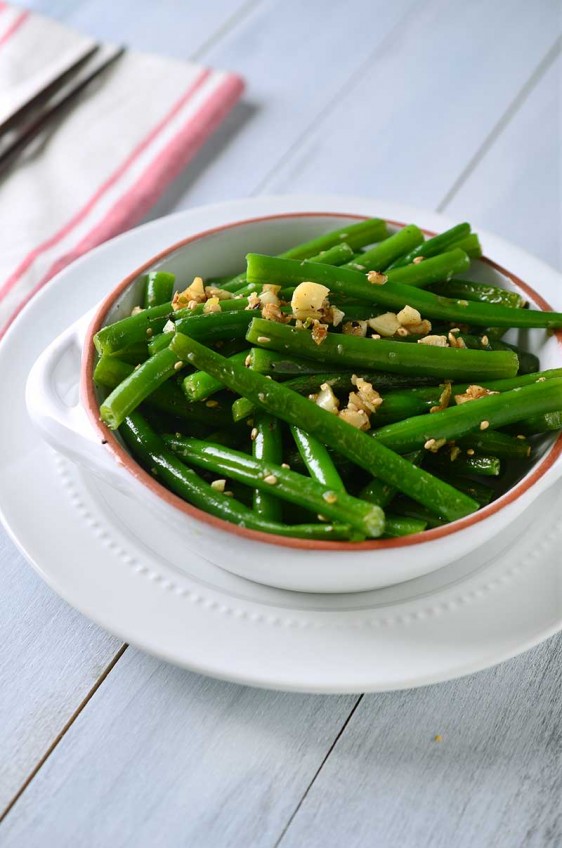 Ginger Garlic Green Beans
Happy Wednesday, friends! I'm bringing you a vegetable dish today because after all the sweets last week and the decadent Crispy Chicken Thighs from Monday, I figured it was time to throw in something green. Green things are generally good for you right? And they are especially delicious when loaded with garlic and ginger like these Ginger Garlic Green Beans.
This summer, green beans have become my absolute favorite vegetable. I try to eat them every chance I get. The last recipe I shared for green beans was Summer Savory and Garlic Green Beans and I mentioned that I got the idea to use summer savory in that recipe from my favorite kitchen book, The Flavor Bible. Well guess what guys, I am SO SO excited. This weekend I am going to attend the International Food Bloggers Conference here in Seattle and GUESS WHAT Karen Page and Andrew Dornenburg are giving the keynote address. Squeeeeeeeeeeee! I've also asked them to sign a copy of the Flavor Bible for me to include in my box of favorite things that I'll be giving away next month to celebrate the SIXTH anniversary of the blog. Stay tuned for that!
I have been so inspired by the Flavor Bible that Karen and Andrew's keynote is the main reason that I decided to attend the conference this year. However, as I look at the rest of the agenda and all of the breakout sessions I am super excited for the whole thing.
Those of you who don't have food blogs of your own probably have no idea that us food bloggers have conferences of our own, but we do. I've been to a few and I must say they are pretty fun. I went to the International Food Bloggers conference once before a few years ago when it was in Seattle and it was one of my favorites. The food was, by far, my favorite of any conference that I have been to so I have high hopes for this weekend! If you're interested, you can follow me on Instagram. I'll be posting plenty of pictures of the whole weekend.
In addition to the food, I am also super excited about some of the sessions. Chances are I won't be getting to all of them. Since I am nursing, I am planning on bringing Preston with me for part of the day and will probably miss a couple sessions but I am going to be sure to hit the Know Your Beef session. I have always been interested in learning about different cuts of meat and when to use them. And I'll be sure to share any tips with you all.  I also hope to gain information about different writing techniques and food photography from some of the other sessions.
But the best part is all of the food blogging friends that I will see and new friends I will meet. I can't wait to tell you all about it!
In the meantime, let me tell you about these scrumptious beans. They are super easy to make, just blanched and then sautéed with lots (read: SIX cloves) of garlic and fresh ginger. They are crisp and flavorful and the perfect side dish to just about any meal.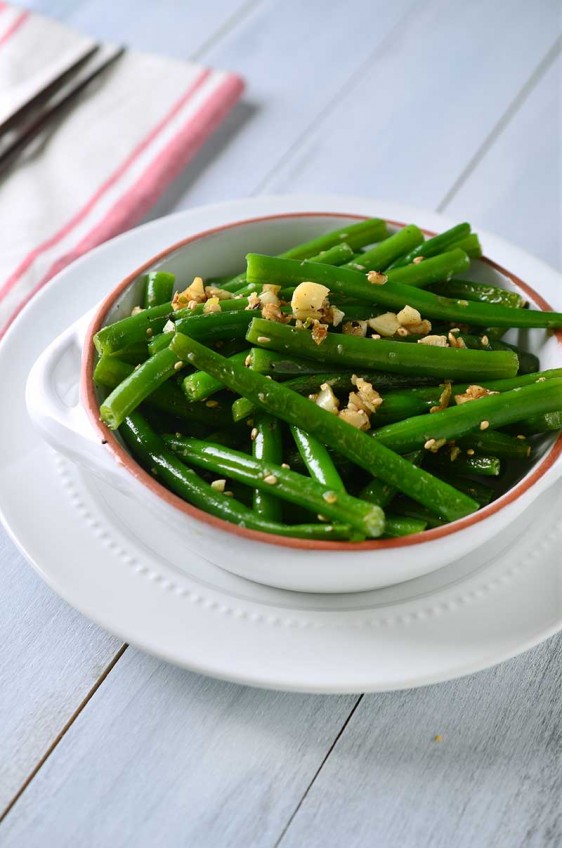 Ginger Garlic Green Beans
Tender, crisp green beans sauteed with loads of fresh garlic and ginger.
Ingredients:
Ice

1 1/2

pounds

green beans

trimmed

2

tablespoons

olive oil

6

cloves

garlic

minced

1

teaspoon

minced fresh ginger
Place ice in a large bowl with water to make an ice bath.

Bring a large pot of water to a boil. Cook green beans 3 - 4 minutes or until bright green. Use a slotted spoon to remove green beans and place in the ice bath to stop cooking. Allow to cool. Remove from water and dry the beans.

Heat olive oil in a skillet over medium heat. Add in green beans and cook 2 - 3 minutes or just until they are tender but crisp. Add in the ginger and garlic. Cook just until fragrant, 30 seconds - 1 minute. Remove from heat. Transfer beans to a serving platter and spoon any garlic/ginger left over in the pan over the top. Serve hot.
Keywords:
fresh garlic, garlic, ginger, green beans, vegetable, Vegetarian