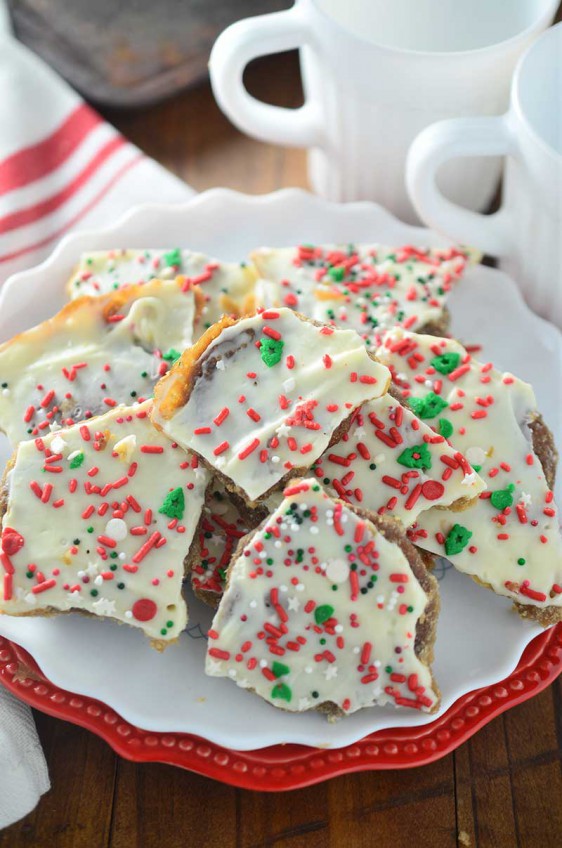 Gingersnap Toffee
If you love gingersnaps, toffee and white chocolate, you'll love this Gingersnap Toffee. It's perfect for Christmas! 
I seriously love this time of year. I love the sights, the sounds, the lights and of course all of the Christmas treats that are currently taking over my kitchen. Throughout the rest of the year I am not a huge candy and sweets eater but when Christmas rolls around gimme all the chocolate, cookies and treats. My newest Christmas treat love is this Gingersnap Toffee.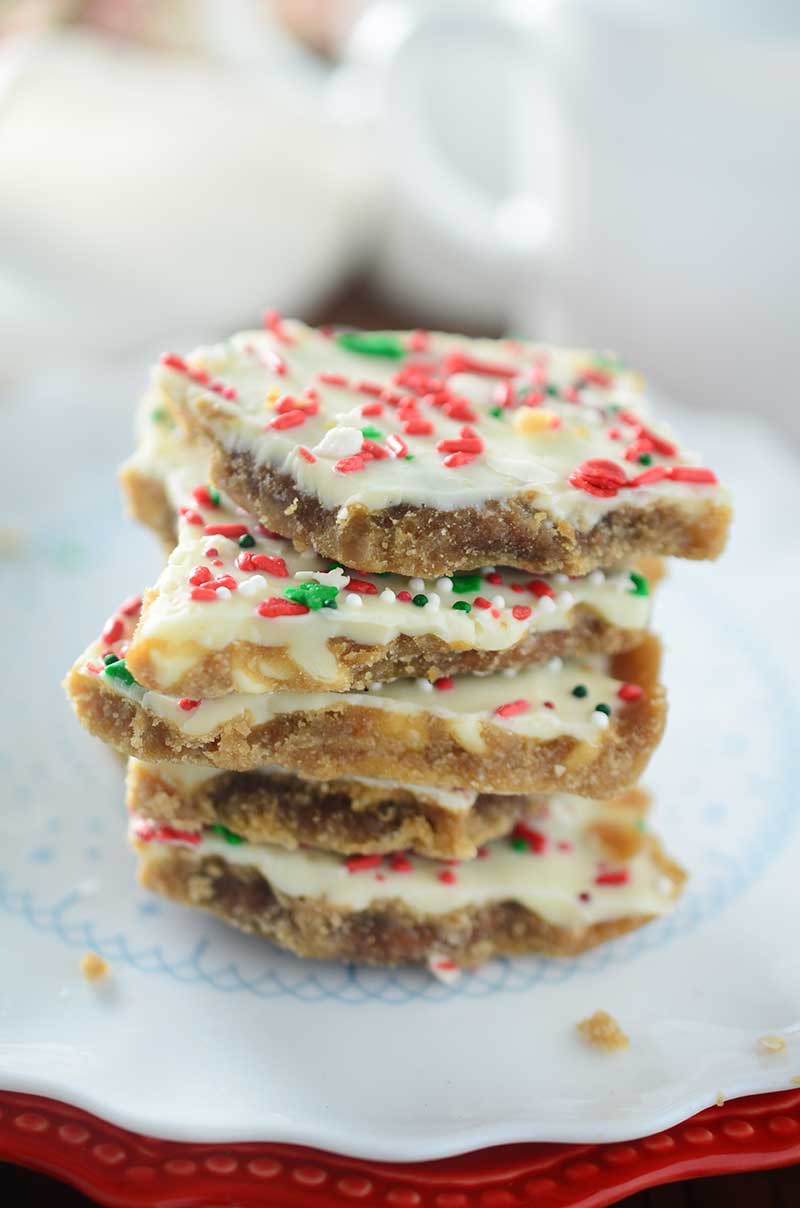 Everyone has probably heard of saltine toffee, AKA Christmas Crack. But I've got a new twist for you, this Gingersnap Toffee is out of this world. There is a layer of gingersnaps, buttery toffee, white chocolate and sprinkles. It is is my newest treat obsession.
If you have ever made saltine toffee then you'll be able to make this gingersnap toffee. It is basically the same concept, except for instead of saltine crackers you'll be using gingersnaps cookies. For this recipe, you will want to make sure that the gingersnaps are crisp. Soft gingersnaps will not work as well. I used Nabisco Gingersnaps but if you have some of your own homemade lying around, because… Christmas, I'm sure they would work just fine too!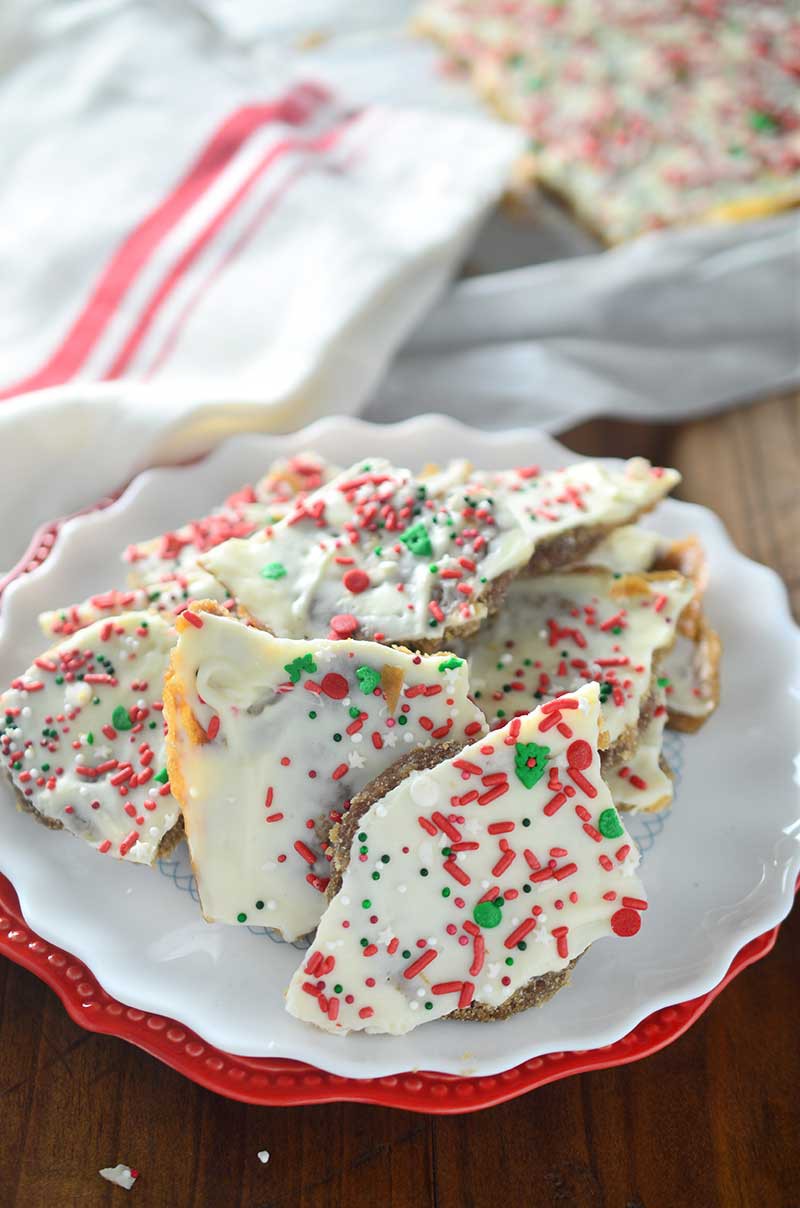 This Gingersnap Toffee does require a bit of time in the fridge. I recommend about two hours. But don't go much more than that. I put mine in the fridge and then went to do some Christmas shopping for about 3 hours. The toffee was pretty hard at that point but an hour or so on the counter and we were good to go! And by good to go I mean…I ate entirely too much in one sitting.
But hey. It's Christmas.
Speaking of Christmas, this was my view a last week. Seriously, I LOVE this time of year.
Check out the video below to see just how easy this Gingersnap Toffee is to make!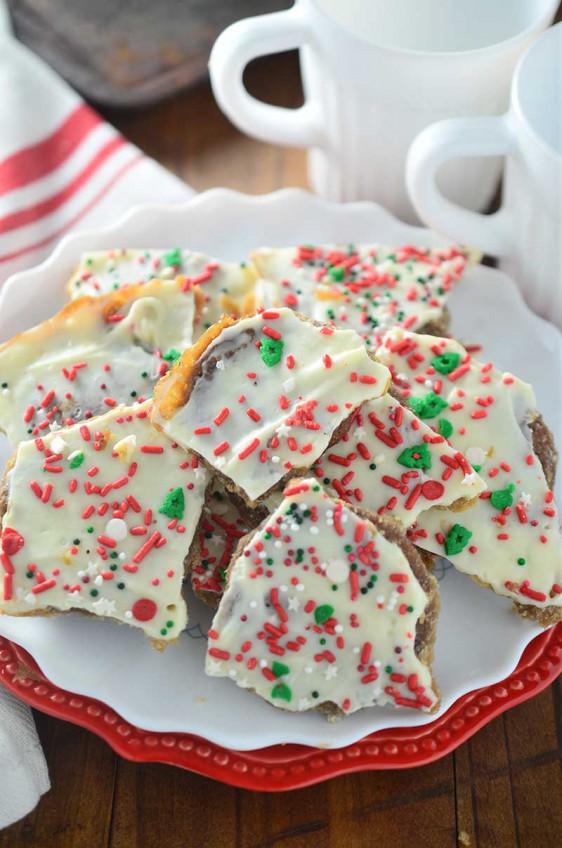 Gingersnap Toffee
If you love gingersnaps, toffee and white chocolate, you'll love this Gingersnap Toffee. It's perfect for Christmas!
Preheat oven to 400 degrees.

Combine butter and sugar together in a pot. Cook over medium heats until it begins to boil. Allow to boil for 3 minutes untouched. Stir and continue cooking 1or 2 more minutes or until thickened.

Line a 10 x 15 inch jelly roll pan with parchment paper.

Line cookies on to prepared baking sheet. Pour sugar, butter sauce over the top. Cook in preheated oven for 5 minutes.

Remove from oven and sprinkle white chocolate chips over the top. Allow to set for 30 seconds - 1 minute. When the chocolate starts to melt spread it over the crackers. Sprinkle with sprinkles. Allow to cool to room temperature then chill for 2 hours.

Once chilled and hardened, remove from fridge and break into pieces. Store in airtight container.
Keywords:
candy, Christmas, cookies, holiday, sweets, toffee