Fully loaded Greek Gyro Nachos with pita chips, tzatziki sauce, tomatoes, onions, cucumbers, olives and a whole lotta feta.
When it comes to nachos, I've really only ever had the traditional kind. You know, the kind with the shredded beef or pork, jack cheese, jalapeños and all that jazz. But sometimes it's fun to shake things up a bit. Enter these Greek Gyro Nachos.
Gyros are a favorite in our home and when I set out to make these nachos I got to thinking what is on our favorite gyro. We like them loaded with tzatziki, red onion, olives, tomatoes, lettuce and cucumbers, so of course those were all going on these Greek Gyro Nachos.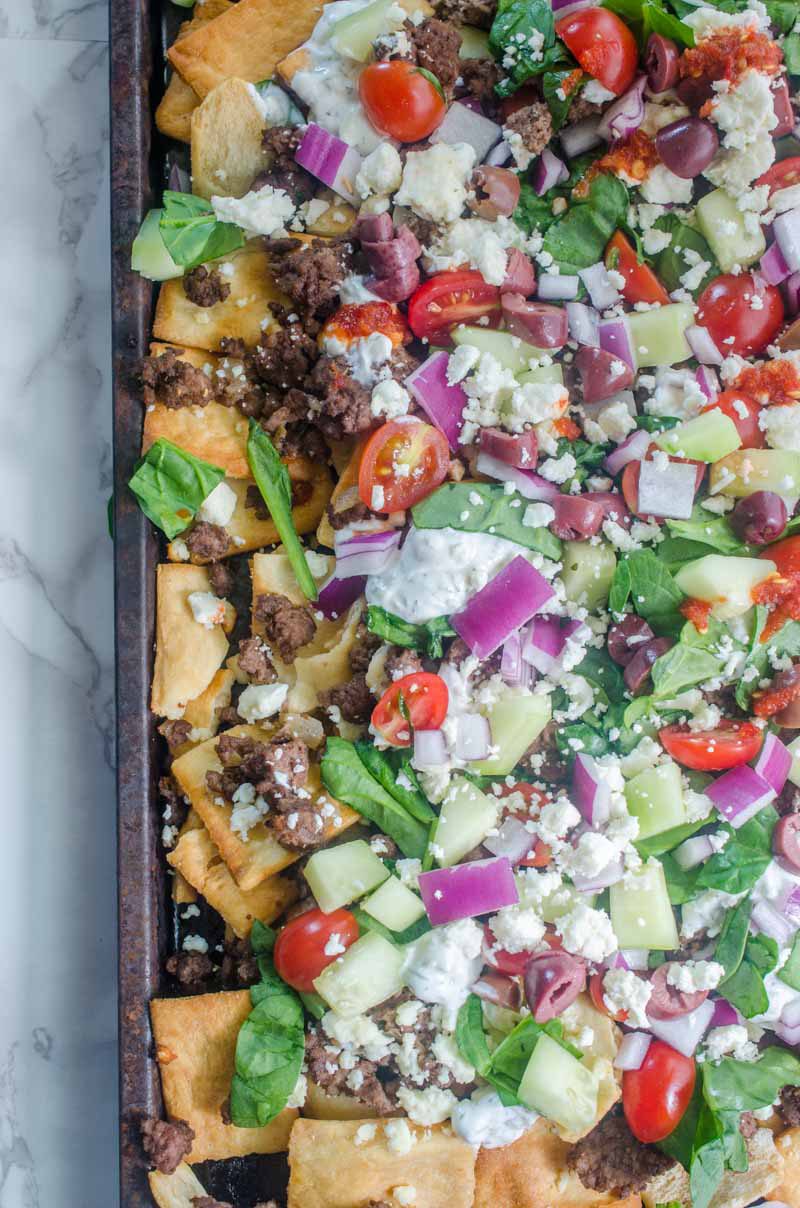 Next up I had to figure out what kind of meat that I wanted to use. Lamb was my first choice. Now, I know you can make gyro meat fairly easily, but honestly, I was tired and didn't want to take the time so I just simply used ground lamb seasoned with onions, garlic and oregano. And it totally worked.
Next was the cheese issue. Traditional nachos have melted cheese. Traditional gyros have feta. Feta doesn't melt. I thought it was a problem until I realized that although it doesn't melt, when you cook feta it becomes deliciously soft and perfectly golden brown on top.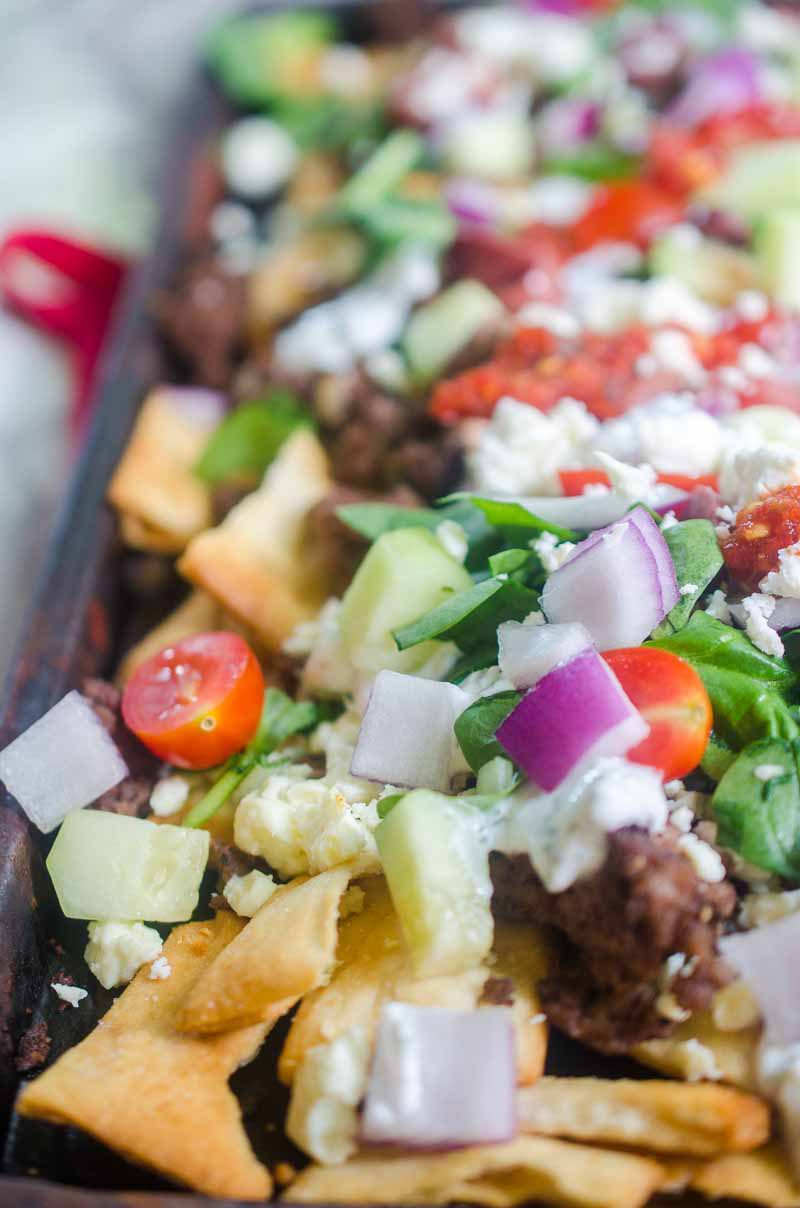 The final piece of the puzzle, which probably should've been the first piece but working backwards is fun, was what kind of chips I was going to use.
First thought: Tortilla chips! These are nachos after all.
Second thought: These are GREEK Nachos and tortilla chips are…well…not Greek.
Third thought: Cut up pita and bake it to make my own pita chips.
Fourth thought: I'm too tired.
Fifth thought: Des, they actually make pita chips that you can buy.
Sixth thought: I'm hungry.
Seven thought: Hurry up and make these already!
So I did. And we devoured them. Like seriously, D.E.V.O.U.R.E.D.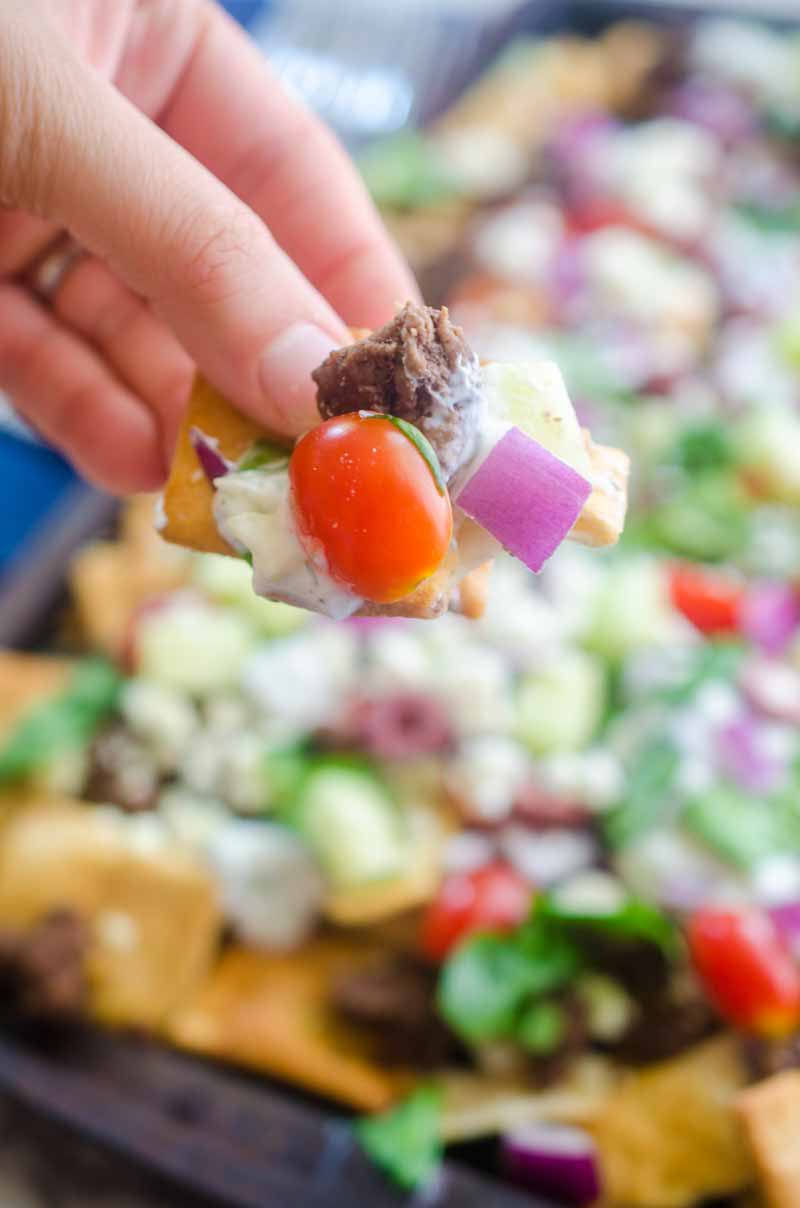 Oh and if you like your gyro spicy, drizzle a bit of garlic chili sauce on top of them.
Now, go forth and devour. :)
Still not convinced?! Watch the video below!

Ingredients:
1 pound ground lamb
3 cloves garlic, minced
1/2 medium yellow onion
2 teaspoons dried oregano (1 tablespoon fresh)
1/2 teaspoon salt
1/4 teaspoon pepper
12 ounces pita chips
6 ounces crumbled feta cheese
1 cup diced tomatoes
1 cup shredded lettuce
1/2 cup diced cucumbers
1/2 cup black olives
1/2 cup red onion
Instructions
1
Cook lamb, garlic, yellow onion, oregano and salt and pepper in a pan over medium heat. Cook until lamb is cooked through and onions are softened 5 -7 minutes.

2
Preheat oven to 350 degrees. Place pita chips on a baking sheet. Top with ground lamb mixture and all but 1/4 cup of feta cheese. Place in the oven and cook 7 - 10 minutes or until the feta starts to brown.

3
Remove from oven. Top with tzatziki, diced tomatoes, lettuce, cucumbers, olives, red onion and remaining feta cheese. Serve.