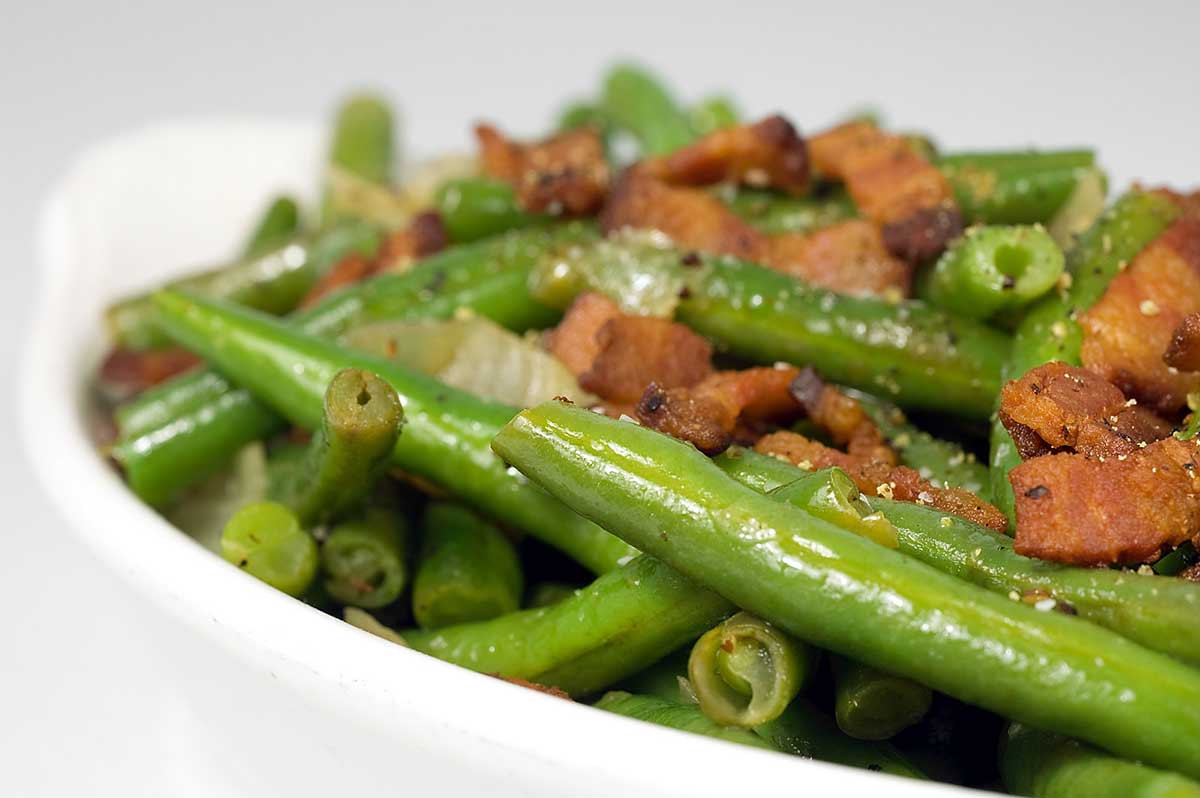 Green Beans with Pepper Bacon
I know a few people, I'm sure you do too, that refuse to eat their veggies. You might even be one of them. If you are one or know someone that refuses to eat anything green, believe me when I tell you it will be hard for anyone to turn up their nose to these Green Beans with Pepper Bacon. That's right bacon. Crispy, crunchy, salty, peppery bacon. If the bacon isn't enough, I add a splash of white wine to the dish as well. Its a nice way to perk up your traditional green bean side dish and is sure to get those who don't like their veggies to give them a shot.
I just love pepper bacon. Its thick, yet it crisps up nicely and has a lovely black pepper flavor. But don't worry its not too over powering or spicy. If you don't want to use pepper bacon or can't find it, just substitute regular thick cut bacon.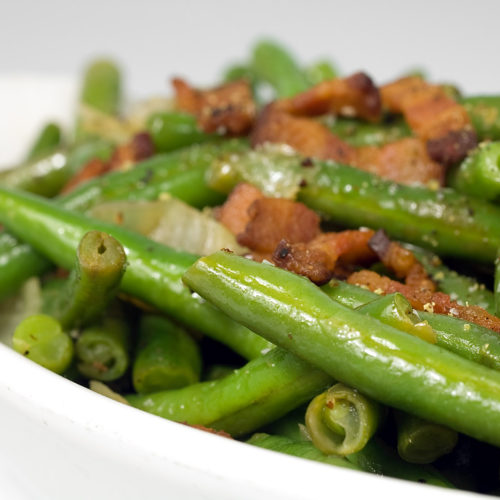 Green Beans with Pepper Bacon
Tender green beans sauteed with onions and thick cut bacon.
Ingredients:
3

slices

thick cut pepper bacon cut into 1 inch pieces

1/2

cup

diced yellow onion

1

pound

green beans

trimmed

1/2

teaspoon

kosher salt

1/4

teaspoon

fresh ground black pepper

2

tablespoons

dry white wine
In a skillet cook bacon until browned. Use a slotted spoon to transfer cooked bacon to paper towel lined plate.

Reserve 1 tablespoon pan drippings. Add onion, cook for 3 minutes or until softened. Add green beans, season with salt and pepper. Cook 5 minutes. Pour white wine over the top of the beans. Cover and cook for 10 minutes or until beans are softened. Shake the pan occasionally.

Transfer to serving bowl, sprinkle with chopped bacon and a few grinds from a pepper grinder. Toss.

Serve.
Keywords:
bacon, fresh green beans, green beans, pepper bacon, side dish, thanksgiving, thanksgiving side dish, white wine