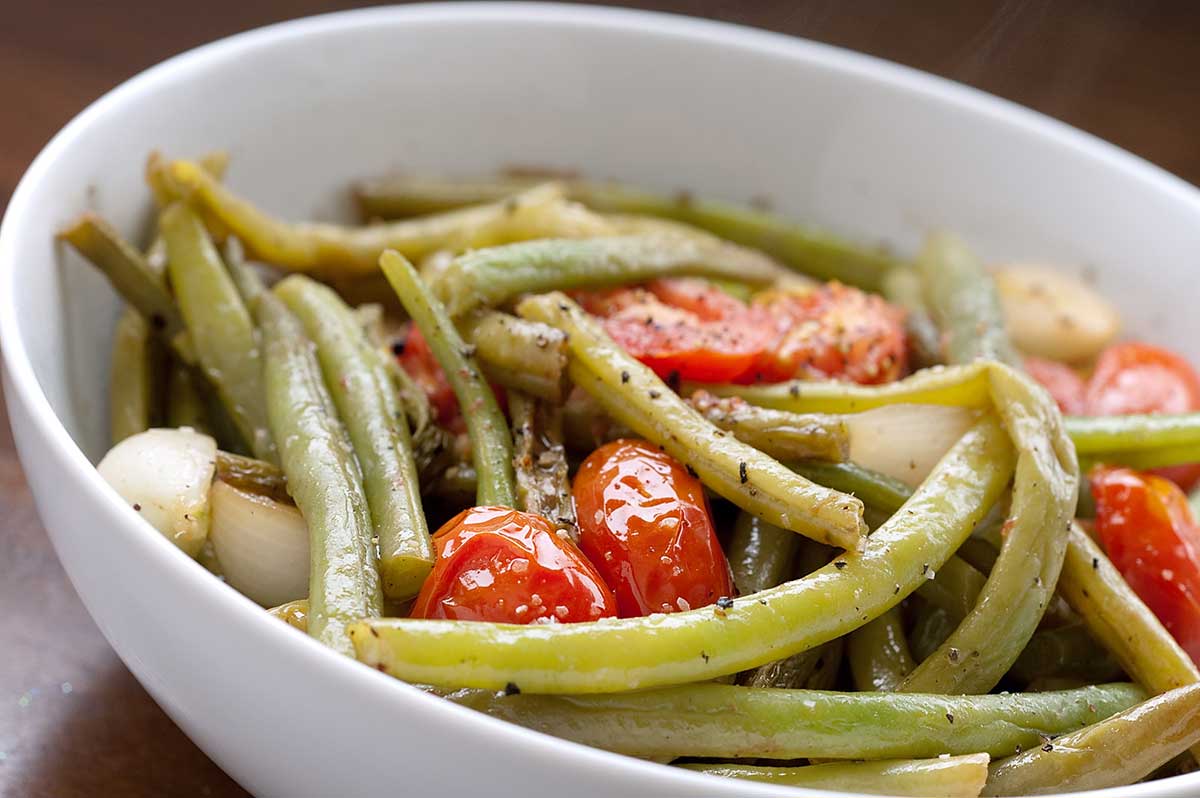 Green Beans with Tomatoes and Onions
I almost called these Christmas beans. You've got the green beans, the red tomatoes and the white onions. All the colors of Christmas. However, using that logic I suppose that they could also be called Italian beans or Mexican Beans. But regardless, because they are the color of Christmas, not to mention delicious, I think that they would be perfect on your Christmas dinner table. You know, the meal that you eat in between all the sweets that you consume this time of year.
This recipe does call for fresh pearl onions. I picked them up because I had never cooked with them and I wanted to give it a shot. What I didn't think about was how I was going to peel the little buggers. I did some digging around and found that a lot of people prefer to use frozen pearl onions instead. However, others suggested that if you do want to use fresh pearl onions you simply blanch them like you would tomatoes and then peal them. I decided to give that a shot and it worked perfectly for me. If you'd prefer simply buy a bag of frozen pearl onions and follow the directions for thawing. Then proceed with the recipe as if you were using the fresh ones.

Green Beans with Tomatoes and Onions
Crisp green beans, sweet red tomatoes and tender pearl onions. A little Christmas flare without all the sweets.
Bring a large pot of water to a boil.

In another bowl add cold water and ice to make an ice bath.

Use a small knife to score a small "x" in the bottom of the onion. Once water begins boiling, boil onions 3 - 5 minutes or until slightly tender. Use a slotted spoon to transfer the onions to the ice bath. This will stop the cooking process. Once cooled simply squeeze and the onion should pop out of the skin. Cut the onions in half.

In a large skillet heat olive oil over medium heat. Saute green beans, salt and pepper for 2 minutes. Pour in vinegar. Cover beans and continue to cook for 10 minutes. Stir in onions and tomatoes. Continue cooking just until the vegetables are tender about 5 more minutes. Adjust seasoning with more salt and pepper if desired. Serve.
Keywords:
beans, Christmas, Food, green beans, holiday, holiday side dish, pearl onions, Recipe, side dish, tomatoes