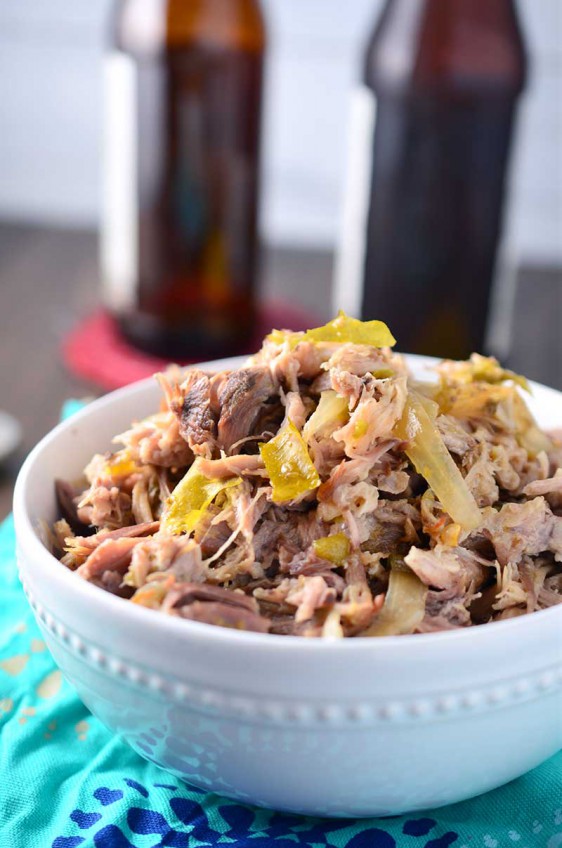 Green Chile & IPA Slow Cooker Pulled Pork
Sorry about the lack of posts over the last week, friends. Things have been a bit hectic over here. Like trips to the Urgent Care and stomach flu for a family of four kind of hectic. But I'm back today to share with you a super easy slow cooker pulled pork recipe. A recipe that you can make on sunday and use for a few meals throughout the week. A recipe that also calls for beer because, seriously, after this week I needed one.
It all started last Thursday when I was making dinner. Mr. Preston thought he would try to help me and burnt his little fingers on the bottom of the oven door, between the oven door and the warming drawer.
Insert: horrible mom feeling. The crushing I let my baby get hurt feeling. The I know how much burns hurt and now my baby hurts like that feeling.
Insert: tears from baby…and mom.
We rinsed them in cold water but since I've never dealt with a burn on a baby, I rushed him off to the Urgent Care. The doctors were great for this sobbing mama. The doctor even told me that her son did the exact same thing when he was the same age. It made me feel a little better. They took great care of him.
Four hours later, at 10:30pm, with Preston all bandaged up, we got home.
And…
Kellan was sick.
Stomach flu sick.
Oy.
That pretty much set up the rest of the next several days as it passed through everyone in the house. Knocking us down one by one.
I thought I was out of the woods Monday but woke up Tuesday feeling almost as bad as I did when I came down with it on Saturday.
Finally, Thursday, a week later, we are all on the mend. No more stomach flu and after a visit to the burn clinic yesterday we found out that Preston's little fingers are going to be just fine.
Thank goodness.
Now on with the pulled pork: This is super easy to make, guys. We're talking 6 ingredients if you count the salt and water. And, even better, you can use it for so many different kinds of meals. We used it for pulled pork tacos with a new salsa recipe that I'll be sharing soon. We also made an awesome pulled pork grilled cheese with it. I personally think it'd also make great nachos, an awesome burrito bowl or taco salad and of course pulled pork sandwich.
And actually…it's pretty darn good all on it's own too.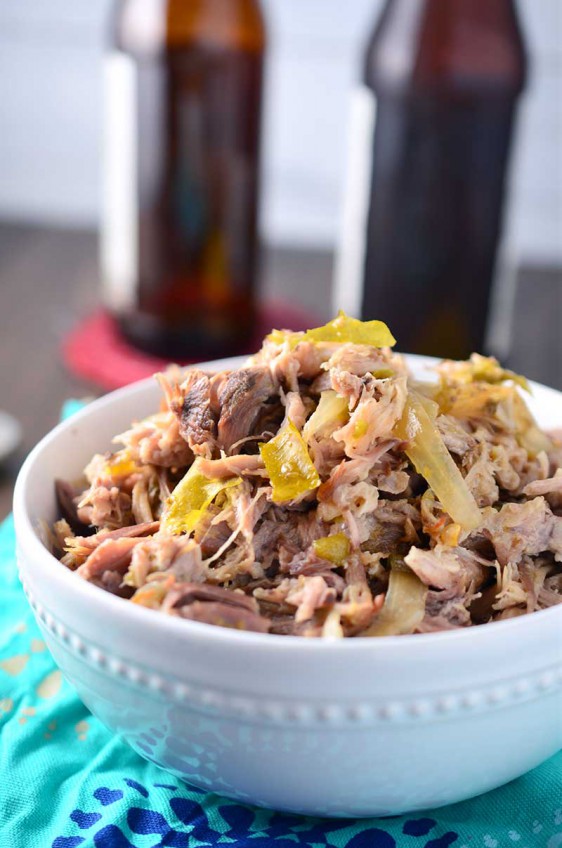 Green Chile & IPA Slow Cooker Pulled Pork
Tender slow cooker pulled pork simmered with green chiles, onions and IPA beer.
Season the pork shoulder liberally with salt.

Place the onion on the bottom of the slow cooker. Place pork on top. Pour in green chiles, beer and water. Cover and cook on low for 6 - 8 hours.

Remove pork from slow cooker and use forks to shred.
Keywords:
entree, pulled pork, slow cooker