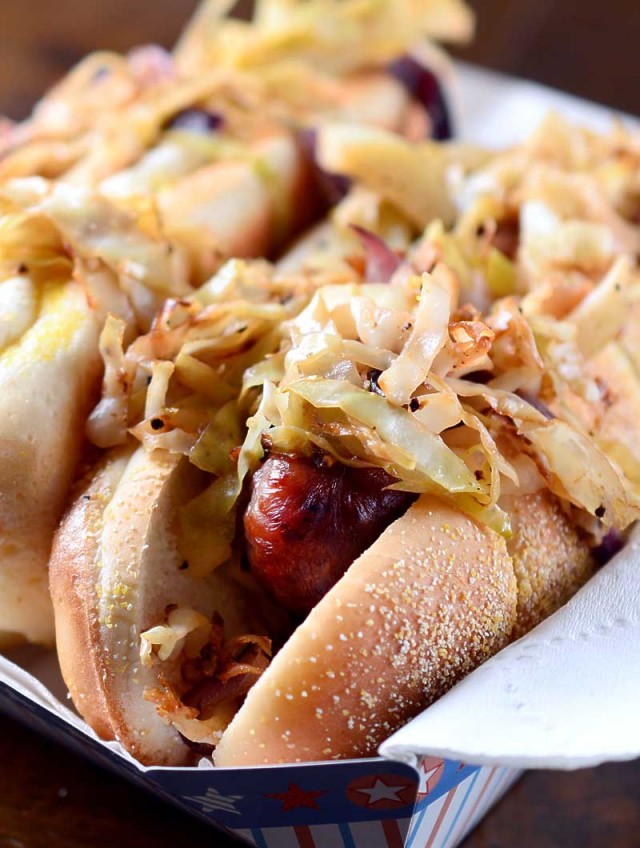 Grilled Brats with Warm Cabbage Slaw
So Football season started last night. Ryan turned the game on after he got home and it instantly felt like Fall. I wasn't even in the room. I was in the kitchen. Which is actually where I like to spend my football season. It really isn't about the game friends, it's all about the food. And these Grilled Brats with Warm Cabbage Slaw are just begging to be a part of your next tailgate.
If you would've asked me a few years ago, I would've said that I was not a football fan at all. But I must say it's actually kind of growing on me.
For one, the weekends during the fall are all about football so I started watching it more.
And second, when I started paying more attention, I started asking Ryan questions about how the game was played. Other than touchdown, I honestly didn't know anything.
First and 10 what?
What's down? And why?
I'm sure I was a joy to watch football with. But after I started asking questions, Ryan was nice enough to explain the rules of the game. Or some of them. There are a lot in football. I think that's why I wasn't a fan before.
But now that I know a little more, I don't mind watching.
In between visits to the kitchen of course. Because who am I kidding, everything is always about food with me. Especially football with all of the eats, the jalapeno poppers, the dips, the wings and now, these brats. Food rules.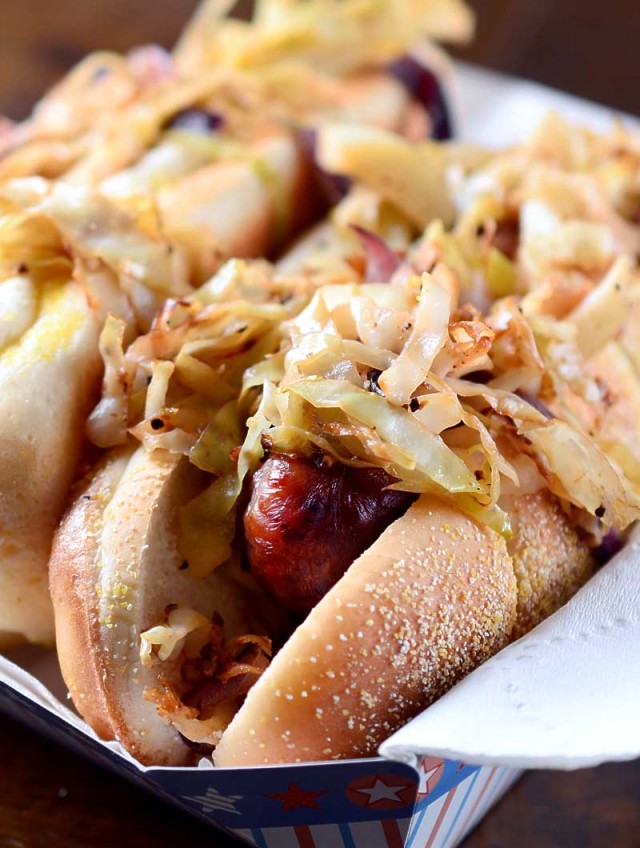 Grilled Brats with Warm Cabbage Slaw
A perfectly grilled bratwurst topped with a tangy warm cabbage slaw. Perfect for your next tailgate!
Preheat grill.

Heat olive oil in a skillet over medium heat. Cook onions and cabbage just until onions start to brown slightly. Add in vinegar and mustard. Mix well. Cover and cook 10 minutes or until cabbage is softened. Stirring occasionally. Turn to low to keep warm while cooking the bratwurst. Season to taste with salt and pepper.

Puncture bratwurst with a fork so they don't explode when cooking.

Once your grill is hot cook bratwurst 15 - 20 minutes or until the internal temperature reaches 160 degrees. Make sure to turn them a few times so that they brown evenly.

Place bratwurst in a bun, top with warm cabbage slaw. Serve.
Keywords:
brats, cabbage, coleslaw, entree, Food, game day recipes, man food, Recipe, super bowl, tailgate, warm slaw