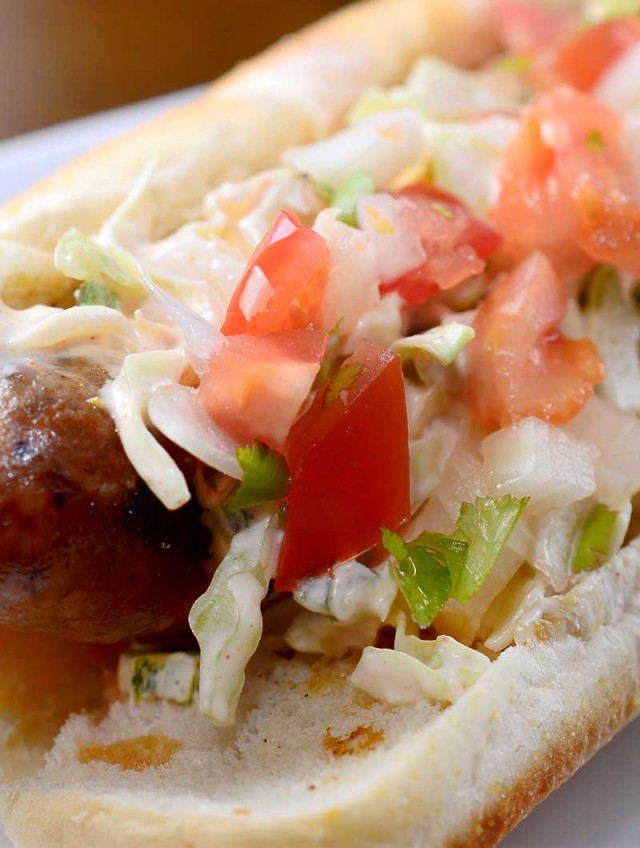 Grilled Bratwurst with Spicy Slaw
Happy 5th of July! I hope you all had a wonderful and safe 4th! We had a great time. We visited with family and friends. Watched fireworks. Lit some of our own. Filled ourselves up with copious amounts of guacamole, deviled eggs and BBQ pork. Oh and my mom made one heck of a cheesecake that I am definitely going to have to replicate. You'd think after eating all of that rich food that I would want to only eat celery today. And you'd be wrong. Well mostly wrong. Because today, I'm craving one of these succulent grilled bratwurst topped with a spicy jalapeno slaw and homemade pico de gallo. Maybe I'll have some celery on the side.
Something kind of crazy happened in my kitchen a few weeks ago. The cuisines of Germany and Mexico collided. It sounds weird right? I thought it was weird when I was doing it.
I even stopped myself a couple of times and asked myself what I was doing.
But I didn't stop. I had brats to cook and was craving Mexican food so these were going to be Mexican Bratwurst. There were no if, ands or buts about it.
When I was done, I was pleasantly surprised. And I talked to myself again.
I do that often in the kitchen. I can't be the only one. Right?
However, this time instead of asking myself what I was doing I asked myself why I had never done it before. Friends, this brat is delicious and I am so excited to share it with you today.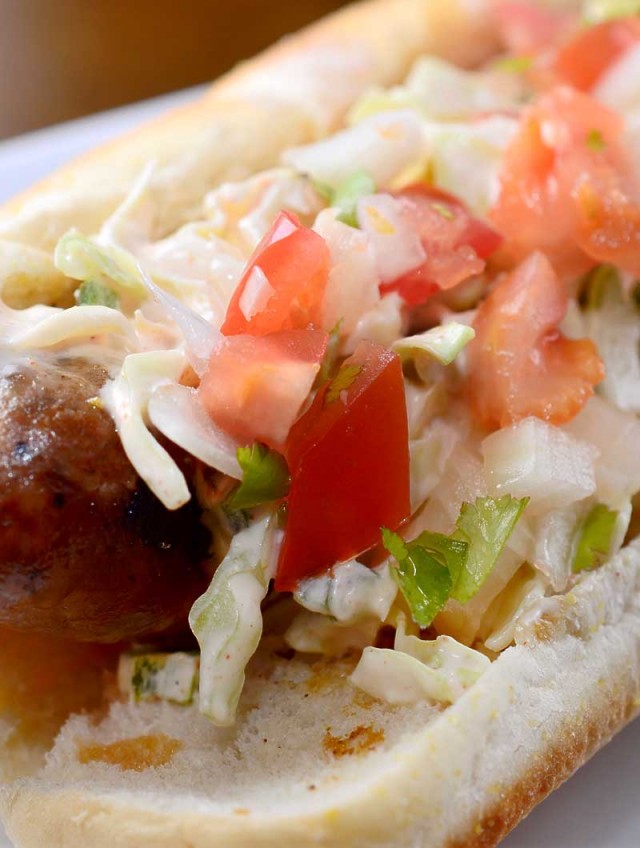 Grilled Bratwurst with Spicy Slaw
The cuisines of Mexico and Germany collide in this bratwurst topped with spicy slaw and homemade pico de gallo.
Combine mayonnaise, Greek yogurt, 1 tablespoon lime juice, jalapeno, chipotle powder, salt, and garlic powder together in a bowl. Mix well. Fold in sliced cabbage. Toss to coat. Cover and refrigerate for at least 30 minutes.

In another bowl combine tomatoes, white onion, garlic, remaining lime juice and cilantro. Mix well. Allow to set at room temperature for 30 minutes.

When ready preheat your grill to medium-high heat.

Puncture bratwurst with a fork so they don't explode when cooking.

Once your grill is hot cook bratwurst 15 - 20 minutes or until the internal temperature reaches 160 degrees. Make sure to turn them a few times so that they brown evenly.

Place cooked bratwurst in a bun. Top with spicy slaw and tomatoes. Serve.
Keywords:
4th of July Recipes, barbeque, bbq, bratwurst, cinco de mayo recipes, entree, Food, german food, grill, hot dog, Labor day recipes, Memorial Day recipes, mexican food, Recipe, superbowl food