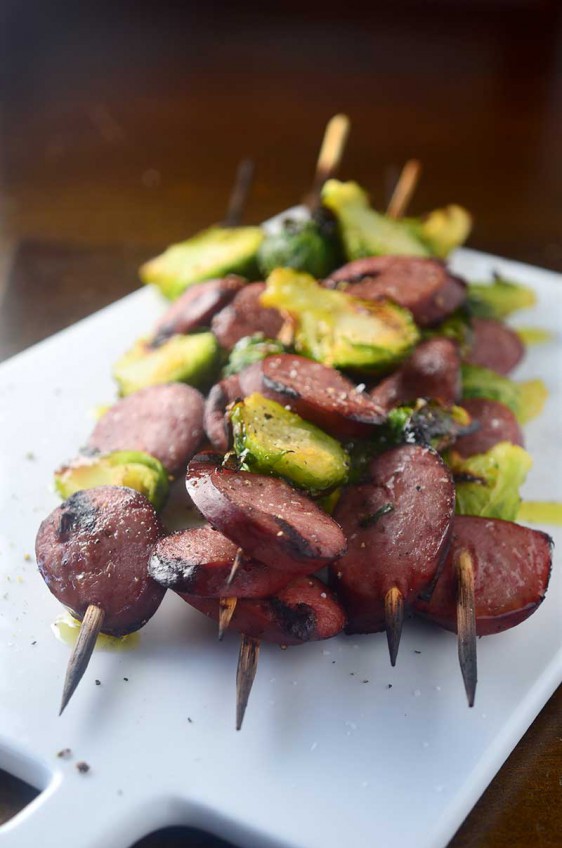 Grilled Brussels Sprouts and Kielbasa Kebabs
During the fall and winter months one of my favorite meals to throw together is Roasted Kielbasa, Brussels Sprouts and Potatoes. It's hearty, it's filling but it also heats up the house. Heating up the house is good for winter, not so good when it's 85 degrees outside and therefore 85 degrees inside as well. But, a couple of weeks ago the craving for Kielbasa and Brussels Sprouts struck so I decided to turn my favorite fall dish into these Grilled Brussels Sprouts and Kielbasa Kebabs.
Have you ever grilled brussels sprouts before? I hadn't before I tried this but guys, it may be my new favorite way to eat them. I should note that I did boil them first but just for 5 minutes. Then after dunking them in an ice bath and patting them dry, I seasoned them simply with a little olive oil, salt and pepper before threading them on the skewers with the kielbasa.
Guys, grilled brussels sprouts are all kinds of delicious. Seriously. The leaves get this little crunchy char and oh my gosh are they tender on the inside.We loved them so much that I  used more than the called for 15 brussels sprouts just so that I could make some brussels sprouts only kebabs. If you are one of those people that don't think that you like brussels sprouts, I challenge you to give these a try, they just might surprise you.
In fact, I'm betting they will.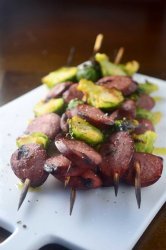 Grilled Brussels Sprouts and Kielbasa Kebabs
A favorite fall dish turned into a summer kebab, these Grilled Brussels Sprouts and Kielbasa Kebabs are the perfect addition to your next BBQ.
Soak wooden skewers 20 minutes before you are ready to cook.

Bring a large pot of water to boil.

Cook brussles sprouts for 5 minutes. Then use a slotted spoon to transfer them to the ice water to stop the cooking process. After cool, remove from water, pat dry and cut in half lengthwise.

Place brussles sprouts in a bowl. Drizzle with olive oil and sprinkle with salt and pepper. Toss to coat.

Alternate threading brussles sprouts and kielbasa onto skewers.

Preheat a grill to medium high heat. Cook skewers 2 - 3 minutes per-side or until kielbasa and cabbage have char marks. Remove from grill, drizzle with a little more olive oil if desired and serve.
Keywords:
brussels sprouts, grill, kebabs, kielbasa