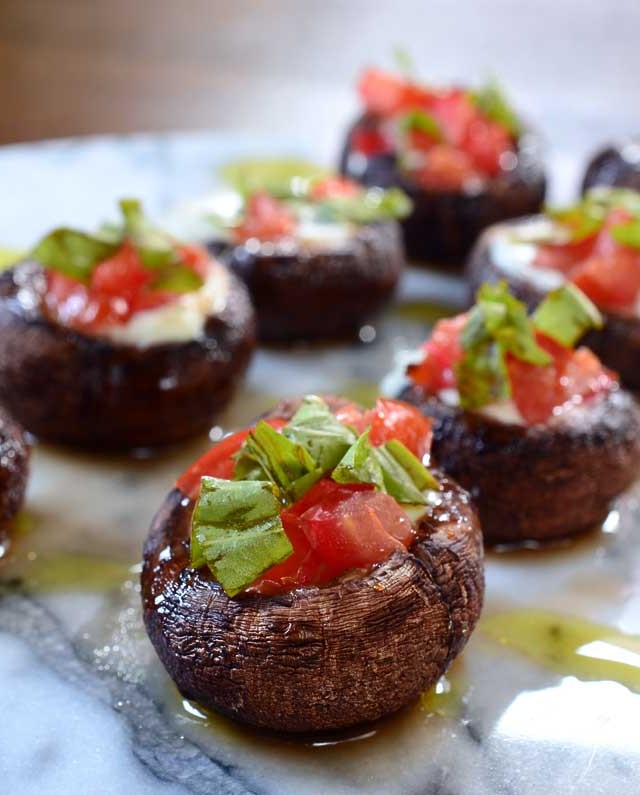 Grilled Caprese Stuffed Mushrooms
Grill Week here on Life's Ambrosia continues with these Grilled Caprese Stuffed Mushrooms. No, they aren't your typical BBQ food, but they should be! They are little bites of cheesy mushroom heaven. And they have my favorite late summer fruit: tomatoes.
I adore tomatoes. I will often just eat them with a little salt and pepper, olive oil and garlic.
Oooh and tomato sandwiches. I love me a good tomato sandwich with sliced tomatoes and mayo.
I always anxiously wait for August because that is when I get the best tomatoes out of my garden. This year, however, my tomato plants have not done well. I planted a Green Zebra Plant, an Early Girl Plant and a Sweet 100s plant. The sweet 100s are doing alright and Kellan picks several of them a day. But both the green zebra and early girls have each only given me one tomato. Sad I tell you.
At least there are good tomatoes available in the market this time of year. Otherwise I would not have been able to make these scrumptious mushrooms. This recipe makes 8 mushrooms but could easily be doubled or tripled depending on your needs.
A few tips:
Tip 1: Use cremini mushrooms because they have a little more earthy flavor then white button mushrooms. Also be sure to pick out the biggest in the bunch. They will fit more mozzarella without the edges cracking.
Tip 2: I used the pre-sliced fresh mozzarella from Costco for this dish. The slices are nice and thick and work really well. I just cut them in quarters and stuffed them in the mushrooms. Whatever you use, just make sure that you don't try to stuff too big of a piece in the mushroom or it will crack.
Tip 3: I don't always brush my mushrooms clean like I am supposed to. Instead, I usually run them under water to clean them. It works fine when you are using them quickly like in a salad but in this dish, make sure you brush them instead. If you rinse them they will absorb way too much water and just won't be as flavorful.
Tip 4: Hide some for yourself so you get some before they are gone :)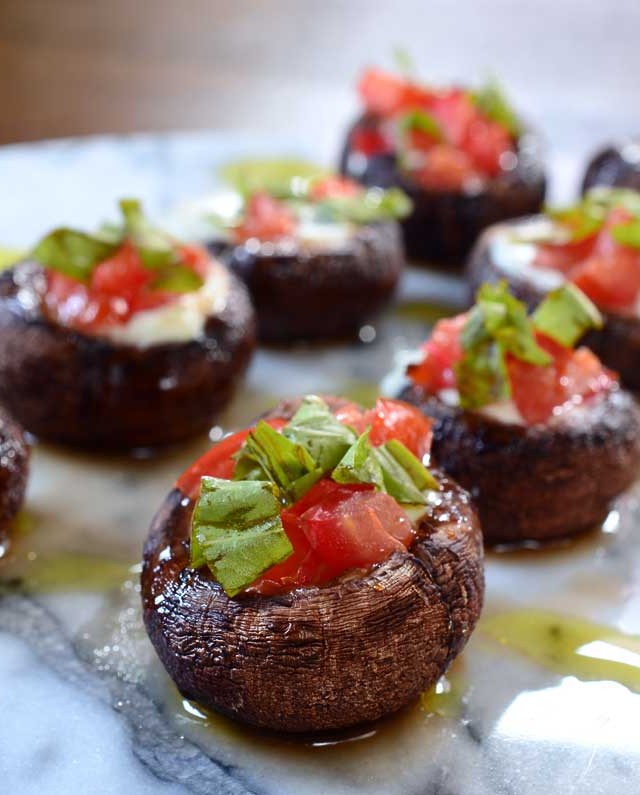 Grilled Caprese Stuffed Mushrooms
Earthy cremini mushrooms stuffed with mozzarella, tomatoes and basil and then grilled to perfection.
Ingredients:
8

large cremini mushrooms

brushed clean and stems removed

2

mozzarella medallions cut into quarters

1/4

cup

diced tomatoes

8

basil leaves

chopped

extra virgin olive oil

salt and pepper
Preheat grill to 425 degrees.

Gently place a quarter piece of mozzarella inside each mushroom. Place diced tomatoes on top. Drizzle with extra virgin olive oil. Place on grill and cook just until the mushrooms start to soften and the cheese melts, about 5 minutes.

Remove mushrooms from grill. Sprinkle fresh chopped basil on top. Transfer to a serving platter. Sprinkle with salt and pepper and drizzle extra virgin olive oil over the top. Serve immediately.
Keywords:
caprese salad, mozzarella, Mushrooms, Vegetarian