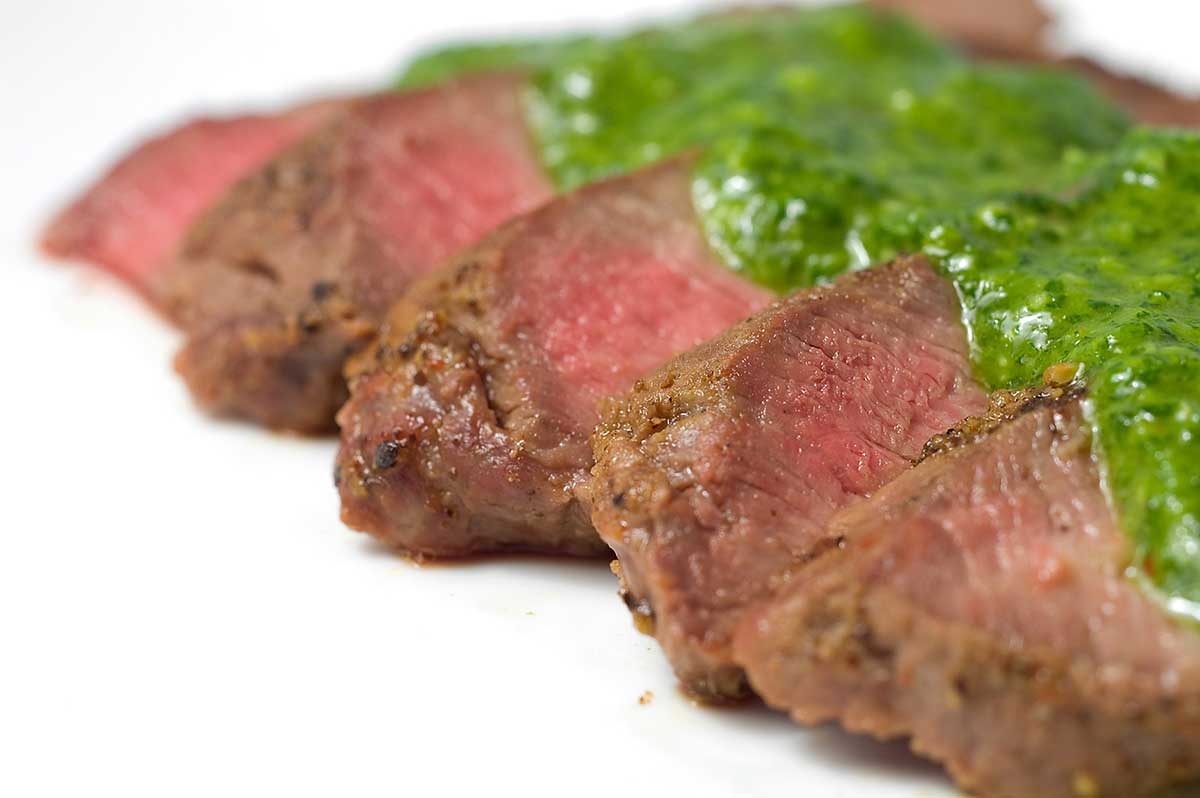 Grilled Flat Iron Steak with Chimichurri Sauce
Now that we have had a few consecutive days of sunshine here in Seattle, I decided it is time that we break out the grill and do some BBQ-ing. I use the term "we" loosely since whenever Ryan and I BBQ, I prepare everything for the grill but don't do the actual grilling. I leave that up to him since he enjoys it so much and I am not a huge fan of smelling like a BBQ. He doesn't seem to mind, maybe its a guy thing.  All of that aside, for our first BBQ of the season I decided that a good steak was in order. And in my opinion nothing tops a perfectly grilled steak better than the garlicky fresh taste of homemade chimichurri sauce.
For this recipe I chose to use flat iron steak which is cut from the shoulder of the steer. I like to use this cut because it is fairly inexpensive yet, unlike some other inexpensive cuts, it is very tender. I find that I don't even need to marinate it. I simply make a quick spice rub, let the flavors meld for about an hour and then Ryan does a quick cook to medium rare and it's good to go.
As for the chimichurri, for those of you that have never had it,  it is a popular condiment in Argentina. While I have seen many different recipes for it, it most often includes parsley or cilantro, garlic, olive oil, and vinegar. Since I had both flat leaf parsley and cilantro I decided that I would combine the two. I also added a little kick with some crushed red pepper. It was delicious on the steak and I am anxious to see what other things it would go well with.
Grilled Flat Iron Steak with Chimichurri Sauce Recipe
Ingredients:
1/2 teaspoon fresh cracked pepper
1/2 teaspoon granulated garlic
1 teaspoon kosher salt
1/4 teaspoon ground cumin
1/8 teaspoon cayenne pepper
1/4 teaspoon chili powder
1 1/2 to 2 pound flat iron steak
canola oil to brush the grill
For the Chimichurri Sauce
3 cloves garlic

1 cup lightly packed cilantro, stems removed

1 cup packed Italian flat leaf parsley, stems removed

1/2 teaspoon kosher salt

1/4 teaspoon cumin

1/3 cup white wine vinegar

1/2 teaspoon crushed red pepper

1/2 cup olive oil
Instructions
1
In a bowl combine pepper, granulated garlic, salt, cumin, cayenne pepper and chili powder.

2
Lay steak on foil, rub mixture onto meat. Cover with aluminum foil. Refrigerate for 1 hour.

3
Meanwhile, place cilantro, parsley, kosher salt, cumin, white wine vinegar and crushed red pepper in a food processor. Turn food processor on, while it is processing slowly add in the olive oil until the mixture emulsifies, about 1 minute. You will have a smooth sauce. Keep at room temperature until ready to serve.

4
Preheat gas grill on high setting. Once heated brush grill with oil.

5
Cook steak on high for 2 minutes on each side. Reduce heat to medium and cook for an additional 2-3 minutes. Remove and allow to rest for 10 minutes. Slice against the grain. Transfer to serving platter, spoon chimichurri sauce over the top, serve.
Notes
I served this with a simple salad, a baked potato and a glass of red wine. Delicious. Enjoy!