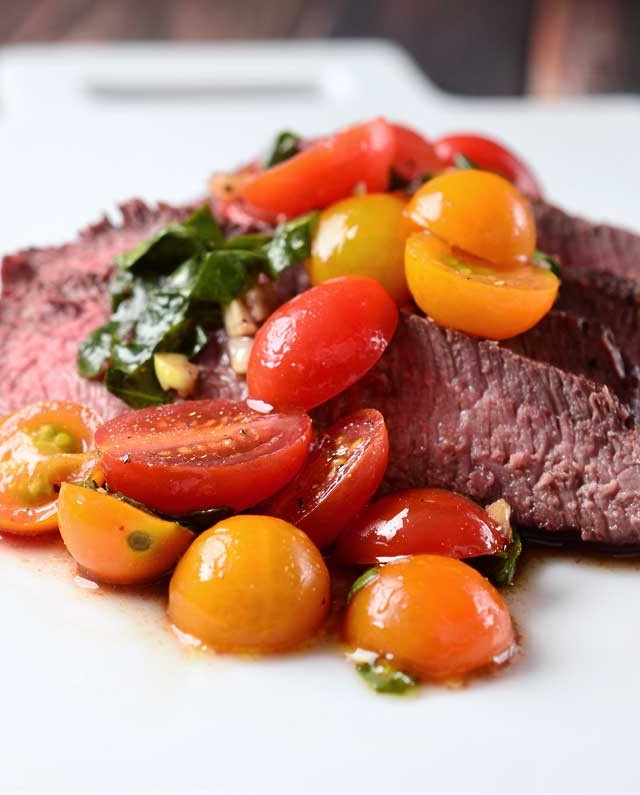 Grilled Flat Iron Steak with Tomato Salad
Of all of the food related restrictions that I had when I was pregnant, eating steak well done was the worst. I could do without soft cheese. I could do without wine. I could do without lunch meats. And even sushi. But man, I missed my perfectly grilled medium rare steaks. Since having Preston, I have had a few steaks and while I have thoroughly enjoyed them all, this steak that I made the other night takes the cake. It was fabulous guys. Perfectly cooked and topped with a simple, yet amazing, tomato salad. I can't think of a better meal to accompany a beautiful summer night at home with my all of my boys.
Speaking of my boys, we are getting pretty settled in now. Ryan has gone back to work. The boys and I are on a schedule. We play in the mornings. Kellan just loves to help Preston with his tummy time. We have lunch. They have even been napping simultaneously in the afternoon! And all of this means that I have been getting back on a schedule myself and back into the kitchen.
Boy did I miss it.
I missed the creativity. I missed the chopping. The tasting. The seasoning. The satisfaction when an idea totally works out and even missed making those meals that didn't turn out well. I seriously just love being in the kitchen. Plain and simple.
And you've probably gathered by now that simple is just how I like to cook. I think the best meals are those without many ingredients so that each component really has a chance to shine. In this recipe you simply season the steak with salt and pepper. That's it. Then you grill it and you're done. The tomato salad is simply tomatoes, olive oil, garlic, balsamic, basil and salt and pepper. Believe it or not these two simple components come together and make an amazingly rustic, gorgeous summer meal that is perfect to enjoy out on a patio with a nice bottle of red wine. I'm already looking forward to making it again.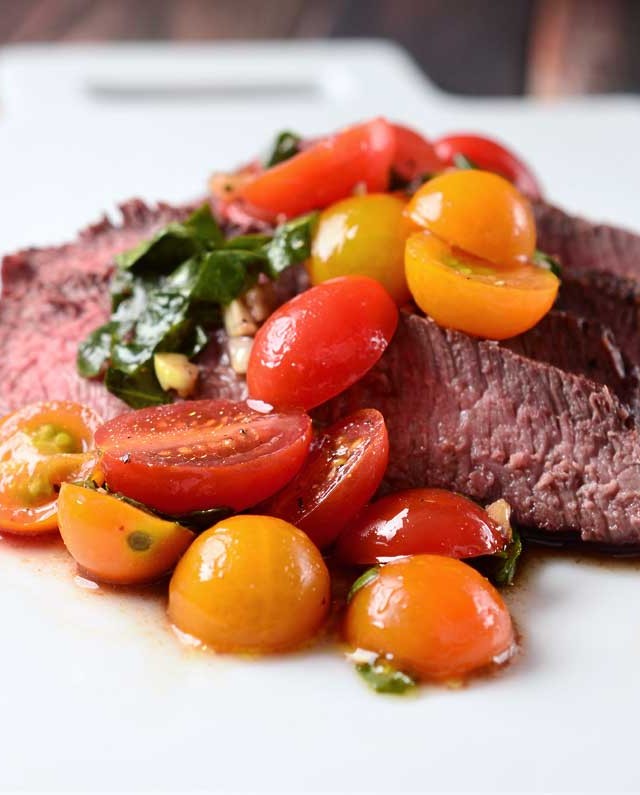 Grilled Flat Iron Steak with Tomato Salad
Perfectly grilled flat iron steak with a simple, yet amazing, tomato salad. It's the perfect rustic summer meal.
Ingredients:
1

cup

halved red grape tomatoes

1

cup

halved golden grape tomatoes

3

garlic cloves

minced

2

tablespoons

olive oil

1

tablespoon

balsamic vinegar

5 - 6

fresh basil leaves

chopped

salt and pepper

1 1/2

pound

flat iron steak
Combine tomatoes, garlic, olive oil, balsamic vinegar and basil together in a bowl. Season with salt and pepper. Cover and let set at room temperature while you prepare the steak.

Preheat a gas grill to medium - high heat.

Liberally season both sides of the steak with salt and pepper.

Cook steak for 4 - 6 minutes on each side for medium rare. Remove steak from grill and allow to rest for 10 minutes.

Slice steak against the grain, top with tomato salad and serve.
Keywords:
beef, flat iron steak, grill, tomatoes