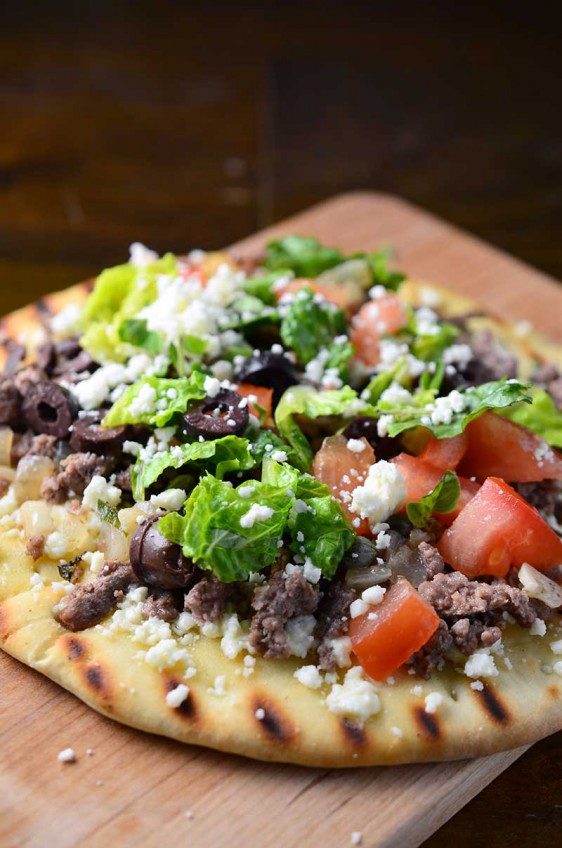 Grilled Greek Flatbread Pizzas
It has been hot here. Well warm enough for me to not want to cook inside anyway. If you follow me on Instagram then you have probably noticed that this results in me grilling all the things. I've been grilling steaks, burgers, chicken, vegetables and most recently these Grilled Greek Flatbread Pizzas that are loaded with lamb, feta, olives, tomatoes and capers.
This is one of those dishes that when making I kind of knew that it wouldn't go over great with the little ones. The feta can be kind of tangy. The olives and capers are pretty briny and not many kiddos (or at least mine anyway) are huge fans of tomatoes and lettuce. That being said, I made it anyway.
Because sometimes, just sometimes, mama needs a mama friendly dinner.
I am not in the "i'll make several different things for dinner" camp. I make one dinner and we all eat it. Well at least part of it. I knew there were parts that my kiddos would eat individually. Kellan and Preston both love lamb and flatbread. Kellan loves capers. Preston loves olives. But neither like feta, tomatoes or lettuce so the pizza was all for me. I wanted all of the goodness in one glorious bite.
Grilling pizza is not new to me. Grilling flatbread pizzas is. Just like any grilled pizza, I wanted to make sure I had all of my toppings on hand and ready to go right next to the grill. You want to do this because the flatbread itself cooks pretty fast so you don't want it to burn as you search around for your toppings.
Now, feta doesn't really melt all that well so one of the things I wanted to make sure I did was to pulse the crumbled feta in the food processor just a few times so that it gets nice and small. I did that so that it would melt slightly when I heated it on the grill. It worked perfectly it melted ever so slightly giving the pizza a soft cheesy bite.
Next came all the goodies. I topped this pizza with ground lamb, sliced kalamata olives, capers, lettuce, tomatoes and chopped fresh oregano. It could really not be easier to make. You can even cook the lamb in a cast iron skillet on your grill if you want to make the entire dish outside.
I served these Greek Flatbread Pizzas with salad and white wine.
Because sometimes…mama needs her wine too. :)

Grilled Greek Flatbread Pizzas
Flatbread Pizzas that are loaded with lamb, feta, olives, tomatoes and capers.
Cook lamb in a skillet over medium heat just until it starts to brown. Add garlic, onions, dried oregano, salt and pepper. Cook until lamb is cooked through.

Heat a grill or grill pan to medium-high heat.

Brush both sides of the flat bread with olive oil. Place flat bread on grill for 1 - 2 minutes or until grill marks appear. Flip bread. Top each pita with 1/4 cup feta cheese, 1/4 of the cooked lamb, sprinkle with olives, tomatoes and capers. Cook 2 more minutes or until cheese starts to melt slightly.

Remove from grill, top with more feta, lettuce and fresh oregano. Slice and serve.
Keywords:
greek, grill, lamb, pizza