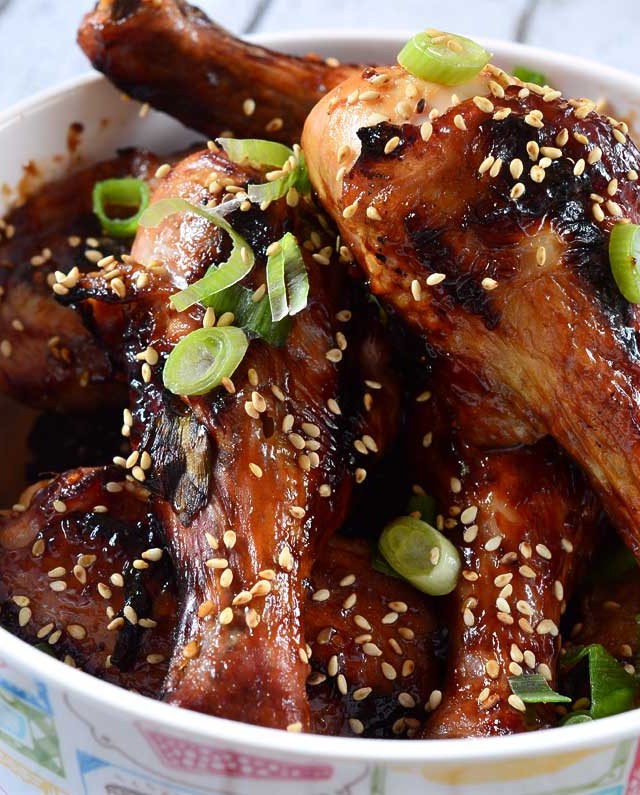 Grilled Hoisin Chicken
Welp. Here we are. The last week of August. Labor Day is this weekend and many kids are already back in school. This summer went by pretty darn fast if you ask me. I guess it could be that I was busy with a newborn and all, either way, I'm not quite sure that I'm ready for it to end. I'm not ready for the rains to come and the grilling to stop so In an effort to extend one of my favorite parts of summer, grilling, I'm declaring this week before Labor Day Grill Week here on Life's Ambrosia. I'll be sharing 3 new grill recipes just in time for your festivities. First up: Grilled Hoisin Chicken.
Hoisin is like ketchup in our house. At least for my boys anyway. Both Kellan and Ryan (and probably Preston too once he starts eating solids) adore the stuff. I think that it has something to do with it's sweetness. Ryan loves it on stir-fry. Kellan loves it in Pho.
Yes, my almost 3 year old eats Pho. And he LOVES it.
So when I was looking for a new way to grill some chicken, I thought I would do an Asian twist that I was sure that my boys would love. First I marinated the chicken for a good eight hours in a tangy marinade with soy sauce, sesame seeds, garlic, vinegar, green onion and a little crushed red pepper.  Now, I would be just fine grilling it like that, but knowing how much my boys like hoisin, I decided to brush the chicken with hoisin as it grilled. It became the perfect Asian style BBQ chicken. It's sticky, sweet and has just a hint of spicy from the crushed red pepper.
Mamas with toddlers don't worry it's not overly spicy and you can always leave them out just to be sure. We didn't though and everyone gobbled up this chicken. It's a recipe that we are sure to make again and again. Even if we have to grill in the rain. :)
Note: Please plan ahead when making this recipe because it does need to marinate for at least 6 hours.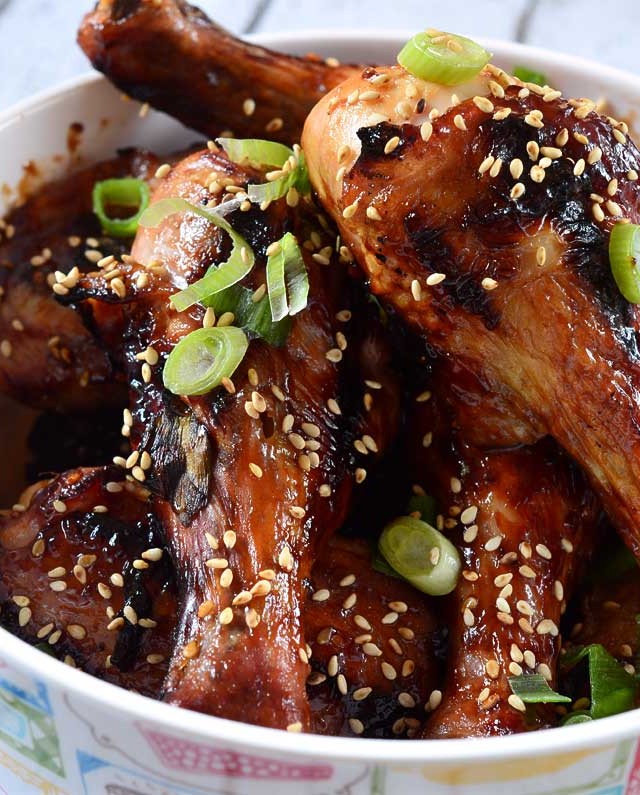 Grilled Hoisin Chicken
Grilled chicken with a sticky, sweet hoisin glaze.
Combine first eight ingredients together in a resealable plastic bag. Place chicken legs in bag, shake to coat. Seal and refrigerate for 6 - 8 hours or overnight.

Preheat grill to 350 degrees.

Remove chicken from marinade and place on the grill. Turn off the burners below the chicken for indirect heat. Close the lid and cook chicken for 8 - 10 minutes on each side. Brush both sides with hoisin and continue cooking until internal temperature reaches 165 degrees. Transfer to serving platter. Garnish with green onions and sesame seeds.
Keywords:
bbq, chicken, grill, labor day, memorial day