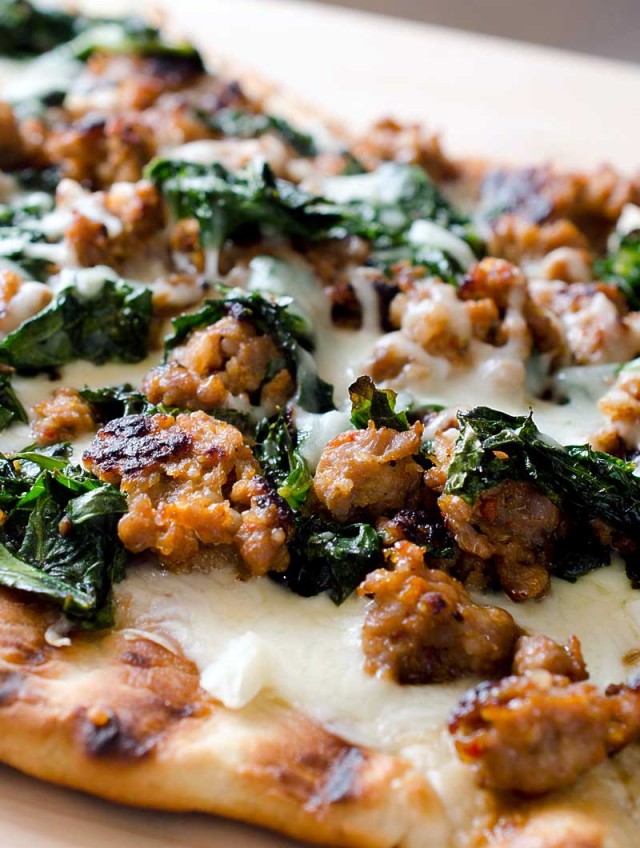 Grilled Kale and Sausage Pizza
Friends. This pizza. You need it.  You see, we've been enjoying Friday night pizza night every Friday for months now. This means that we have been eating a whole lotta pizza (and loving every minute of it). Pizzas like this Chorizo Taco Pizza and this Grilled Pesto Shrimp Pizza and this Prosciutto and Arugula Pizza. And all of those are good.  But… I'm just gonna come out and say it, this pizza is, hands down, my absolute favorite.
There.
I said it.
Seriously. I want to make this pizza for every Friday night pizza night.
In fact, I think I'll make it this week.
My favorite thing about this pizza is its simplicity. There aren't any fancy ingredients. Each ingredient gets to shine on its own. You taste the earthy kale. You taste the meaty, spicy sausage. You taste the cheesy mozzarella, the olive oil, the garlic. It's all there. Not hidden or muddled by one another.
And don't even get me started about the fact that it is grilled. The fact that the dough has the perfect amount of crispness and chewiness with just a hint of smokiness from the grill.
Ahhh well that settles that. No more thinking, I've just talked myself into making it again this week.
Hopefully I've talked you into it to.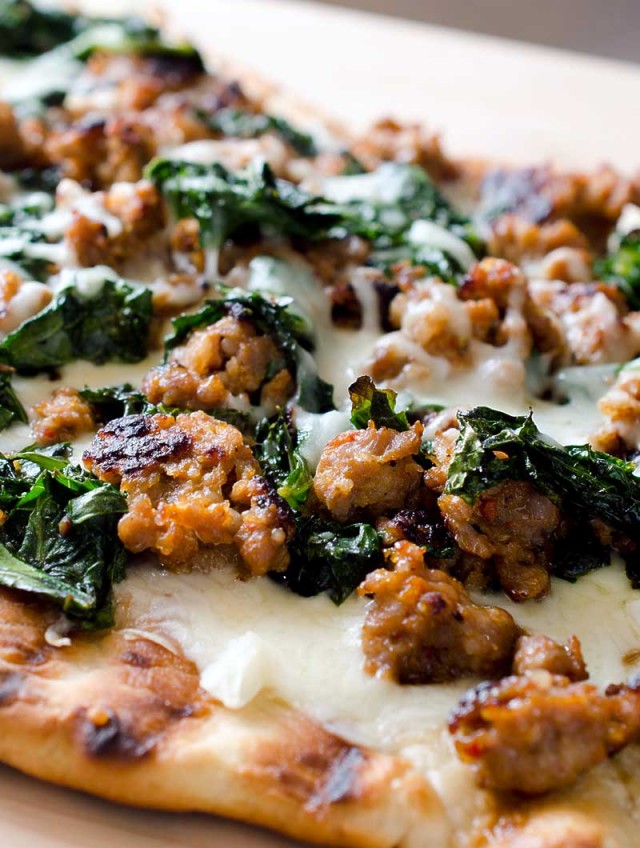 Grilled Kale and Sausage Pizza
A simple, yet divine, grilled pizza with sausage, kale, mozzarella, olive oil and garlic.
Grilled Kale and Sausage Pizza Ingredients:
Prepare the dough first by pouring the warm water into the bowl of a stand mixer with the dough hook attached. Sprinkle yeast over the top. Allow to proof for 5 minutes. Add in 1 1/2 cups flour and salt. Turn mixer on to medium-high. And mix just until the dough comes together. If the dough seems sticky add remaining tablespoons of flour. Turn the mixer down to medium and continue mixing until a smooth ball forms. Cover with plastic wrap and allow to rise in a warm, dark place for 45 - 60 minutes or until it has doubled in size.

Meanwhile, cook sausage in a skillet over medium heat until cooked through. Add in kale, and cook just until kale wilts about 2 minutes. Remove from heat but keep warm until ready to use.

Preheat your grill to medium-high heat.

After the dough has risen, punch it down and roll it out on a lightly floured surface. It does not need to be a perfect circle or square.

Place the dough onto a floured pizza peel or baking sheet with no rim, this will make it easier to slide onto the grill.

Get all of your pizza toppings together near your grill.

Lightly oil the grill grate and use a quick motion to slide the pizza dough onto the grill being careful to avoid letting the edges pizza dough slip through the grates.

Close the lid and allow the pizza to cook 3 - 5 minutes or until the crust starts to brown slightly and it starts to form grill marks. Open the grill, brush the top of the pizza dough with olive oil and use tongs or a grill spatula to flip the pizza dough over.

Immediately brush the remaining olive oil over the top of the pizza. Sprinkle minced garlic over the top. Top with 1 1/2 cups shredded mozzarella cheese. Top with sauteed kale and sausage. Sprinkle remaining 1/2 cup of mozzarella cheese on top. Close the lid and let the pizza cook 3 - 5 more minutes or until the cheese has melted, the crust has browned and grill marks start to form on the bottom. Remove from grill, slice and serve immediately.
Note: I've given you the recipe for my pizza dough, but this can be even easier if you pick up a store bought pizza dough.
Enjoy!
Keywords:
Food, grilled pizza, italian, kale, mozzarella, pizza, Recipe, sausage