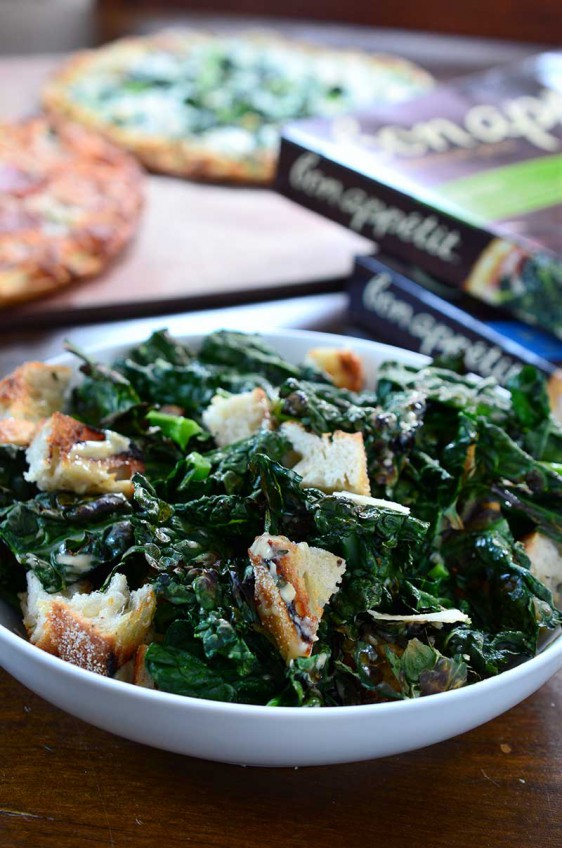 Grilled Kale Caesar Salad
This last week Ryan had to go away on business and the boys and I decided to go visit our family in the Portland area. The night before we left, we still had a gajillion things to do. Like the pesky little thing called packing. I still wanted to make my family a dinner, but I honestly didn't have a whole lot of time and the time I did have I wanted to spend together as a family before Ryan left. This is when I reached in the freezer for Bon Appétit Pizza and made a Grilled Kale Caesar Salad to go along with it.
Traveling is always hectic. Traveling with two little ones is even more hectic then I could have imagined. Making sure you have the right clothes, the favorite books and toys. And of course snacks and drinks for the drive.
Throw a tiny dog who's also going on the trip with you into the mix and there is a lot on your mind.
This is precisely why I was so incredibly thankful that the nice people at Bon Appétit pizza sent us some coupons to use to purchase their pizza. Not one who usually goes for frozen pizza, I was intrigued by this brand. They use whole slices of mozzarella, serve it up on an thin crust and top it with things like pesto and halved cherry tomatoes. Not your run of the mill frozen pizza by any means.
While the pizza was cooking, I used the time to make this Grilled Kale Caesar Salad. It was the perfect meal to make for our busy night so that we still had time to sit down and have dinner as a family.
I've had a grilled romaine caesar salad but I didn't have any romaine so I decided to use some Tuscan Kale since its bigger pieces are much easier to grill then curly kale. I love the texture of grilled kale. Some pieces are chewy, some are still crisp and some are even crunchy like kale chips. It made for such an interesting salad. Also, since I was standing at the grill and the pizza was in the oven, I decided to grill the croutons too. It was so simple to grill the bread, rub it with garlic, drizzle with olive oil and cut into croutons.
Finally, there is the dressing. Homemade-ish. I say -ish because most homemade caesar dressings call for raw eggs. I didn't have any pasturized eggs and I wanted to feed this to my kiddos so I decided to opt for the mayo version of caesar dressing so I didn't have to add any raw eggs. It was creamy, lemony and perfect.
And by the time I was ready to pull our Spinaci and Pepperoni and Pesto pizzas out of the oven, the salad was ready to go. It was so nice to have a meal that I didn't have to spend so much time on, when all I really wanted to do was sit out on the patio with my boys and enjoy some pizza and a salad.
Which we did.
The pizza and salad got rave reviews from the whole family. And this mama was happy because she got to spend a little less time in the kitchen and a little more time with her boys.
Disclosure: This is a sponsored post by Bon Appétit Pizza. As always, all opinions are my own :)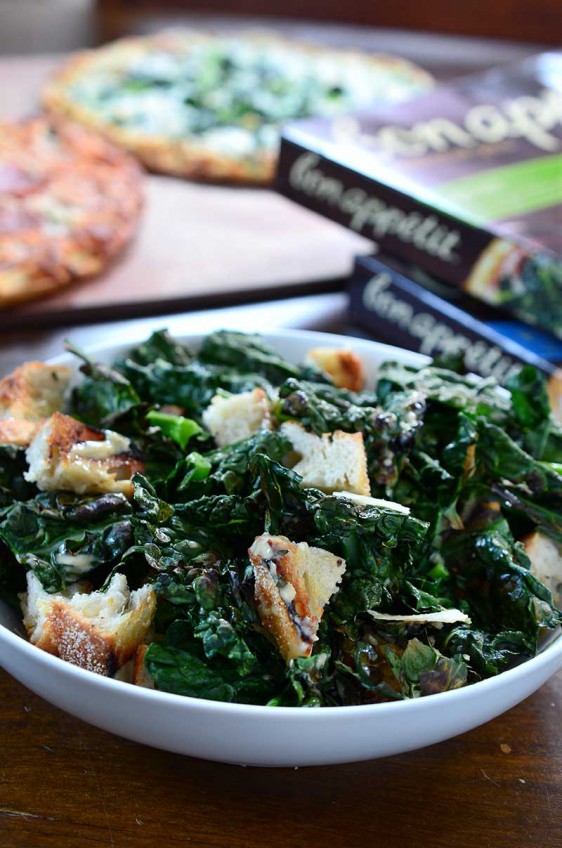 Grilled Kale Caesar Salad
A twist on a classic this Grilled Kale Caesar Salad is loaded with grilled kale, grilled croutons, fresh parmesan cheese and homemade caesar dressing.
Ingredients:
5

cloves

garlic

divided

5

anchovy fillets

1/4

cup

freshly grated parmesan cheese

2

tablespoons

mayonnaise

2

tablespoons

lemon juice

2

teaspoons

dijon mustard

2

teaspoons

worcestershire sauce

1/2

cup

olive oil plus more for drizzling

2

medium bunches Tuscan Kale

8

baguette slices

parmesan cheese shavings
Preheat grill to medium heat .

While grill is heating make the dressing. Combine 4 cloves garlic, anchovies, Parmesan, mayonnaise, lemon juice, dijon and worcestershire in a food processor. Pulse until finely minced. With food processor running, slowly pour in 1/2 cup of olive oil and process until emulsified. Season to taste with salt and pepper. Cover and refrigerate until ready to use.

Place the bread and kale on the preheated grill. Grill kale for 1 -2 minutes or until it begins to wilt. Grill bread 1 - 2 minutes or until grill marks appear.

Remove kale from grill and allow to cool.

Remove bread from grill and rub remaining garlic clove over the grilled bread and drizzle with olive oil. Cut into bite size pieces.

Tear or chop cooled kale into pieces. Place in a bowl. Top with croutons and Parmesan cheese shavings. Drizzle dressing over the top. Toss to coat and serve immediately.
Keywords:
caesar dressing, grill, kale, salad