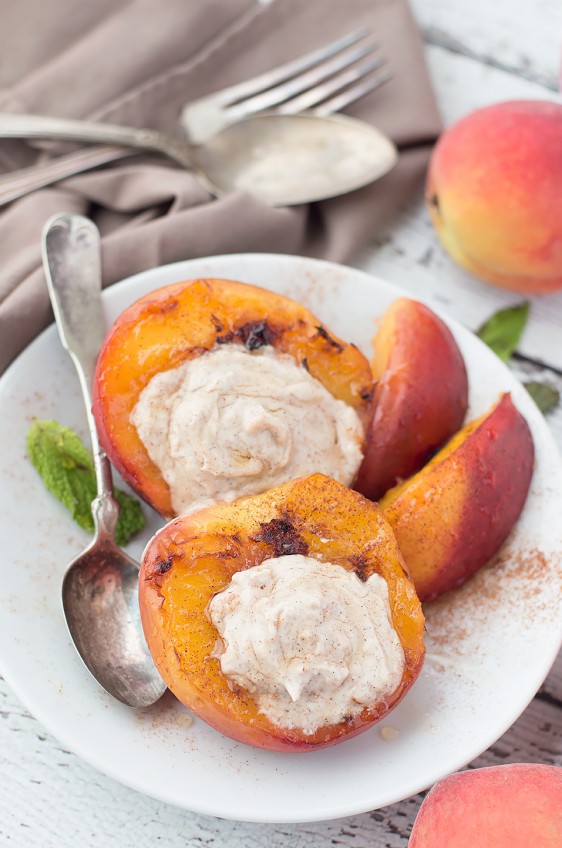 Grilled Peaches with White Peach Balsamic Cream Cheese
Grilled peaches are perfect for so many different meals.  They can be served for breakfast, as an appetizer, as a side dish, or even as an easy dessert.  And they are also easy to make!
Hello it's Sharee from Savory Spicerack again!  And I am here again to share with you a great summer treat that is perfect for just about any meal, grilled peaches!
First let me start by telling you how we fell in love with grilled peaches….  Last summer we came across a "pick your own" farm.  We were sad to miss the strawberry season, but made up for it in more ways than one during the peach picking season.  The kid and I enjoyed ourselves as we picked tons of peaches, fed the animals, and ate homemade peach ice cream.  After our mini field trip, we had to find out what to do with the four million peaches we picked!
We made homemade ice cream, peach waffles, peach crisp, peach syrup, and even froze some of the peaches for later.  You name it, we made it!  One recipe our family was hooked on was grilled peaches.  And after making a mushy mess the first few times we grilled the peaches, we became peach grilling pros.  We started creating different recipe combinations to fancy up these grilled peaches which included these two methods.  This one particular recipe came about after I stumbled across sweet peach flavored white balsamic vinegar in my local oil shop.  Who would have thought?
My foodie brain cells began to burst with so many ideas to make a sweet and tangy cream cheese for our grilled peaches, which didn't take long at all because the recipe was so simple.  Not to worry, if you don't have peach flavored white balsamic vinegar, you can use plain white balsamic vinegar and add more sugar to taste.  No white balsamic vinegar anywhere in sight?  Use my cinnamon sugar cream cheese recipe instead. 
Because the possibilities are endless when it comes to cream cheese and grilled peaches.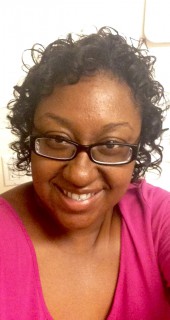 Connect with Sharee ~ Blog ~ Facebook ~ Pinterest ~ Twitter ~Instagram
Grilled Peaches with White Peach Balsamic Cream Cheese Recipe
Grilled Peaches Ingredients:
2 freestone yellow peaches
¼ cup vegetable oil
Sweetened Cream Cheese
8 ounces cream cheese softened

6 tablespoons white peach balsamic vinegar

½ teaspoon vanilla extract

4 teaspoons sugar (I used pure cane sugar)

White Peach Balsamic Vinegar

Sugar

Cinnamon Sugar Cream Cheese
8 ounces cream cheese softened

½ teaspoon vanilla powder

½ teaspoon ground cinnamon

2 to 3 teaspoons sugar (I used pure cane sugar)

Pinch of ground nutmeg

Honey

Ground Cinnamon

Sugar

Instructions
1
Turn on your grill, making sure the grill gets hot reaching a temperature of at least 400 degrees or your coals have grayed.

2
While the grill is heating rinse and pat dry the peaches. Then, cut the peaches in half and remove the pits.

3
Score the peaches to help with even cooking.

4
Brush the flesh part of each peach with vegetable oil and set the peaches aside.

5
Next make the sweetened cream cheese by mixing all of the cream cheese ingredients listed for which ever sweetened cream cheese you chose to make.

6
When the grill is hot, grease the grill with vegetable oil then place the peaches on the grill flesh side down.

7
Cook the peaches for about four to six minutes or until peaches have slightly softened. Remove cooked peaches from grill.

8
Sprinkle optional garnishes onto the flesh part of each peach. Then place about a tablespoon of the sweetened cream cheese in the center of each peach where the seed once was. Serve immediately.

Notes
Cooking Notes: I doubled the cream cheese recipe so there is more than enough flavored cream cheese to slather onto your grilled peaches. Adjust the sweetness of the sweetened cream cheese according to taste preference. In order to successfully cut your peaches in half without a mushy mess, make sure to get freestone peaches. Freestone peaches allow you to remove the pits easily when you cut the peaches in half. The sweetened cream cheese can be made ahead of time and stored in the refrigerator until ready to use.
/ Enjoy!