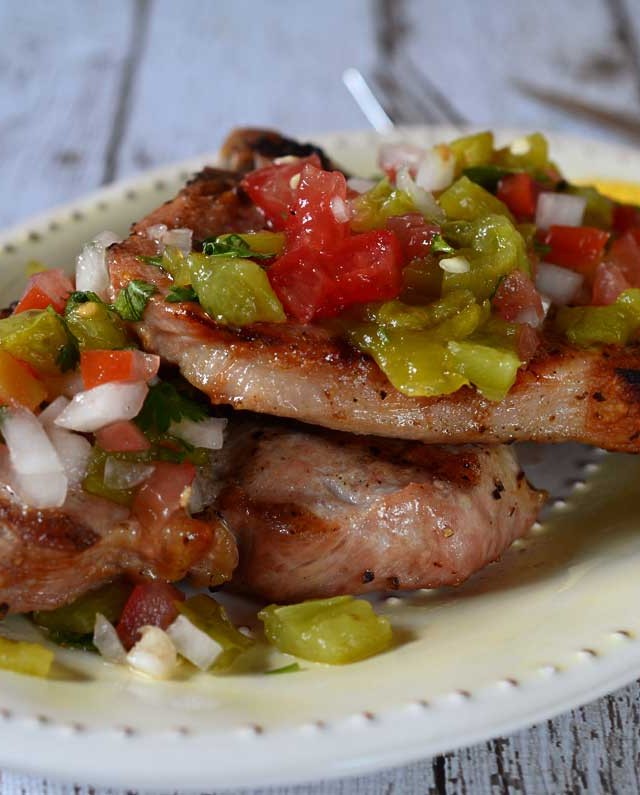 Grilled Pork Chops with Hatch Chile Pico de Gallo
This is the last recipe for Grill Week here on Life's Ambrosia and it's a real winner friends. If you follow me on Instagram or Facebook then you've already seen a sneak peek. I present to you Grilled Pork Chops with Hatch Chile Pico de Gallo.
I finally found hatch chiles at my local supermarket last week and I may or may not have bought an obscene amount of them. I put them in tons of things like this Chrozio and Hatch Chile Skillet Enchilada and this Hatch Chile Mac N' Cheese so an obscene amount was necessary. When buying them I didn't know that I was going to make a Pico de Gallo with them but now I'm wondering why it has taken me so long to try it. It is Ah-ma-zing.
I was actually at Whole Foods the other day picking up something for another recipe I was developing and happened to walk past a refrigerator that said "Hatch Pico".
Say WHA?!
I adore hatch chiles. I pine for them every August. I make anything and everything I can with them and yet, I had never had a pico de gallo with hatch chiles. What was I thinking?
I feel like I have been deprived for the last 30 years of my life.
Well maybe I'm being a little dramatic, but I do feel like I've been missing out. Good news is, I have 23890125348211 more hatch chiles so I'll be making it a bunch more in the coming weeks.
When it comes to the rest of the recipe,  there really isn't much to it. It's so incredibly simple and of course I think that is what makes it so great. First, you make the pico de gallo with tomatoes, roasted hatch green chiles, onions, garlic, cilantro and salt. Then you lightly season thick cut pork chops with salt and pepper and brush them with a little olive oil. Finally you grill them up, we're talking 10 minutes. Let them rest and top with the pico. That's it and that's all, friends. Easy, peasy. And most importantly, amazingly delicious.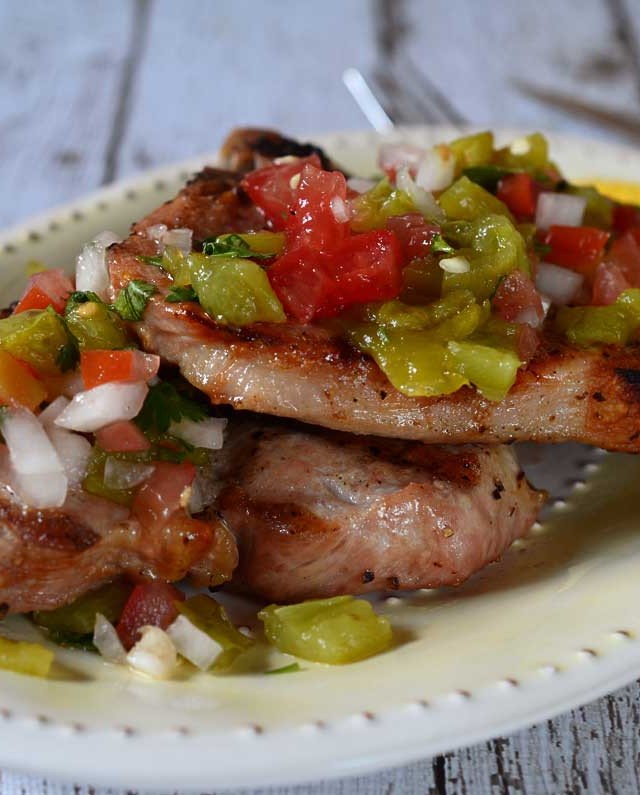 Grilled Pork Chops with Hatch Chile Pico de Gallo
A perfectly grilled pork chop topped with a spicy hatch chile pico de gallo.
Ingredients:
2

hatch chiles

1/2

cup

diced onions

2

medium tomatoes

seeded and diced

1/4

cup

chopped fresh cilantro

1

clove

garlic

chopped

1/4

teaspoon

salt

plus more for seasoning pork chop

4

thick cut bone-in pork chops

fresh cracked black pepper

olive oil
Turn on your oven broiler. Place chilies on a baking sheet 6 inches away from the broiler. Broil 4 - 5 minutes on each side or until skin has started to blister and blacken. Place chiles into a paper bag, close and let set for 15 minutes. After 15 minutes, peel away the skin of the chiles and remove the stem and seeds. The more seeds you leave the spicier the pico de gallo will be. Dice the chiles.

Combine diced chiles with onions, tomatoes, cilantro, garlic and 1/4 teaspoon salt. Cover and let sit at room temperature until you are ready to use.

Preheat grill to medium high heat.

Season both sides of the pork chops with salt and pepper. Brush with olive oil.

Cook pork chops on preheated grill 4 - 5 minutes or until it lifts easily off the grill. Turn and cook on the other side 3 - 4 minutes or until the pork chops lift easily and a meat thermometer registers 160 degrees. Remove from heat, allow to rest five minutes. Top with pico de gallo and serve.
Keywords:
bbq, grill, hatch chile, labor day, pork