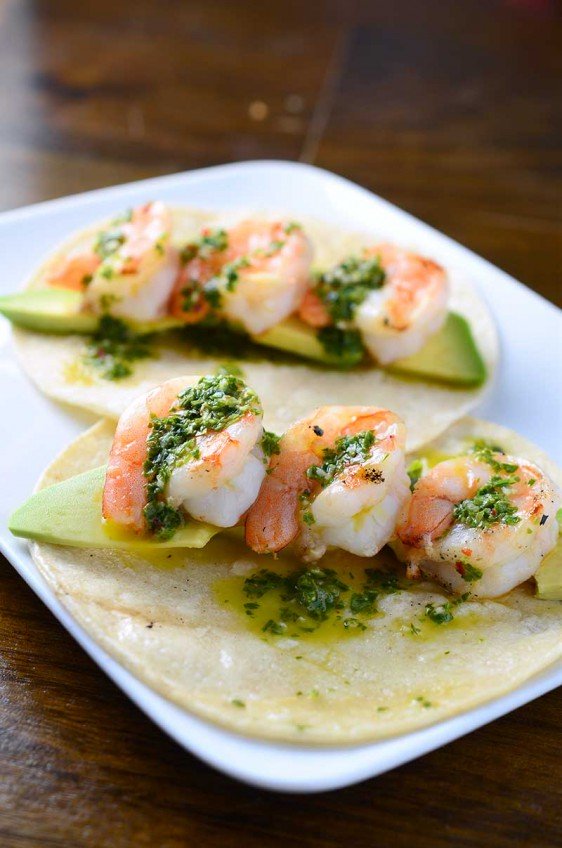 Grilled Shrimp Tacos with Basil Chimichurri
Grilled shrimp tacos with basil chimichurri are a quick and easy dinner on Taco Tuesday! This easy grilled shrimp recipe is perfect for summer parties!
It's Taco Tuesday again! And if you are looking for an easy and super fresh Taco Tuesday recipe, then these Grilled Shrimp Tacos with Basil Chimichurri are exactly what you need. They are loaded with perfectly grilled shrimp, creamy avocado and a sweet and tangy basil chimichurri and I'm kinda in love with them.
Did you know that yesterday was National Fried Chicken Day? Yeah. Me either. There are so many of these food holidays that I cannot keep up with. Had I known I would've been telling you all about how you need to make this Summer Savory Fried Chicken. Or this Coconut Curry Fried Chicken. Or this Garlic Fried Chicken. But alas, it's another food holiday missed!
Speaking of food holidays. Or food days. Aren't there just so many of them? We don't usually participate in a whole lot of them, particularly because there are just so many. But one that we pretty much do every week is Taco Tuesday. We love all things tacos, but shrimp tacos are a big favorite.
This recipe for Shrimp Tacos and Cilantro Lime Sour Cream has been the most popular post on my blog since I posted it back in 2009 and it continues to be my number one searched recipe. We love them but I thought it was time to cook up a new shrimp taco recipe and these babies were the result. First, I marinated the shrimp with a little olive oil, garlic and lime. Next, I whipped up a quick basil chimichurri. Finally, I grilled the shrimp, placed them in a taco shell with some sliced avocado and drizzled the chimichurri over the top. Easy, peasy, done.
If you have never had chimichurri before, it's an Argentinian sauce that is typically made with parsley, cilantro, oil, vinegar and crushed red peppers and is beyond easy to make. Traditional chimichurri is pretty amazing on most meats but because I was making shrimp tacos, I decided that I would switch things up a bit and make a basil chimichurri with basil, garlic, parsley, vinegar, crushed red peppers, olive oil and salt. It's pretty much summer in a sauce, friends.
So if you're keeping a list we've got: perfectly grilled shrimp, creamy avocado and tangy basil chimichurri.
Grilled shrimp tacos with basil chimichurri is simple. It's scrumptious. It's one heck of a taco.
Grilled Shrimp Tacos with Basil Chimichurri Recipe
Shrimp Taco Ingredients:
1 pound (26/30 count) shrimp, peeled and deviened
2 tablespoons extra virgin olive oil
2 cloves garlic, minced
1 tablespoon lime
1/2 teaspoon salt
1 large avocado, sliced
8 small corn tortillas
oil
Basil Chimichurri
1 cup packed basil leaves

1/2 cup italian parsley

1/4 cup white wine vinegar

2 garlic cloves

1/2 teaspoon crushed red pepper

1/2 teaspoon salt

1/2 cup extra virgin olive oil

Instructions
1
Place shrimp in a bowl. In another bowl whisk together olive oil, garlic, lime and salt. Pour mixture over shrimp and toss to coat. Cover and refrigerate for at least 30 minutes but no longer than 1 hour.

2
Meanwhile if using wooden skewers begin soaking them in water.

3
Prepare chimichurri by combining basil leaves, parsley, vinegar, garlic, crushed pepper and salt together in a food processor. Pulse until everything is finely minced. With food processor running slowly pour in olive oil and process until emulsified.

4
Heat grill to medium high heat.

5
Skewer 3 - 4 shrimp per skewer. Cook on grill for 2 - 3 minutes per side or until pink.

6
Brush both sides of tortillas with oil and cook on grill 30 seconds - 1 minutes per side or until softened.

7
To assemble a taco: place 2 slices of avocado and 3 - 4 shrimp on each taco shell. Drizzle with basil chimichurri. Repeat with remaining ingredients. Serve.