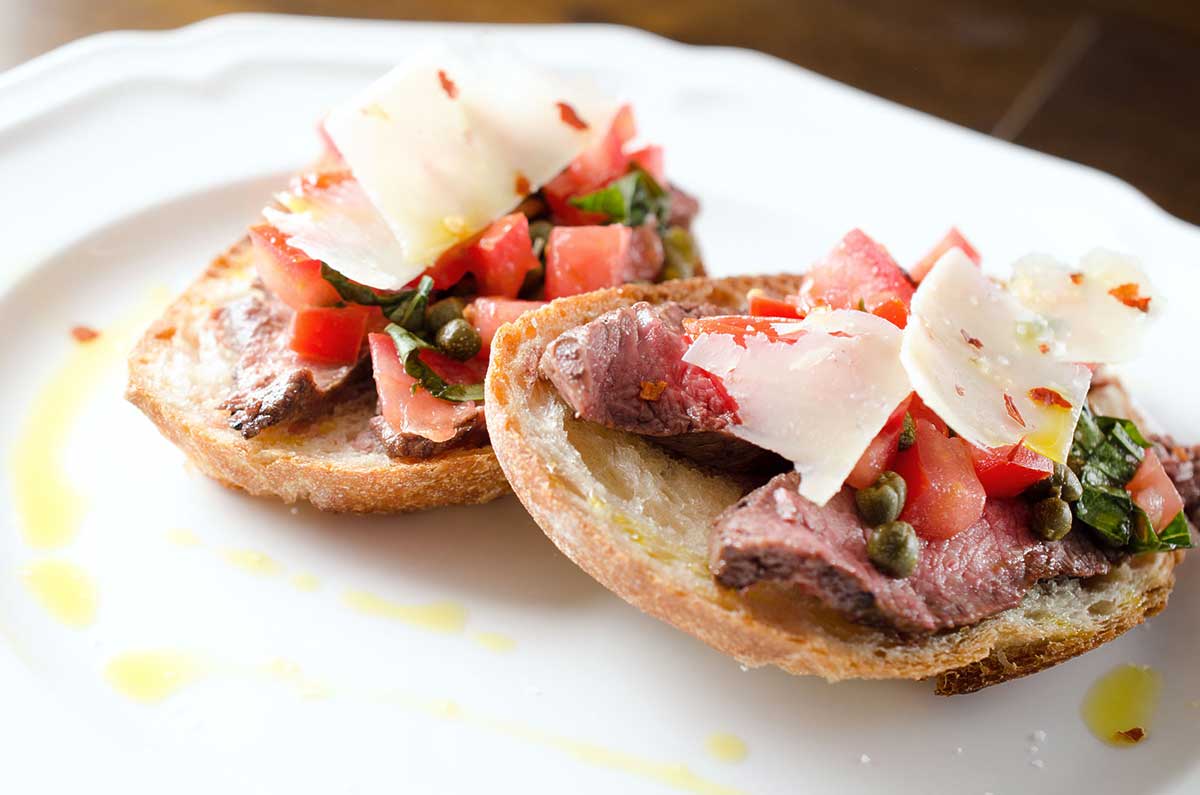 Grilled Steak Bruschetta
I don't know about you but there are a few specific things I look forward to every summer. Sure there is the sun. The warm weather. The blue skies. The picnics. The family vacations. The swimming. But you know me, I'm all about food so the main things that I look forward to during summer are bound to include it. You see, I look forward to summer because I love grilled foods. I dream about perfectly sun ripened tomatoes. And I adore sweet, sweet basil. And this quick and easy appetizer combines all three.
Nothing beats a perfectly grilled steak and we grill steak quite a few times throughout the summer. And as much as we love it, you'd think that we would never have any leftovers. But that is simply not the case. There have been quite a few instances where I have put some leftover steak in the fridge to use the next day. Usually, I use it in steak sandwiches, salads and in breakfast hashes. This recipe however has given me a new way to use it.  I simply sliced the steak thin, placed it on top of garlic rubbed baguette slices and then topped it with tomatoes, basil, capers, olive oil and Parmesan cheese. Serve it with a glass of Chianti and it is the perfect light lunch or appetizer for summer.
"This post is part of the BlogHer Leftover Makeovers editorial series. Our advertisers do not produce or review editorial content. This post is made possible by Bank of America and BlogHer."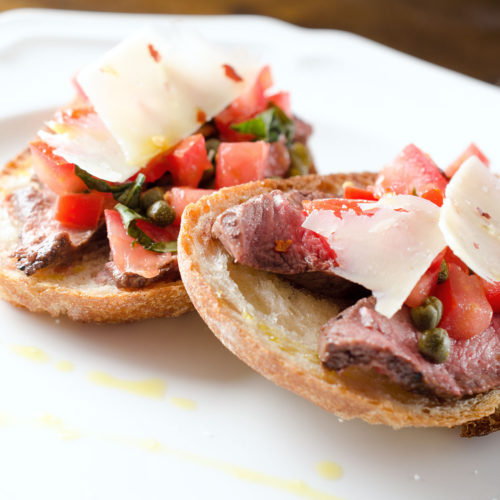 Grilled Steak Bruschetta
Garlic rubbed bread, grilled steak, sun ripened tomatoes and sweet basil come together to make the perfect summer appetizer.
Combine tomatoes, basil and capers together in a bowl. Let set at room temperature for at least 30 minutes.

When ready, preheat broiler. Place bread slices under the broiler for 1 - 2 minutes or until they start to turn golden. Remove from oven. Rub with garlic clove.

Place 1 - 2 pieces of thinly sliced steak on top of toasted bread. Spoon tomato mixture over the top.

Use a vegetable peeler to make parmesan cheese shavings. Place 1 - 2 shavings on top of the tomato mixture. Sprinkle with crushed red peppers if desired and serve.