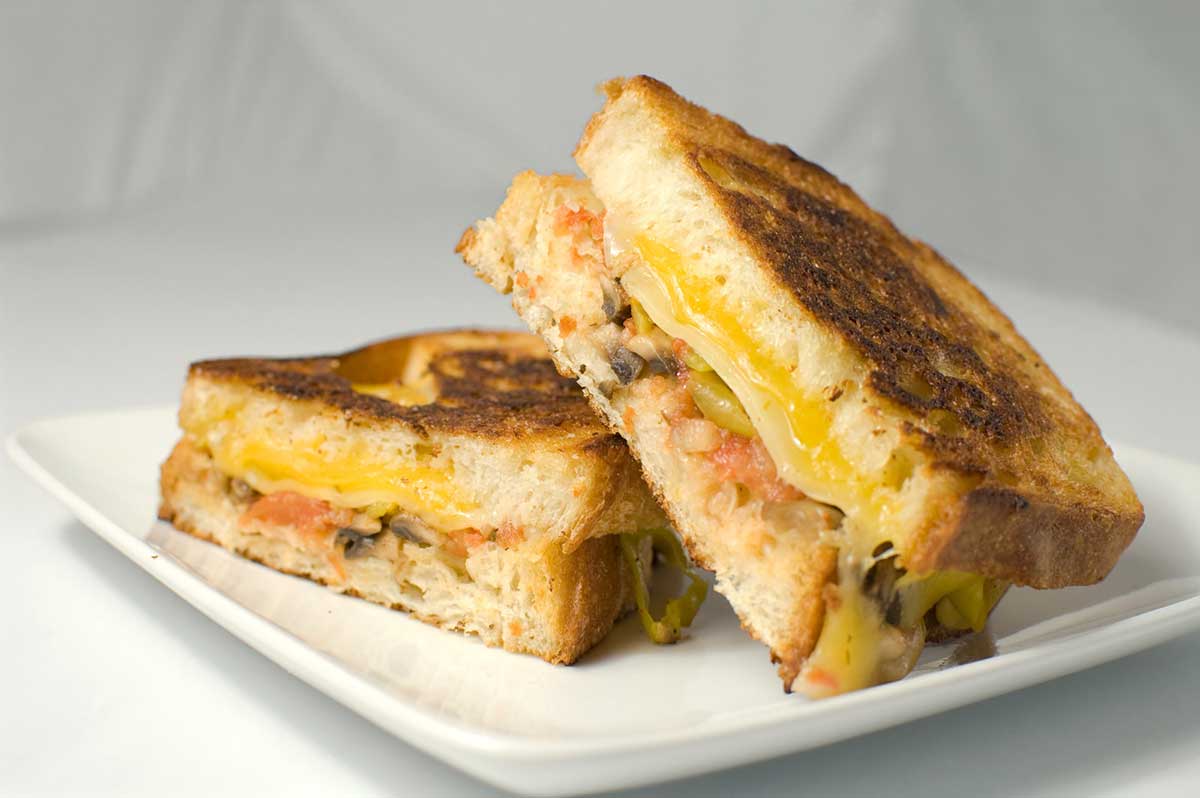 Grilled Three Cheese Sandwich
Have you ever moved away from a place and longed for food from that favorite restaurant that you used to frequent? That is what happened to me when Ryan and I moved away from the Portland area. Ryan used to work in South East Portland and we would often go to lunch together at The Lucky Lab . It's a typical pub with great beer and sandwiches and you can also bring your dog if you sit outside which is pretty cool. Whenever we would go I would always order the "Three Cheese Meltdown" on their menu. It would come perfectly grilled with 3 different kinds of cheese, salsa, mushrooms and pepperoncinis. This recipe is based on that sandwich.
If you have checked out my other Grilled Cheese Sandwich you can tell that I am a huge fan of more than just cheddar on my grilled cheese which is why this sandwich appealed to me so much. If you don't care for the types of cheese I use go ahead and feel free to substitute your favorite. The Lucky Lab actually uses swiss cheese on their sandwich but I didn't have any so I substituted provolone and it was just as delicious.
Grilled Three Cheese Sandwich Recipe
Ingredients:
2 tablespoons olive oil, divided
1 cup sliced small button mushrooms
1 clove garlic, minced
kosher salt and fresh cracked pepper
1 tablespoon butter
About 2 teaspoons fresh salsa
About 2 teaspoons pepperoncini
4 slices cheddar ( I always use Tillamook)
2 slices provolone
2 slices pepperjack
4 slices crusty french bread
Instructions
1
In a small pan, heat 1 tablespoon of olive oil. Add mushrooms and garlic. Cook 3-5 minutes or softened. Remove from heat and set aside.

2
On a flat grill or large pan, melt butter with 1 tablespoon of olive oil.

3
Meanwhile assemble the sandwiches. To assemble one sandwich: layer 2 pieces of cheddar, a tablespoon of prepared mushrooms, 1 teaspoon salsa, 1 teaspoon pepperoncini, 1 slice provolone and 1 slice pepperjack between two slices of french bread. Assemble the other sandwich.

4
Place in the grill pan, until bread is golden and cheese is melted.
Notes
Since I can't make it to Lucky Lab to get the original Three Cheese Meltdown this is the perfect alternative. It is a great lunch or even dinner when served with Homemade Potato Chips. Enjoy!