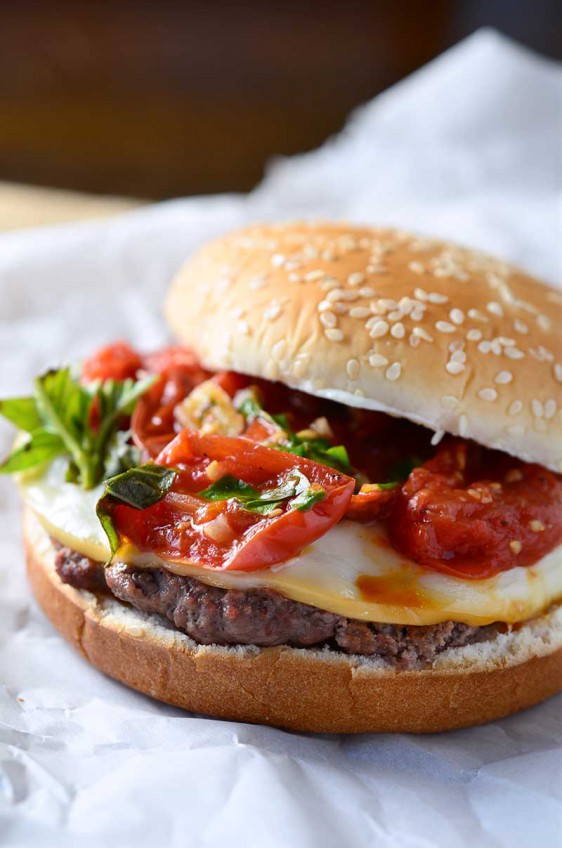 Grilled Tomato Basil Burgers
Burger season is in full swing. What is your favorite topping? I love traditional mayo, ketchup and mustard. But I also like to mix things up by using different condiments like say Bourbon BBQ Sauce, Bacon Aioli or Caramelized French Onion Dip. It's fun. And now I have a new favorite topping to add to the list. And this one just screams summer: Grilled Tomato and Basil.
Every summer I plant a garden. Well I should say every summer since we've owned our home. In these past 5 years, I have been learning what is best to plant for our family. I'm learning what we eat a lot of so we should plant versus what we should just keep buying at the grocery store. For instance, we love zucchini but we don't eat nearly as much as a zucchini plant grows. We also don't eat a ton of carrots so I don't plant those either.
On the other hand we eat a ton of green beans so I plant a few of those. Kale and cucumbers are the same.
But tomatoes? They are in a league all their own. I snack on them like they are candy. To me there is nothing better than a perfectly sun-ripened fresh tomato. Each year I plant at least 4 plants. I plant a green zebra plant, a cherry tomato plant, a plum tomato plant and then usually a variety that I haven't tried yet. This year I picked up a "bloody butcher" plant. They are supposed to give me tomatoes early which I'm pretty stoked about. I already have about 5 growing. So. Excited.
I first got the idea to make this grilled tomato basil burger when I was thinking about this Roasted Tomato & Smoked Provolone Grilled Cheese. I got to thinking that that would be a great way to top a burger. But then I started thinking that since the grill would be on why not grill the tomatoes first. Someone suggested to me that I put them in an aluminum foil pouch and grill them that way so that all of the juices would accumulate in the pouch.
I liked where this was going.
I decided to spruce things up a bit with some fresh garlic and basil leaves.
The tomato flavor is so concentrated. If you are a tomato lover you are going to love this. Not only do you scoop the scrumptious tomatoes onto the burger, you spoon all of the juices as well. It really is a tomato lovers dream.
The basil and smoked provolone (pssst…Tillmaook is the best) are just bonuses.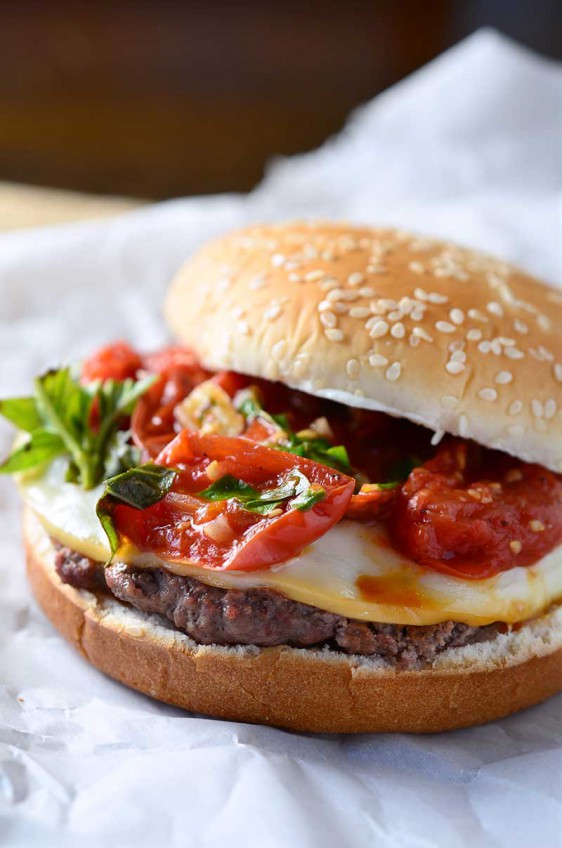 Grilled Tomato Basil Burgers
These grilled tomato basil burgers showcase the star of summer produce: the tomato.
Hamburger Ingredients:
1

pound

ground beef

2

teaspoons

worcestershire sauce

1/2

teaspoon

salt

1/2

teaspoon

garlic powder

1/4

teaspoon

black pepper

4

slices

smoked provolone

such as Tillamook

Hamburger buns

mayonnaise
Grilled Tomatoes & Basil
3

cups

halved cherry tomatoes

6

cloves

garlic

minced

2

tablespoons

extra virgin olive oil

salt and pepper

8

basil leaves

chopped
Preheat grill to medium heat.

Prepare the burger patties. Mix together ground beef, Worcestershire, salt, garlic and pepper together. Use your hands to mix well. Divide into 4 equal parts and form into patties. Make the patties a little bigger than the burger buns because they will shrink when cooking.

Mix the cherry tomatoes, garlic, olive oil and salt and pepper together in a bowl. Toss to coat. Place on top of a sheet of aluminum foil and bring the foil up at the sides to close them, then close the top.

Place tomatoes on the grill and cook 5 - 7 minutes or until they burst and release their juices. Remove tomatoes from the grill, allow to cool for a few minutes. Carefully open the aluminum foil and sprinkle with basil.

Place the burgers on the grill and grill until cooked through, about 3 - 5 minutes per side. During the last minute place the provolone on top of the burger. Continue cooking until it melts slightly.

To assemble a burger: place patty on bottom bun, spoon tomatoes over the top. Spread mayonnaise on top bun and place on top of burger. Repeat with remaining ingredients.
Keywords:
burger, hamburger, Tillamook, tomatoes