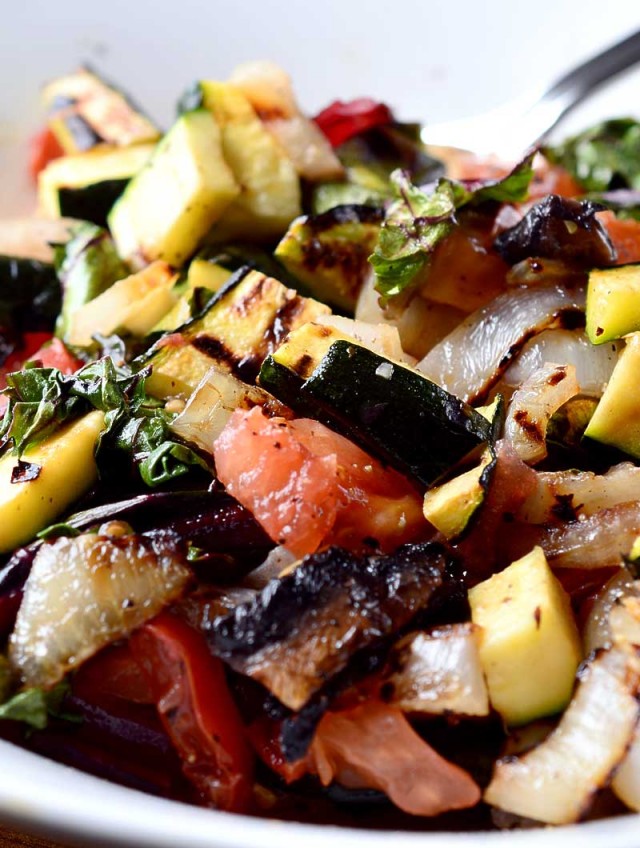 Grilled Vegetable Salad
Ahhh the grill. The quintessential summer cooking method. Ryan loves throwing the usual suspects on the grill. You know, steaks, hot dogs, bratwurst, burgers etc. He even throws some corn on from time to time. But other than that vegetables aren't something that are usually grilled in our backyard, until now. Now that I have tried this vegetable salad, I am going to grill every vegetable I can get my hands on. That's right I am going to grill.
I've always been a little scared of the grill. I'm not sure why. I just always viewed that as Ryan's territory. I have a good handle on the kitchen. He handles the outdoor cooking. Until a couple of weeks ago when I said to him "I want grilled chicken for dinner. And I am going to grill it."
He laughed.
Rightfully so. I mean I said it with such conviction and I hadn't grilled before. Not even a hot dog.
I did it though. And it was good. It was really good. (the second time I tried to grill chicken not so much, but let's not talk about that)
After that first go around with the chicken, I found I had a new found love. I loved grilling. Standing over the hot BBQ, watching my food get those beautiful grill lines. Oh yeah, I was hooked. And I still am.  I want to grill everything. Which is why I grilled this vegetable salad the other night and used every vegetable I had on hand to make it.
The result was marvelous. It's chock full of chard, tomatoes, zucchini, walla walla sweet onions and portobello mushrooms. The only seasonings are a little olive oil and salt and pepper. And that is all you need because the grill really makes these vegetables shine.
Now…what else can I grill?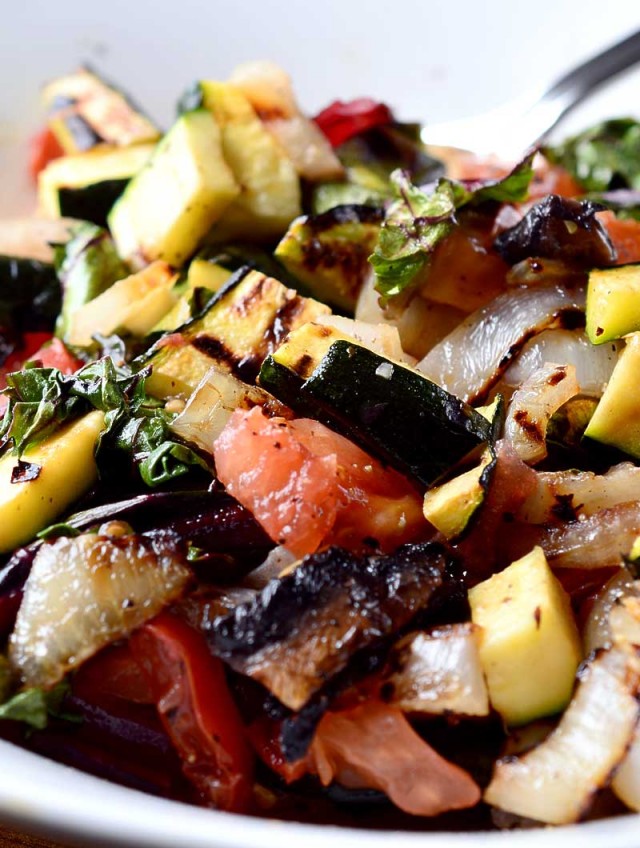 Grilled Vegetable Salad
A summer salad chock full of grilled veggies. Perfect for any BBQ.
Ingredients:
6

red chard leaves

1

portobello mushroom

sliced

1/2

walla walla onion sliced into 1/2 inch rings

1

zucchini

cut lengthwise into 1/4 inch slices

2

firm tomatoes

sliced into 1/2 inch slices

3

garlic cloves

minced

2

tablespoons

olive oil

1/2

teaspoon

salt

1/4

teaspoon

fresh cracked black pepper

Extra Virgin Olive Oil for drizzling
Place chard, sliced mushrooms, sliced zucchini, sliced onions and tomatoes together in a resealable plastic bag.

In a bowl whisk together garlic cloves, olive oil, salt and pepper. Pour over veggies. Toss veggies in the bag to coat. Seal the bag and allow to set at room temperature for 30 minutes. Not much longer because you don't want the tomatoes to get too soft.

Preheat your grill to medium.

Grill the zucchini, mushrooms and the onions until they are soft and have a slight char, 2 - 3 minutes per side. Next grill the tomatoes 2 minutes per side or until they have softened slightly and have grill marks. Finally, grill the chard about 1 minute per side. Watch the chard carefully it can burn quickly.

Once all vegetables are grilled, allow to cool slightly and then chop into bit size pieces.

Place chopped vegetables in a bowl. Drizzle with a little extra virgin olive oil and sprinkle with more salt and pepper if desired. Serve at room temperature.
Keywords:
4th of July Recipes, bbq, Food, gluten free, grill, grilled salad, Labor day recipes, Memorial Day recipes, Recipe, salad, vegan, Vegetarian