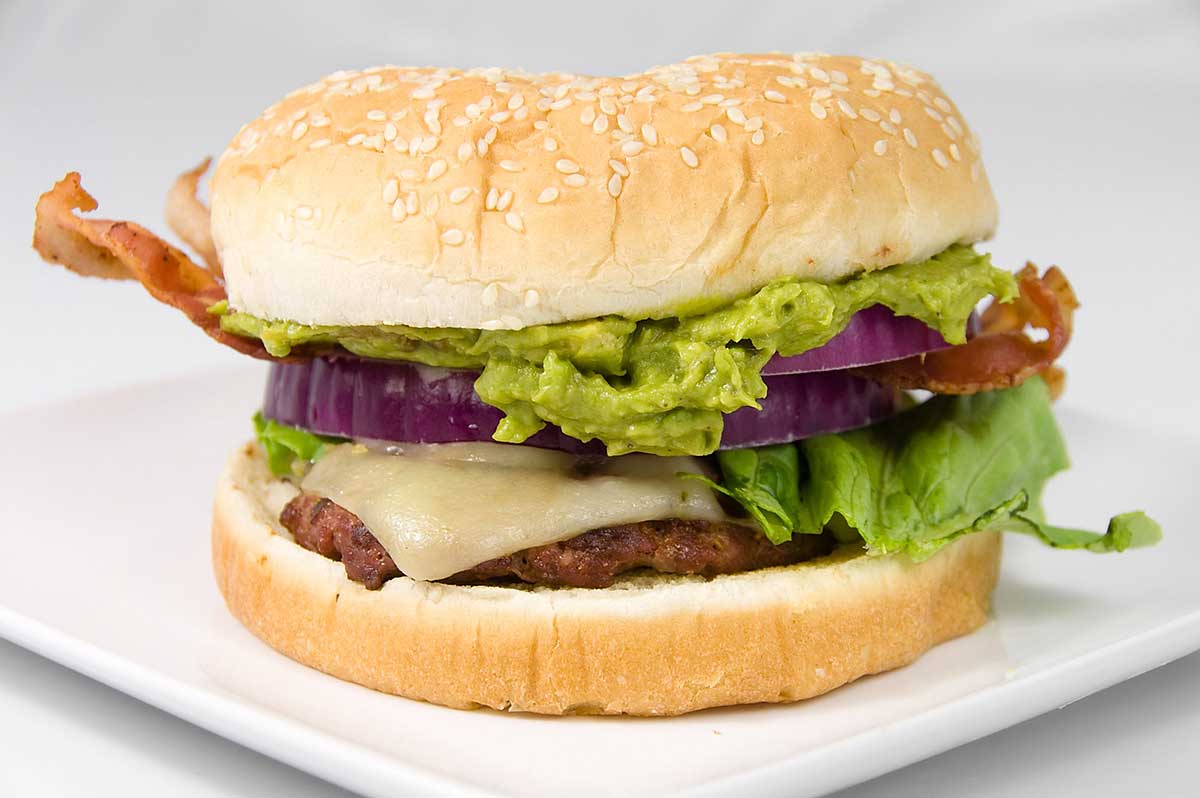 Guacamole Bacon Cheeseburger
Yesterday I posted my list of 4th of July Recipes however, I have a few more that I plan on sharing with you this week. First and foremost, I realized that my list did not include the all mighty burger, which will probably be present at many 4th of July parties this week. But I didn't want to give you the recipe for just any burger, I picked the burger that it took Ryan and I a couple of years to master; The Guacamole Bacon Cheeseburger.
The name of this burger pretty much speaks for itself. There is no holding back with this one, it is fully loaded. A juicy 1/4 pound burger patty topped with melted pepper jack cheese, lettuce, red onion, creamy guacamole and strips of perfectly crisp bacon. It just might be the best burger I've ever had.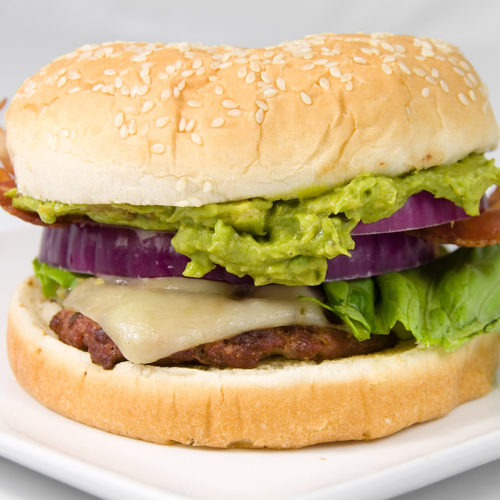 Guacamole Bacon Cheeseburger
Juicy burger topped with creamy guacamole and crispy bacon.
Ingredients:
8

slices

bacon

1

pound

85/15 ground beef

seasoning salt

I like Johnny's

4

slices

pepper jack cheese

1

red onion

sliced

green leaf lettuce

4

hamburger buns
Preheat your outdoor grill.

Cook bacon slices over medium heat until crispy. About 5-7 minutes. Transfer to paper towel lined plate. Set aside.

Portion the ground beef into 4 equal parts. Roll each part into a ball and then gently press into patties. (Note: The more fat the meat has, the more the patties will shrink so you want to make sure to form these a little bit larger than the size you want.) Sprinkle each patty with seasoning salt.

Cook burgers over medium heat. About 4-5 minutes per side for medium-well. At the last minute, place cheese slices on top. Cook until cheese melts slightly. (Note: You can also toast the hamburger buns at this point if you like.)

To assemble the hamburger, place hamburger on bottom of bun, place red onion rings and lettuce on top. Spread guacamole on top bun and place on top. Serve.
Another tip for this, if you, like me, sometimes find raw red onions a little over powering, you can soak them in cold water for about 20 minutes before serving. It helps cut back the bite the onions have. Enjoy!
Keywords:
4th of July Recipes, bacon, bbq, beef, best burger ever, dinner, Food, grill, grilling, ground beef, guacamole, hamburger, lunch, Recipe, summer