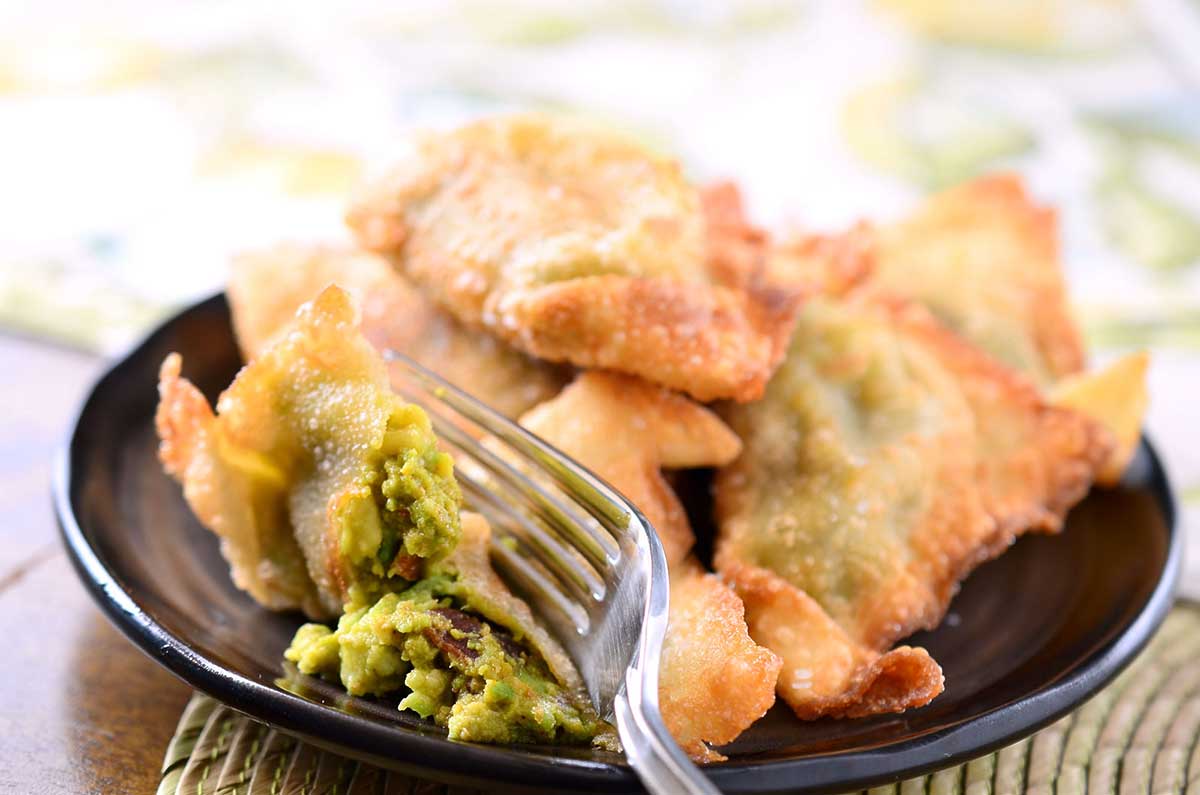 Guacamole Bacon Wontons
With the Super Bowl just around the corner, I've got a plethora of recipes floating around in my head.  From a new recipe for wings, to more dips to these scrumptious, crispy wontons. I've had these wontons in my head for quite some time and yesterday, when my little man went down for a nap, I finally got the chance to try them out. They were easy, delicious and gone in a split second. Everything a good Super Bowl snack should be.
I originally was going to simply make guacamole wontons sans bacon but when I opened the refrigerator to get the wonton wrappers I saw the bacon. EUREKA! Guacamole and bacon is like a match made in heaven. Guacamole Bacon burgers anyone? But to take the guacamole and the bacon and put that inside a wonton wrapper and fry until crispy and golden, man oh man. It was like a little pocket of heaven.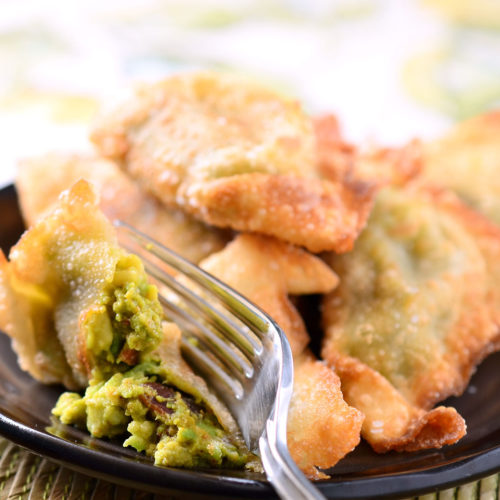 Guacamole Bacon Wontons
Crispy golden fried wontons filled with bacon and guacamole. The ultimate super bowl food.
Ingredients:
4

slices

bacon

2

medium avocados

2

teaspoons

lime juice

1/2

teaspoon

cumin

1/2

teaspoon

chili powder

1/2

red onion

minced

1/2

teaspoon

kosher salt

12

wonton wrappers

oil for frying
Cook bacon in a skillet over medium heat. Transfer to a paper towel lined plate and allow to cool. Once cool crumble into pieces.

Cut the avocados in half lengthwise and remove the pit. Scoop the flesh of the avocado into a bowl. Mash the avocado with a fork, until mostly smooth.

Mix in lime juice, cumin, chili powder, red onion and salt. Stir in bacon. Chill for at least 30 minutes to give the flavors a chance to meld.

When you are ready to cook the wontons, place 1 heaping teaspoon of the guacamole in the center of the wonton wrapper. Dip your finger into a bowl of water and run your finger along the edges of the wrapper. Fold bottom corner of the wrapper over the filling and press all edges to close the wrapper, you'll have a triangle. For presentation purposes, with the top of the triangle facing away from me, I folded up the left and right corners, but it is not necessary.

Heat 1 inch of oil in a pan to 350 degrees. Fry wontons, in batches if necessary, until golden brown. About 1 minute. Transfer to a paper towel lined plate and sprinkle with kosher salt. Allow to cool several minutes. Serve.
Keywords:
appetizer, Food, fried snack, Recipe, snack, super bowl, super bowl food, super bowl party, wontons